ODILI NKE MBU M (ODILI MY FIRST) – Series 1 by Ifeyinwa
Hi readers. Welcome to the 9jainformed.com Story Series page. Here, we have today, a seasoned writer and a pen-power aficionado, Miss Ifeyinwa Beatrice Ani   ODILI, NKE MBU M (ODILI, MY FIRST) – Series 1.



"The rumbling sound of the leaves and the blistering of the wind were in tune with the wild excitement dancing inside me. The stars dazzled and the moon shone brightly, giving an aesthetic appearance to the cold harmattan night.
I sat close to Mama in the kitchen as we prepared 'achicha ede' and 'akidi' for dinner. It was Papa's favourite. He had just returned from his business trips in Onicha. Papa deals in 'abada (Ankara) ', 'jioji' (Ashoke) and 'akwete' (Lace). It is on his return every fortnight that makes it Mama's duty to prepare his delicacy. "Eri amicha aka", Papa would say.
As I sunk in the beauty of the night, I smiled as I remembered the promise the night has for me. I had met Odili on my way to the 'Iyi' in the morning, and he had whispered to me the need for us to consummate our love. I felt the light dancing in my eyes.
My friends, Nwando and Kasie had always told me the escapades they've had with their beloved. I had not understood the thrill they felt then until I met Odili.
It was the turn of Standard five, my class to fetch water and firewood for 'Saah'. Sir was the title given to our new headmaster by the pupils. His house, which was in the school compound had us flooding the compound to work and pluck almond fruits also.
I was one of the few girls opportunities to go to school. Being the only girl of my parents, my parents especially Papa, has vowed that I'll enjoy formal education. Some of my friends never had such privilege as most of them were already betrothed. My friend, Kasie's 'mmanya oji' was done two market days ago.
My arrival had been pure joy for my parents after having four boys. Mama, a devout CMS member had prayed earnestly for her own 'omugwo' which happened to be me. I was given all the names they had reserved for the other daughters they would have had. Adanne, Nwabuno, Obinuju while Papa fondly called me 'Mama m' for he had named me after his late mother.
ODILI NKE MBU M (ODILI MY FIRST) – Series 1
As I stood close to the 'ukwu fruit', munching the ripe almond given to me by George, my classmate, I saw the most handsome creature emerge from Saah's house. He wore a pair of neat shorts and a white t-shirt. His hair was neatly cut with a side part. He was the type we at Aku village called township boy. I heard him speak in the most mesmerizing Igbo dialect. "Kedu ife unu na-emelu nkpotu?".
I was transfixed to the point. Oblivious of everyone and everything else but him. He looked in my direction and our eyes locked. I felt the butterflies jump in my belly. I was just fourteen and he must not be more than seventeen. My generation was the ones that were asked to cross their hands above their head to their left ear before they would be old enough to be admitted into Primary school. Other than that, you would remain in 'ota akara' until your hand can rightfully touch your left ear.
"Kedu ife na-ato gi, Ujunwa", Mama jerked me back to reality.
"O nwero", I replied arranging the firewood and watching as the fire licked the woods. I had to remind Mama for the thousandth time about 'egwu onwa'. As she gave me her permission, I hurried over to my dinner and rushed to have a bath, giving myself the scrub of my life. Rubbing the vaseline gently on my skin, I smiled again. One of the privileges I had was while my mates used 'enu aki' for their skin, Papa got me vaseline, Stella pomade, or Pears baby oil during his trips. A privilege I'm forever grateful for.
I selected one of my 'Akwete' and tied them firmly on my waist with a new t-shirt. I knew my figures have started shooting out in the right places. Udoka, my rowdy brother often jokes about my waist 'dancing in rhythm'.
At the playground, the children played 'kpukpukpo ogene', 'oriyomo' while the teenage girls busied themselves with gossips and listened to possible catcalls from boys. I sat down at a bent tree branch waiting for the proper time to sneak out to the 'ukwu udara'.
Moving fearlessly into the bush path, I waited for the whistling sound of my beloved. My heart danced and my palms moistened with expectation. At the back of my mind, I still heard my mother's admonition on 'ime mkpuke'. Mama, a staunch believer had ensured in her own way to instill moral values in all of us. My feelings became a mixture of fear and excitement. I shook my head and let my love for Odili overwhelm my thoughts.
The night became far spent and I felt the biting hands of cold on my skin. I waited. But there was no whistling neither any sign of my beloved. The songs chanted by the crickets and owls made the stillness of the night prominent. Not long, scary stories I heard from Kasie about the 'ukwu udara' gripped me with fear. Imaginary ghosts began to form in my head.
The stinging pain of the lonely night left me numb. I felt the urge to call out for Odili, only that my voice failed me. A tear found its way down my cheek and I licked it. Tasting the saltiness.
It dawned on me that I had waited in vain. Odili never showed up and sadly, I may never see him again.
ODILI NKE MBU M (ODILI MY FIRST) – Series 1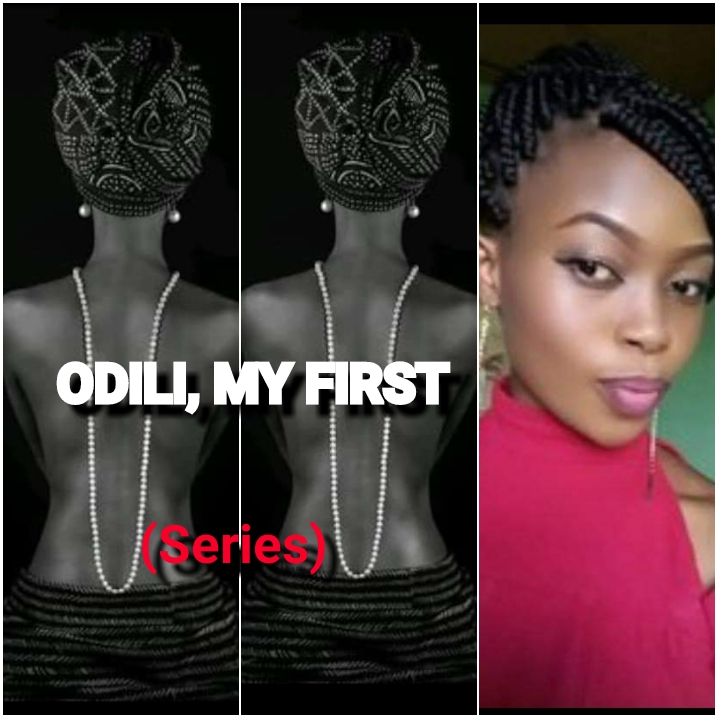 About the Author  — Beatrice Ifeyinwa Ani