Odili My First Love – Series 9
Wow! We are back again with the continuation of this mind-blowing series – "Odili My First Love – Series 9". If you are not following the series, you are missing a lot.
We stopped at series 8 but we had to continue to series 9 and even 10 because our readers are giving us no rest. they keep requesting we continue with the series. You can search for the complete series here.
Oya, take a seat and enjoy. Remember to share the story and SUBSCRIBE to our Notification for more posts.



⇓⇓       ⇓⇓          ⇓⇓
Odili My First Love – Series 9
"Mama sent words across to Papa in Onicha that my health was deteriorating. It was not up to one week Papa had gone back. I had refused to eat nor drink anything except for the dogo-yaro Mama boiled and forced me to drink because of the 'iba'.
At night, I would shiver like a tadpole while Mama kept watching like mother-hen. She would kneel at the foot of the bed, ensured I am well covered while she brings the bush lamp close to keep me warm.
She would keep on reciting Abụ Ọma 121 until she falls asleep. Immediately she hears me cough or turn, she would stir up from her slumber and resume where she stopped.
I could not tell who looked more exhausted in either of us. Her eyes were sunk into the sockets due to a lack of sleep. She would also begin the daunting task of making meals for me to regain my strength.
'Nsọ nwanyị' (Menstrual period) as Mama termed what I was going through supposedly, was to run for four or five days. She had told me on the first it began that it was my initiation into womanhood. The pride in her voice could not be concealed. She stressed that it would continue like that each month unless I got pregnant. When she mentioned pregnancy, she paused and looked at me squarely in the eyes; the smiles went from her face.
"Obianuju, be careful with boys". It was a stern warning.
The blood continued dripping till the fourth day that I feared I would lose every blood in my body. My brothers observed me from a distance, especially when I go to the backyard to spread my 'pieces'. It was awkward. The first time I washed the cloth pad, the sight of the water that turned red and the stench of the blood nauseated me. Subsequently, it became bearable.
The turmoil going on inside me was worse than 'iba'. I became a shadow of myself. The sparkle in my eyes was gone and the waist Udoka teased was 'dancing' started diminishing. The holes around my neck could contain a bowl of water.
My eyes grew large and peered from the sockets. The illness became a puzzle to Mama. She had not gone to the market neither have I gone to school three days after my 'nsọ nwanyị' had stopped. When I was not lying down inside Mama's room, a mat would be brought for me at the veranda to lie down while my brothers took turns to see if I would be happy.
"Nnee, should I buy agidi jellof for you on my back?"
That was our eldest brother, Ikenna. The agidi that was one of my favorites could not pass my throat. Mama decided to get eggs from the hens she breeds and boiled them for me. Eggs were rare gifts to children of my time. It was said giving children eggs makes them steal. Mama threw caution to the winds and ensured tirelessly that I recuperated.
"I don't understand this illness, Ikenna". She told Ikenna one morning. I had thrown up all the contents in my stomach, looking drained and pale.
"Ikenna ụjọ na-atụzim". The hint of fear in her voice and eyes could not be masked. That early morning, Ikenna went to 'ụzo moto' to meet traders going to Onicha and sent a message to Papa.
Odili My First Love – Series 9
When my friends Kasie and Nwando visited me the following day being Saturday, I was sitting outside with Udoka. He tried as much to see if I can laugh while he busied himself with the pear Ozioma got for me. My mouth had been tasting bitter, sometimes the food would just taste bland. Ozioma was helping Mama out in the kitchen while we waited for Papa's return.
"Uju, it's like you would be falling sick all the time, eh? I have never gotten this kind of treatment even when I was bitten by a snake", Udoka said over a mouthful of pear.
"That's because you are not someone's daughter", Nwando answered behind him.
Seeing them had my face lit up with a weak smile.
"Obianuju Okeke, what is wrong with you?", Kasie asked as they both sat at my sides. Udoka left us to join Mama in the kitchen
A lot has changed about them. Their faces looked matured and their shapes well rounded. Even Nwando that seemed to be the skinny type had added 'flesh' in the right places. Maybe it is the joy that comes with getting married. Kasie's 'ịgba nkwụ' was around the corner. We had all gone for her 'mmanya ọjị' at the beginning of Standard Four.
Her betrothed, Orji had insisted they start the marriage rites since he could not wait for her to finish Elementary school. Nwando was not as lucky as Kasie. Her mother had to accept Chigbogu, a widower because she could not afford to fend for her and her five younger siblings. She had assumed her husband would help out in the family.
It has been hard for Nwando's mother ever since her husband left them to look for greener pastures in Aba. The greener pastures unbeknownst to them were him in the arms of another woman.
Nwando loved education but the situation of things had forced her to follow Chigbogu instead. Kasie had been more exposed than the three of us and was attracted to Orji, who works at the revenue office in the local government headquarters. The aura of happiness around them can only be attributed to 'aka di' as Aku women would say.
It was difficult to answer the question Kasie asked. I heaved a sigh and stared into the space instead.
"Come", Kasie said. They both helped me on my feet and we took walk close to the entrance of the compound.  It was Kasie's strategy to ensure no one was eavesdropping into our conversation. I draped the wrapper around my shoulders to prevent cold.
"I'm seeing my nsọ", I blurted out.
They both looked at themselves, a thousand unspoken words hidden in their eyes. I understood because they have been my friends for ages. We walked farther to the fence and sat on the unused blocks piled at a corner. They sat at opposite sides like before while I was in the middle as they both held my shoulders.
"Uju, this has to do with Odili's disappearance. Ọ kwa ya?"
Kasie always had this motherly instinct. I nodded in affirmation and the emotions I had bottled up since Monday kept flooding in tears. They knew because I had told them. We had always talked about trivial things; boys talk inclusive.
When their suitors came, each shared the news. They saw how I looked at Odili at the Iyi. They understood the unsaid words that transpired between Odili and me at the Ama.
And they also understood the depth of pain I felt at his disappearance. The blow of the pain was numbing. I cried. It was as though my heart is being ripped open.
They both dried my tears with the edges of the wrapper. The tears flowed uncontrollably. It was like a release. Kasie held me close to her while I relieved myself of the emotions."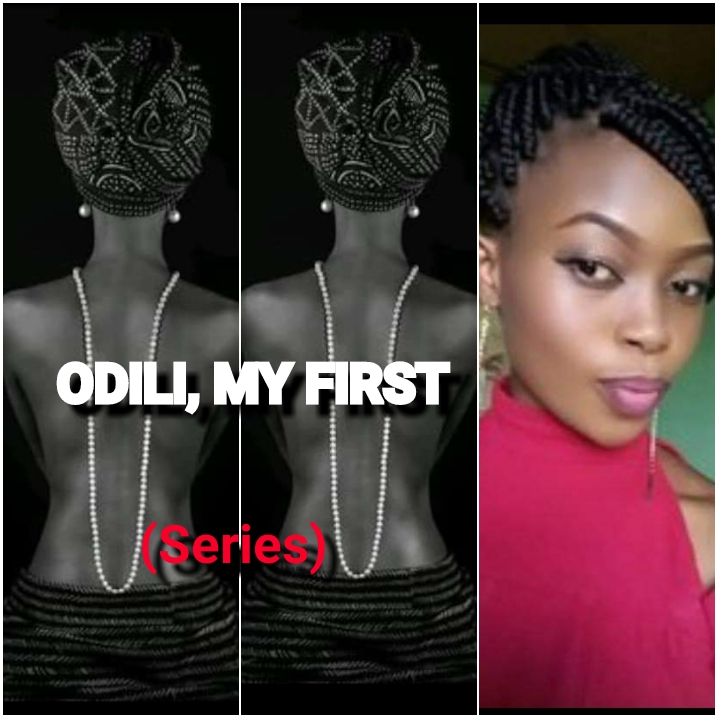 … TO BE CONTINUED