Angers Vs PSG – Match Reports, Summary (Angers 0:3 PSG)
The French league has been quite interesting over the weekend. All teams are not relenting in putting up a win in almost every match as the league is gradually rounding up with 6 matches left to be played by all teams. 20, April 2022, Angers hosted the Paris Saint-Germain side in Stade Raymond Kopa. Angers Vs PSG – Match Reports, Summary (Angers 0:3 PSG).



Taking a quick view of the previous match they both had, however it was discovered that Angers were in loose form having been drawn to Nantes in an away match leaving them in 15th position on the table. The Paris Saint-Germain were in their best form by defeating Marseille by 2 goals to 1in Parc des Princes. Taking their last match into consideration,it can easily be predicted that Paris Saint-Germain had a better and higher chance of winning.
However, Mauricio Pochettino has been determined to maintained an accurate winning streak after his a shocking loss to Real Madrid in the Champions League round of 16 second-leg tie. Trending: Osasuna Vs Real Madrid – Match Highlight.
Putting the lineup for both teams side by side, Mauricio Pochettino carefully selected the perfect men to achieve a win for him. Having the likes of Kylian Mbappe, Angel Di Maria, Sergio Ramos to mention but a few, having this key player play in the match means the coach doesn't want to lose the match. Compared to Angers that love to play a Nonaggressive and easy match against their opponent. This has really caused them a lot of havoc as most teams are aware of their pattern of play.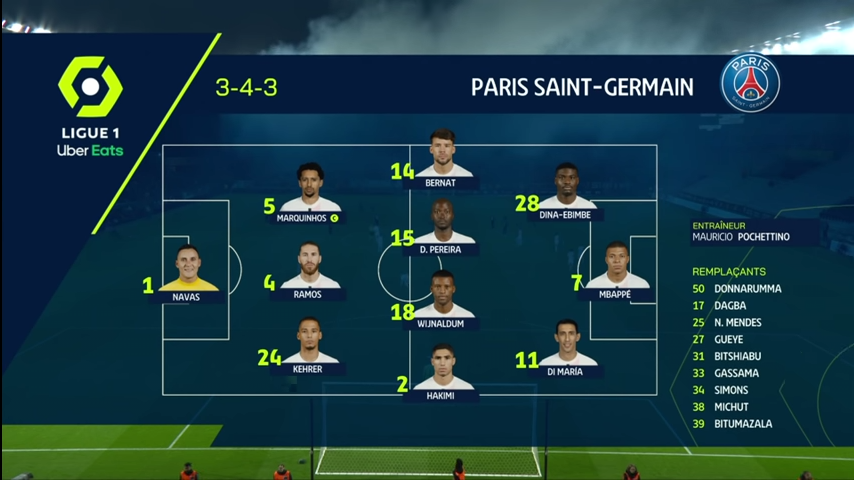 Angers Vs PSG – Match Reports, Summary (Angers 0:3 PSG)
Paris Saint-Germain lineup and formation: (3-4-3)
Navas, Hakimi, Marquinhos, Ramos, Bernat, Gueye, Pereira, Wijnaldum, Di Maria, Icardi, Mbappe.



50 Donnarumma G. (G)
31 Bitshiabu E.
17 Dagba C.
33 Gassama D.
27 Gueye I.
25 Mendes N.
38 Michut E.
34 Simons X.
Coach: Mauricio Pochettino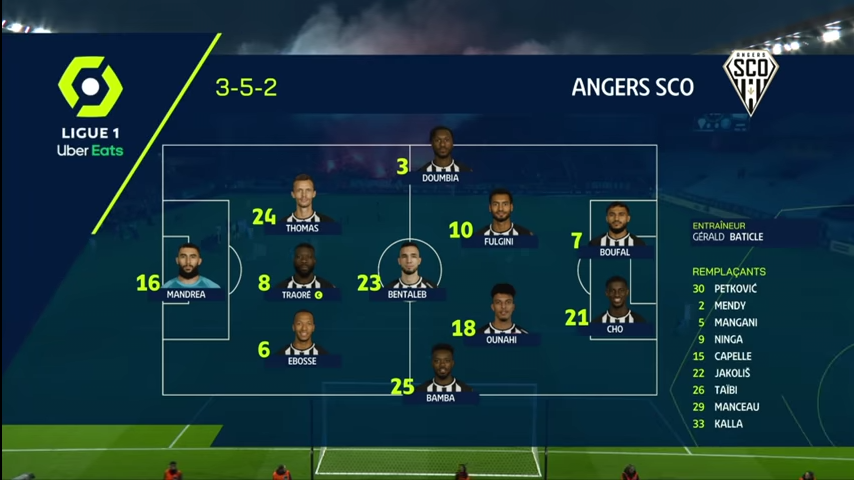 Angers lineup and formation: (3-5-2)
Mandrea, Ebosse, Traore, Thomas, Bamba, Mangani, Mendy, Ounahi, Doumbia; Fulgini, Boufal
Substitutions:
30 Petkovic D. (G)
15 Capelle P.
22 Jakolis M.
33 Kalla A.
29 Manceau V.
5 Mangani T.
2 Mendy B.
9 Ninga C.
26 Taibi W.
Coach: Gerald Baticle
HEAD TO HEAD
16 matches played so far by both teams and PSG have been able to emerge victorious in 15 and 1 draw.
Looking at the league table it is very obvious that the match will end in favor of PSG
Angers in (Ligue 1) 14th position (34 points)
PSG in (Ligue 1) 1st position (77 points)
MATCH SUMMARY AND ANALYSIS
Paris Saint-Germain took possession of the early minutes of the match putting their fans in high hope. They made an effort to get into the dangerous box of their counterpart but Angers put up a defensive strategy and prevented PSG from penetrating the box.
However, Angel Di Maria also tried out shots from his position. Kylian Mbappe also not relented in earning for himself and his team mate an opening goal. Fortunately for PSG, In the '28 minute Achraf Hakimi made an accurate pass to Kylian Mbappe and quickly for him, he located the net with his left foot!… That was an opening goal for Paris Saint-Germain.
Angers is beginning to gain confidence after conceding an early goal. The match became rough and earned Juan Bernat a yellow card in the 42nd minute.
In the 45+2 minute Sergio Ramos also made an effort to solidify their victory with a header before the end of the half time.
Angers 0:2 PSG (HT result).
The second half was such a tactical one for PSG as their counterpart resulted in playing a defensive game making it difficult for PSG to have another chance.
Angers were now beginning to gain momentum and as a result tried to level up the ball possession. In the 50th minute Eric Ebimbe from (Paris Saint-Germain) committed a foul by pulling down Angelo Fulgini and was awarded a yellow card. In the 77th minute Angel Di Maria put a cross through to Marquinhos who immediately located the net with a header. The win for PSG was now firmly secure as they now have 3goals and 3points from the match.
Angers 0:3 PSG
FEW SUBSTITUTIONS MADE BY BOTH TEAMS:
Mendes N. replaced (Bernat J.) [PSG]
Michut E. replaced (Dina E.) [PSG]
Capelle P. replaced (Fulgini A.) [ANG]
Mendy B. replaced (Bentaleb N.) [ANG]
Marquinhos replaced (Di Maria A.) [PSG]
Jakolis M. replaced (Cho M.) [ANG]
Mangani T. replaced (Ounahi A.) [ANG]
Gueye I. replaced (Wijnaldum G.) [PSG]
Bitshiabu E. replaced (Hakimi A.) [PSG]
Simons X. replaced (Di Maria A.) [PSG]