About ACPPB aka Ekpere Ufuma
In this post, we shall be discussing about ACPPB aka Ekpere Ufuma: the All Christians Practical Praying Band (ACPPB). You may see the compilation of Ekpere Ufuma Songs here.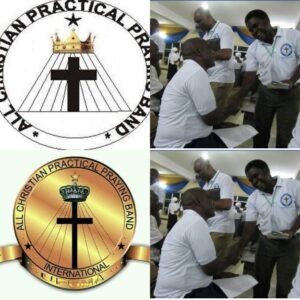 All Christians Practical Praying Band (ACPPB) is a prayer house or a Ministry which has existed for more than 60-years-old. It is popularly known as "Ekpere Ufuma".
It simply means a Prayer house founded in Ufuma town. This is because the prayer started in Ufuma Town by a woman called Madam Sophia Nwokolo and her Husband.



Ekpere Ufuma has escalated to many parts of the country, even outside the country. But instead of calling it by its original name, people do identify the ministry by the origin of the founder. Hence the name; Ekpere Ufuma.
When was Ekpere Ufuma Founded?
ACPPB popularly called Ekpere Ufuma was founded on May 24, 1957, by the Late Pa Eleazar Nwokolo together with the cooperation and support of his wife Late Madam Sophia Nwokolo.
Read this article about Pastor Onye Eze Jesus. "Pastor Onye Eze River Ministry: Church or Shrine?"
According to records, before the founding of the Praying Band, Pa Eleazar Nwokolo was a devoted school teacher and a Church Catechist in Anglican Church. He was known as a man who had so much interest in prayers.
He was a devout Christian and a devoted classroom teacher. He taught as a classroom teacher in Central School Ogbunka (1924), Holy Trinity School Ufuma (1925), St Peter's School Amawbia (1926), and St Peter's Anglican Church and School Ogbete, Enugu State (1928-1931) where he worked both as a teacher and Church Catechist.
From Enugu, he was posted to C.M.S. Church, Ovoko in Igboeze South Local Government Area of Enugu state as a Church teacher (1936-1937) where he met his wife Madam Sophia Nwokolo. In 1942 he and his wife were brought nearer home to St Luke's Anglican Church Awah in Orumba North Local Government Area of Anambra State where he retired two years after.



About Ekpere Ufuma: the All Christians Practical Praying Band
After his retirement, Late Pa Eleazer finally returned to his home town Ufuma in Anambra State. The Late Pa Eleazar Nwokolo's special calling manifested when his wife Madam Sophia Nwokolo developed a strange illness which he tried in vain to find the cure through both spiritual and medical treatments *ref(Aka and Okeke, 2006).
He took her to many prayer houses all to no avail. One of the prayer houses they visited was Umueji, a village in Ufuma. The owner of the prayer house was Mr. Lawrence Okeke.
It was Lawrence Okeke who revealed by a prophecy that Madam Nwokolo's sickness was a result of God's calling for her husband to establish a ministry through which God would use him. Late Pa Eleazar Nwokolo went home with his wife and began to organize morning and evening prayers in the corridors of their bungalow.
This prayer was not part of their usual personal and family morning prayer routine. It was an extension of their usual family prayers. Members of the Nwokolo family's immediate Umunebo community were allowed to attend. As the attendees increased, prayers were said in front of the house.
No sooner had Pa Eleazar Nwokolo started the Praying Band than his wife's illness disappeared. By 1958, people from outside Ufuma who heard about the worship and miracles being performed there began to attend. Over the years, branches began to spread in the nooks and crannies of Eastern Nigeria continuously.



According to ACPPBN (2010), to be a member of ACPPB, one must be a member of a Church and must have a personal Bible. This is to affirm what has been stated at the beginning of the paragraphs that the Praying Band is an interdenominational Christian ministry.
About ACPPB aka Ekpere Ufuma
Method of Worship
Ekpere Ufuma is not a denominational fellowship. In fact, members who attend this Prayer ministry belong to different denominations where they are also faithful and regular. Mostly, members of the Anglican Church dominate in ACPPB.
Their major day of worship and prayer is Sunday Afternoon. I think they chose this day and time to allow their members to return from whatever churches they attended on Sunday morning.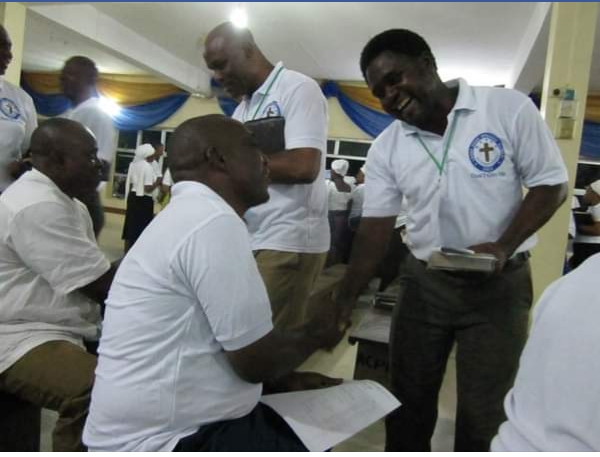 (A Typical Dress pattern of Ekpere Ufuma Worshippers) Image Credit: Okokomaika Branch Facebook page.



The methods of worship in ACPPB are the same everywhere but with little difference. They are known for white materials as their uniforms and Cross of various sizes which the bearer hold on their hands while casting out the demons.
It is very easy to identify members of Ufuma on Sunday afternoon or evening while they are walking on the road. This is because of the uniformity of their dressings.
All Christians Practical Praying Bands have a set of rules which they forbid within the chapel. Like, it is forbidden to put on red clothes or clothes that have red spots and decorations on them.
You will be walked away if you wear cloth like that. Or, you will be asked to stay outside and will not come into the chapel. Again, like the Sabbatharians, Ekpere Ufuma also forbids the wearing of Slippers or any footwear into the chapel.



Every member pulls off their footwear before going into the chapel for prayers.
Belief
They believe in the holy trinity. Just like other denominations, they also preach heaven and hell. ACPPB believes in the gifts of the Holy Spirit, except speaking in tongue. It is forbidden to speak in tongues in the Chapel.
Ekpere Ufuma believes in the power of Psalms and the gift of Prophecy. I have thought to myself that the accurate name for Ekpere Ufuma should have been "The House of Prophecy, Prayers, and Psalms".
I said this because there nothing they do without involving the book of Psalms. The Average Ekpere Ufuma members know 80 percent of Psalms in the hearts (off the head).
He or she has read them all their lives that all verses have been memorized. They have discovered and attached every verse of Psalms to solving a particular problem.
They read other books of the Bible but Psalms is the major book.
As a child, I have witnessed a group of ACPPB prayer teams who came to pray in the house of one of their members who died. These red-eyes hefty men were brought down to our village from their Lagos Branch.



They came because there was a notorious rainmaker in the neighborhood who swore to make the burial unsuccessful if the family did not give him money and ritual items for rain. The family refused and dared his threats.
So, the case was reported to their local leader about the development and while coming for the burial, they came with the prayer team. The men came with Bibles in their hands but they never opened them.
Everything they read has been memorized.
About ACPPB aka Ekpere Ufuma
Prophecy in All Christian Practical Praying Band
Part of the beast that fights Ekpere Ufuma to date is the unverifiable claims and unproven allegations that Prophecies of the bands are not coming from an evil force or power.
This big allegation is majorly directly to madam Sophia Nwokolo who was the first to prophesy and also examined and approved the bands of the Prophets in the Ministry.
ACPPB has a lot of special gifts of the Holy Spirit but the gift of prophecy is the most salient. Prophecy in ACPPB is believed to be possible through the gift of the Holy Spirit.



According to I. Ugwu in "Personal Communication, April 14, 2014"
"Any member of the Praying Band can prophesy provided the person receives the gift of prophecy. The current General Leader of the Praying Band, Samuel Nwokolo, is not a prophet. Members who possess the gift of prophecy occupy special positions in the ministry as prophets and visionaries. They are the eyes of the Praying Band. The position is a spiritual office; it is believed that it is the Holy Spirit who calls people into it. The prophets receive prophecy at any given time, especially in the mood of prayers."
In Ekpere Ufuma, anyone can Prophesy but not all Prophesies are accepted. Every prophecy must be backed up with a rhyming bible verse and they must also be confirmed through prayers.
This they do because they believe that different spirits can give prophetic messages alike. This too can lead to true and false prophecy among the prophets or visionaries.
Every visionary or prophet proclaims the name of Jesus before he/she gives any divine message. But before giving the message, the person whom the message is meant for is pointed at and made to stand. A bible verse that corresponds with the message will be mentioned which will be read out.



About Ekpere Ufuma: the All Christians Practical Praying Band
According to Aka and Okeke (2006),
"Papa's first son Samuel Nwokolo was the first to see vision during prayers but could not understand what he was seeing. Later Madam Sophia Nwokolo also started seeing the same thing which she later confirmed was the same vision" (p.43). Madam Nwokolo's prophecies were what made her popular and people began to see her as the founder and owner of the ministry.
Meanwhile, anybody can become a prophet in ACPPB but before he or is fully accepted into the Band of the Prophets, he or she must be sent to the Headquarters of the Praying Band, Ufuma in Orumba to see the Madam Sophia Nwokolo. The person will be given series of spiritual tasks, including fasting and prayer.
Not everyone passes these tasks. And this is what determines if the person is with the right spirit of Prophecy or the wrong one. Those who fail the prophecy task are further given spiritual punishment like extending their fasting days and workings.
The Summary of ACPPB aka Ekpere Ufuma
Madam Sophia Nwokolo was not the Founder of the All Christians Practical Praying band (Ekpere Ufuma), her Husband, Pa Eleazer Nwokolo Founded it with her support. Madam Nwokolo's prophecies were what made her popular and people began to see her as the founder and owner of the ministry.



Whether the Prayer Band is working with the right or wrong spirit is only known by God who sees all things. But there are rumors everywhere that the Bands are prophesying with the power of unclean Spirit.
Disclamer
The author of this piece, Njide Mkparu, does not have the intention to speak for or against the All Christians Practical Praying Band (ACPPB). She is not a worshipper or a Member of the Praying Band.
Information cited in this article is what she heard from friends and relatives who are members of Ekpere Ufuma and those reference materials, readily available on the internet.