Secret Background of Prophet Odumeje People don't Know
Secret Background of Prophet Odumeje People don't Know about. Pastor Chukwumemeka Odumeje is a fiery controversial and media-seeking Nigeria Pastor. However, there are his secret Backgrounds of Prophet Odumeje People doesn't Know.
The popular and controversial Nigerian pastor, Prophet Chukwuemeka Ohanemerem aka Odumeje has carved a niche for himself in the pattern he chose for his pastoral work. Call him Indaboski, the Lion himself, the Liquid Metal, the fight, and the war, he will answer all.
Some people branded him an attention seeker. He calls himself an accidental pastor. He appears each time in the video with new slang. The most popular among them were; "chachachacha! Kida afu uzo, ida anu uda i? Adighi akpo uga na sambisa forest. A dighi ahu oka na filling station" and the rest of them. He said by the end of 2020, he shall be releasing another version of himself called; Gandusa Gandusa.
*Prophet Odumeje on stage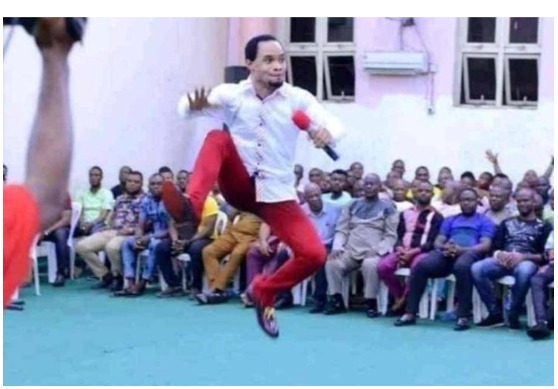 *Image credit: Google
Secret Background of Prophet Odumeje People don't Know
Prophet Chukwuemeka Odumeje performs spiritual activities differently compared to what is seen in other churches. Like his deliverance sessions are always like WWRaw. He mixes high-life music in his gospel music to the amusement of his congregation. Spraying money is part of his church service.
You may also like to read about the video of Pastor Odumeje Praying with charms.
Sixty percent of Odumeje's royal followers are top celebrities and wealthy businessmen. He has dinned and wined with top politicians too.
He is a music lover who holds his audience spellbound when he handles the microphone. With a mix of highlife and Okey Jakota tonging, he is on the go on stage. His most popular albums are; "Odumeje, Fa ga-asilili, etc
Prophet Chukwuemeka has been in the ministry for the past 19 years but he became flamboyant and controversially popular two or three years ago. He attracted the attention of the Christians and none Christians when he said he would work on the river Niger to mimic "Jesus' work' on the sea miracle.
The news had it that people trooped to the River Niger on the said day to witness the second miracle of working on the sea but the prophet was nowhere to be found. He later debunked the rumor. His members had him on the defense, saying it wasn't what he meant. They said he meant to say that if the Christians have faith like Jesus, they will walk on the sea as He did.
Aside from this, Odumeje explains Bible to his followers the way it raises dust to other Christians. Like recently, he said and I quote; "Jesus said if someone slaps you on one cheek, turn to the other cheek and allow him to strike you. But I say don't. If someone slaps you on one cheek, slap the person 7 times. Marieya anya".
He said we are no longer in Jesus' era and we are not the disciples of Jesus whom Jesus spoke to. Anyone who reads Bible and understands knows that he has spoken heresy.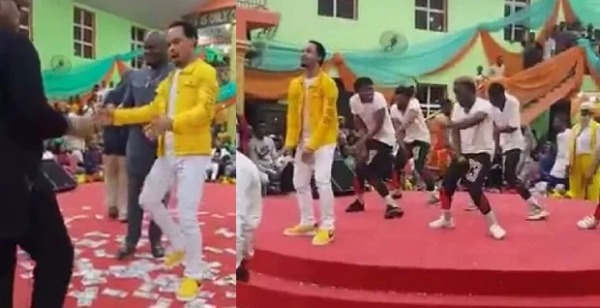 Odumeje's Childhood and Growing Up Days*
Secret Background of Prophet Odumeje People don't Know
Prophet Chukwuemeka Ohanemerem is a native of Orsuihite Ukwa in Orsu Local Government Area of Imo State. He was born on September 9, about 41 years ago as the third in a family of six children of Mr & Mrs. Pius Ohanaemere, Emeka Intervention as he was addressed when he started newly, began life as other Fegge/Odoakpu boys who went to early schools from their family houses and also played football and other games on the streets of the neighborhood.
"Odumeje was said to have attended both primary and secondary schools in Figge Onitsha before becoming an apprentice trader dealing in leather materials.
As a young man, he was a devout Roman Catholic who worshipped at Sacred Heart Parish, Odoakpu Onitsha. Sunday Sun gathered that at some point, he abandoned Onitsha and lived with the monks at the Awhum Catholic Monastery, near Ninth Mile, Enugu, before quitting and floated his private ministry in the year 2000."
This was revealed in the Sun news post which was captioned; "Prophet Odumeje Unmasked", published on 6th August 2020.