Packing Gel Styles Reigning Right Now
See trending packing gel styles like Slide sleek ponytail gel hairstyle and popular other styles
. From time to time, new ideas of styles keep coming up this is a way of looking elegant and beautiful when stepping into any place. Fashion is very wide and comes in various forms, we go from braiding to the use of wigs and then weavons.
Packing Gel Styles Reigning Right Now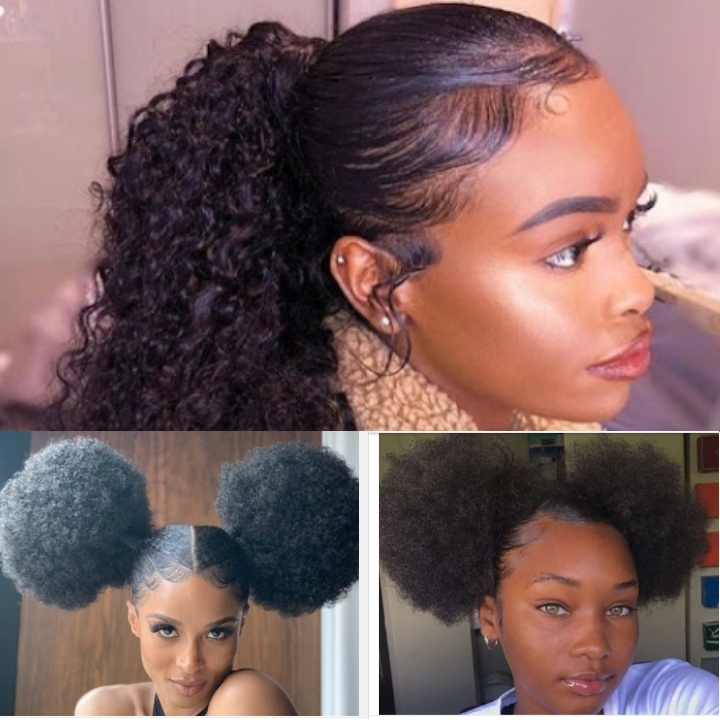 Hairstyles come in different forms and as an individual, our hairstyles have a lot to do with our appearance male or female. But this article is all about a hairstyle for females called ponytail popularly known as packing gel. Ponytail hairstyles are one of the best, affordable, and most popular forms of hairstyles.
This hairstyle is one of the best because it gives one a beautiful look so when looking for a hairstyle to make one should always consider how the hairstyle will make you look. And also this hairstyle can be made for any type of occasion.
Packing Gel HairStyles Reigning Right Now.
This style is made by applying gel ok the hair to lay it down this is a very simple and elegant look every lady goes for now. It is very different from various hairdos like cornrows, braids, and many others. Now, this hair is styled is very distinct and different it comes in various colors and can be left in a form of a long weaving, it can also be wrapped up in braids. Stylists have explored this style of fashion in various ways and bow modernization has also changed the face of packing gel.
READ MORE:
Ponytails are not only dazzling, but you also get to choose to pick one that keeps your hair out of your face, braided, short, long, high, low, and more. The astonishing thing is the simplicity and neatness of the hairstyle. Like many other hairdos, ponytails also need that touch of care so they can last longer even though they are easy to manage. Fashion keeps evolving with time and decade which leads to various new trends coming up now and then.
This style is also known for its versatility it can be worn to various gatherings like church, work, weddings, and many others depending on how it is styled to come out. Looking neat and presentable is the main aim of dressing up there is a need to stand out at any occasion and event you're attending this month.
They are also quick and easy to wrap up, you don't have to worry about the hours you'll be spending at the salon. The growth of this hairdo is incredibly amazing as it chops trends every year with different styles. Here are various ways to style your packing gel styles.



Types of Packing Gel Hairstyles for Occasion
This style is very similar to that of natural hair it is made in form of a full hair like a bun and designed in various ways it can be made as a two-way bun or an updo bun style. This hair is a very elegant and fashionable style that comes out looking radiant when made. The afro style is very common to young ladies who like something fill and bug on their hair. The style is usually done by adding an attachment to the bottom of the hair.
Curly Weave Packing Gel Style
As the name implies this style comes in form of curls and has many beautiful colors of choice. These weaves are usually bought and added to the tip of the hair, this is a good choice for ladies who like curly hair and do not want the regular styles of straight weaves.
Straight Weave Packing gel
Straight weaves are the most common packing gel style it is called straight weave as it doesn't require any curls. This style is just made in a very simple and fashionable way and has evolved, they are made in various ways now like two side parting, updo, low bun, and many more.



In Summary:
As a lady, when making this style it is advisable to go for the style which will fit the face and one's fashion style. Also, the stylist should help make the perfect choice to make as it is easy to wrap up and design