Iyi Eri oba Song – Lyrics and Meaning
Iyierioba Song – Lyrics and VIDEO. First of all, this is not the original post. We made a post sometimes last year when we saw a video of a little girl on a crusade ground. She was ministering to the congregation and there was a great move of the power of God. We caption the post this way ; "See  Little Girl who Displays Raw Power of God VIDEO. "Iyi eri oba Song – Lyrics and Meaning. 
However, we saw need to rewrite and caption the post when a song in the video began to trend. She sang the song while ministering to the congregation. You can check here for compilation of Igbo songs – Praise and Worship songs in Igbo language.
Who Sang Iyi Eri oba?
Many people attribute Iyi eri oba somg to Vikki Fire. But, no, he is not the originator of the song. Iyi eri oba has been existing. The original owner of the lyric is yet to be verified.
When you listen to the song from different artists, ypou will notice some differences both in rythm and melody. here is Iyi eri oba by Vikki Fire.
Iyi eri oba Song – Lyrics and Meaning
Now, listen to the Iyi eri oba song in this video. The song was sang towards the end of the video. 
Here is the lyrics of the Iyierioba song
Iyi erioba, Iyi eri oba moo, bia
Iyi eri Oba, iyi erioba moo, bia o,
Isioma m ji aga-igwe,
Iyierioba moo, Biaaoo!
Isi oma m ji aga igwe, iyierioba moo,
Biao o.
Chukwu nenye nwa,
Chukwunenye nwa oo, bia oo!
Chukwu na-aza ekpere, Chukwu na-aza ekpere, Biao o!
Iyierioba o! Iyierioba moo, bia oo!
Iyierioba, iyierioba moo, bia oo!
What is the Meaning of Iyi Eri oba?
Iyi eri oba or iyierioba has two meanings. It is a title, used mostly to praise God. It means the river that doesn't drown bucket. Iyi means River. E ri in Igbo means cannot swallow (in a layman term) or cannot drown. Oba is word meaning bucket or items used for water fetching.
In the olden days, Oba, a pot from a tree or a moulded clay pot, is used to fetch water from the stream or river. In the most cases, the oba is drown by the river if the owner is not careful. So, in this context, God is likened as a kind river that can never drown a pot that wants to fetch from it.
Iyi eri oba means, a river that cannot swallow or drown my pot or bucket.
Forget Indabosky, what this little Girl Did in Crusade Ground Will Make you Love God More. See this Little Girl who Displays Raw Power of God VIDEO. 
I know that writing this post means to stir sleeping bees. This is what it is but this is also the plain truth.
No matter how I write it here, I may not be able to win some people to my opinion. But seeing is believing. You need to watch the video of the Little Girl as she ministered on the Crusade ground and church.
Forget Indabosky; this Little Girl carries Raw Power. Watch the Moment she appeared in a Crusade Men and Women Fall under the anointing.

Perhaps, you haven't seen this girl perform in a crusade. She is an example of raw and great power in a small body.
Her case is an example of the train up a child in the way he should go, when he or she grows up, he will not depart from it. I bet she wasn't born this way.
Her parents nurtured her in the way of God and she follows it. This is not to deny the fact that the Spirit of God is upon her life and she is a mighty instrument in the hands of God.
She is called Little Praise. She looks a little physically but spiritually, she is a giant.
Little Praise is among the people whom God said that in the end, a Kingdom Army will be raised. Those who will burn for God. These people will not be a noisemaker but in the thing of the Spirit.
See Little Girl who Displays Raw Power of God VIDEO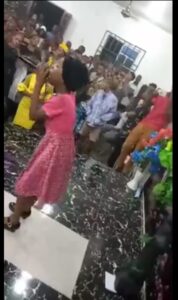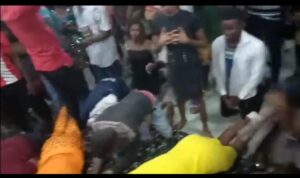 Iyi eri oba Song – Lyrics and Meaning
After watching the video, you will agree with me that falling under anointing during ministration shouldn't be done mechanically. It is not a WWE ring affair.
In the case of Little Praise, the power of God is seen as raw. Even those who were filming her with her phone didn't know where their phones were when the power of God came down.
I tap into her anointing and I connect all my children to this great oil.