2021 latest Senator Cloth Styles for Men.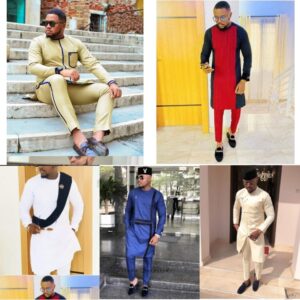 Welcome to 9iainformed.com fashion gallery. In this post, we are going to show you different designs of 2021 latest Senator material for men.



The Senator wear is a two-piece ensemble that comprises a long top/shirt that almost touches the knees. They are known for giving men an elegant look. Senator cloth is cloth for all occasions.
For those who will not be patient to go through all of these pictures of senator material designs for men, we are going to split it into two. This post will be volume one of men's latest senator styles.
Click here to see volume two of the latest senator designs for men.
Are you looking for that beautiful designs to make for your senator materials? Don't look elsewhere anymore. You are at the right place.
Among the clothes or the designs men like to rock, Senator designs top the among the list. In fact, Senator design is that wear that gives men a special aura and charisma.
Have you been to a wedding and see the men on the high table wearing Senator designs? Yes, I have. Whenever you see them, you always think they have all the wealth in the world.
Yes! That is what Senator's material design does to the men who wear them. He looks and smells wealth, lol.
Apart from Ankara styles for men, when you talk about the latest fashion styles for men, then the Senator styles definitely top the list. It is ideal for weddings, naming ceremonies, parties, and other special occasions.
In this post, you are going to see different ranges of Senator styles. They range from plain styles to more complex styles with varying colors printed onto the plain cloth.
Latest Senator Cloth Design For Men in 2021
As you can see, Senator cloth design gives room for creativity, fascinating, beautiful designs, and excellent clothing.
This set of styles you will see here are decorated with embroidery of all kinds. Watch out for the area where the embroidery was used. See the chest or neck area.
Men Senator Material Designs
Straight or slightly fitted options are the best among men. It goes well with narrowed trousers.
To look elegant, you don't need to break a bank. A good fashion designer with great creativity can give you these great appearances yet with little charge.
Senator designs for men
The Summary
We have delivered again as usual. Here is your compilation for the latest 50 plus Senator material designs for men.
Now, you can make the choice of any style. We also told you it doesn't cost much to have one. All you need is to have a creative designer.
Do not keep it to yourself alone. Make sure you share with others.
h