(VIDEO) Pastor Onye Eze Jesus and his River Ministry – Church or Shrine?
After seeing a Facebook video of a new prophet in the town known as Pastor Onye Eze Jesus aka Aka na-asa uchu, I was moved to ask this question: "church or shrine"? (VIDEO) Pastor Onye Eze Jesus and his River Ministry – Church or Shrine?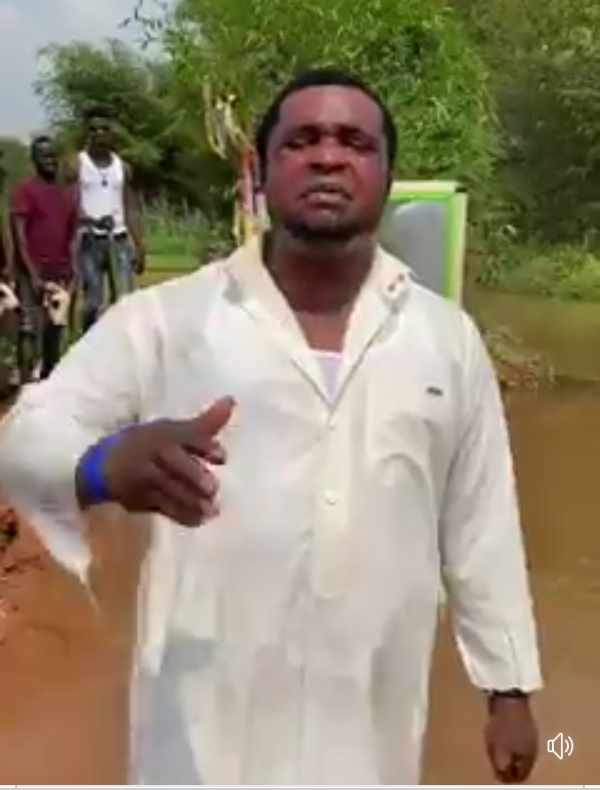 Pastor Onyeze Jesus (Founder Children of Light Anointing Ministry)
The reign of Pastor Odumeje is yet to be over and now, we are seeing his twin brother in speech and Ministerial styles. His name is Pastor Onyeze Jesus. He is the founder of Children of Light Anointing Ministries.



Pastor Onyeze Jesus uses a flowing River as his Church with combinations of fetish items. He is also using the name of Jesus, the name of the father, son, and 'nwa nso' (in his language).
Youths, mainly young men are always trooping to his ministry because he claimes to give wealth. The youths are seen bathing in the river in groups in the video the pastor shared on his Facebook page. He tore a bundle of Naira notes and spread on them while the River carried the money away.
RECOMMENDED STORY:
Pastor Strips Naked, Confesses of Sleeping with his 3 daughters and Killing Own 8 Children
These youths were asked to make requests that it shall be granted to them. The majority of their requests are; 'nbute ike and long life'. Nbute ike means hard currency or wealth.
This is not the only method used by Pastor Onyeze. There are many. I have shared the videos of his water Ministry here. Watch them and answer the question. Is his a church or a Shrine?
Meanwhile, if you are a Christain reading this post, remember that verse in the Bible where Jesus Christ said; "many will come in my name and perform many miracles. They will lead many astray". We are at such a time. he who reads, let him or she understand.
Watch the Video here
https://www.facebook.com/1614807805464845/posts/2862463414032605/?app=fbl
https://www.facebook.com/100002552193430/posts/3612488412179530/?app=fbl
News Source: NkanuTVMEDIA
Thanks for reading. Do you want to get our news updates? Do you want to receive our stories directly on your phone or laptop? Click 'Allow Notification' to subscribe. Thanks.