Biography and Background of Pastor Onye Eze Jesus
Who is Pastor Onye Eze Jesus? Here is the Biography and Background of Pastor Onye Eze Jesus and all you need to know about the Anambra-based river bather embattled prophet.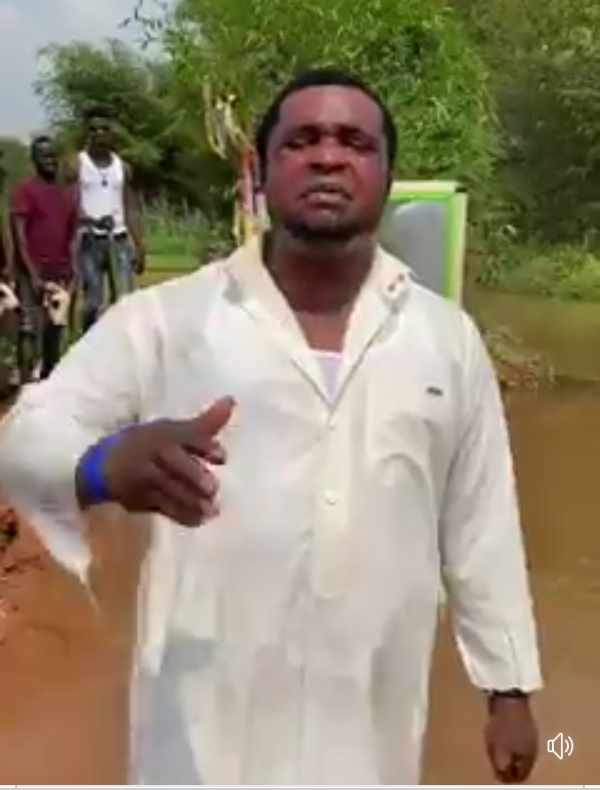 Pastor Onye Eze Jesus is a controversial pastor who founded and heads the Children of Light Anointing Ministry. He has his own strange method of religious practice which he terms "Isa uchu" (watching away hardship".



Pastor Onye Eze Jesus is in the practice of having his clients bathe naked in the river. Not only that. he sprays them naira notes on the river which were carried away by the flowing river. His clients are mostly young men who always place requests to be made rich.
The self-acclaimed economic status changer Pastor has a Facebook page where he releases the daily activities with his clients in his Temple. He also posts naked videos of his clients take their bath in the river, washing away poverty as he claims. Women are also part of these videos.
You may Read:
Anambra State Govt. Threatens to Prosecute Pastor Onye Eze Jesus over Indecent Conduct
Biography and Background Of Pastor Onye Eze Jesus
The real name of Pastor Onye Eze Jesus is Onyii Nwamma. He is a native of Nkpor Uno. He is also the founder and the Senior Spiritual head of the Children of Light Anointed Ministry. His ministry is based in Nkpor Uno in Anambra State.



According to his social media profile, he was born on July 3rd. He is in his early 50s. The family background of Pastor Onye Eze Jesus, his parents, mother, and children are hidden.
We can say here that, he came out from nowhere and manifested overnight through the help of social media. But Media sources have revealed he was once a bus conductor.
Owning to the nature of his spiritual practices, the Anambra State Ministry of Information has alerted the general public to be aware of his indecent religious practice. The State has made move to arrest and prosecute if he is found guilty of the charges against him.
Yesterday, a video of him which emanated from Anambra Broadcasting Service (ABS) was circulating the social. In the video, Pastor Onye Eze Jesus was seen apologizing to the public and the government of Anambra. He also denied that someone is impersonating his Facebook page and uses it to spoil his good name.
But the video never saw the light of the day. It could only play on the ABS page. But when you share it, it will refuse to open. it will either say it has been removed and broken.
See some Videos of his Religious Activities:
(VIDEO) Pastor Onye Eze Jesus and his River Ministry: Church or Shrine?
Meanwhile, Pastor Onye Eze Jesus is becoming more popular day by day in the face of all these controversial practices. People are trooping daily to his social media pages, requesting his phone number. Daily, his followers are increasing day by day