Sassuolo Vs Juventus (1:2) – Match Report, Summary
It's another match day in the Italian Serie A where Sassuolo is going to be taking on Juventus in a home game at Citta del Tricolore. Taking a brief look into the Sassuolo squad, it is very obvious that some players were rested for their next tie in an away match against Napoli. Jeremy Toljan would be missing out in tonight's match against Juventus due to the shoulder injury he sustained during the match against Cagliari. Sassuolo Vs Juventus (1:2) – Match Report, Summary. Trending: Latest News on What 86FB is all About: Ponzi or Real?
However, the Juventus squad is badly affected by injury. Presently, more than 5 players in the squad are on injury. The likes of Juan Cuadrado sustained a Muscle injury, Arthur sustained a Sprained ankle injury, Manuel Locatelli sustained a Ligament injury, Marley Aké sustained a Thigh injury and Kaio Jorge Tendon injury to mention but a few. Regarding the injured players, Juventus have really had an impressive performance in their 3 matches achieving victory.
Taking a look at the Serie A table, Juventus are really craving for victory over Sassuolo so as to approach the 3rd position. While Sassuolo needs a win to approach the 9th position. Read: Barcelona Vs Rayo Vallecano 0:1 – Match Report, Summary, Highlight.
Sassuolo Vs Juventus (1:2) – Match Report, Summary
SASSUOLO STARTING LINEUP: (4-2-3-1)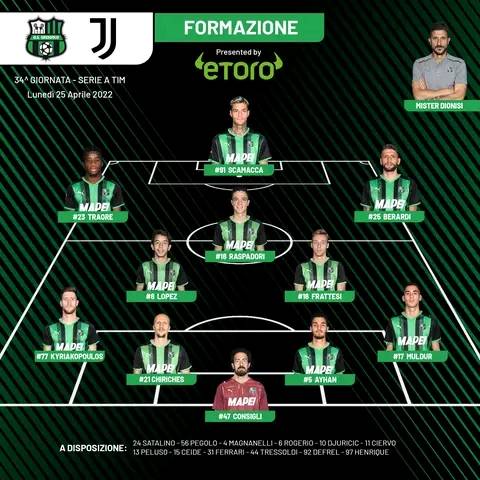 Andrea Consigli,

Kaan Ayhan,

Vlad Chiriches,

Georgios Kyriakopoulos,

Mert Müldür,

Giacomo Raspadori,

Davide Frattesi,

Maxime López,

Gianluca Scamacca,

Hamed Junior Traore,

Domenico Berardi
Substitutes:
Gianluca Pegolo,

Filip Djuricic,

Riccardo Ciervo,

Francesco Magnanelli,

Federico Peluso,

Emil Konradsen Ceide,

Gian Marco Ferrari,

Matheus Henrique,

Grégoire Defrel,

Ruan

Giacomo Satalino,

Rogério
Coach: Alessio Dionisi
JUVENTUS STARTING LINEUP: (4-4-2)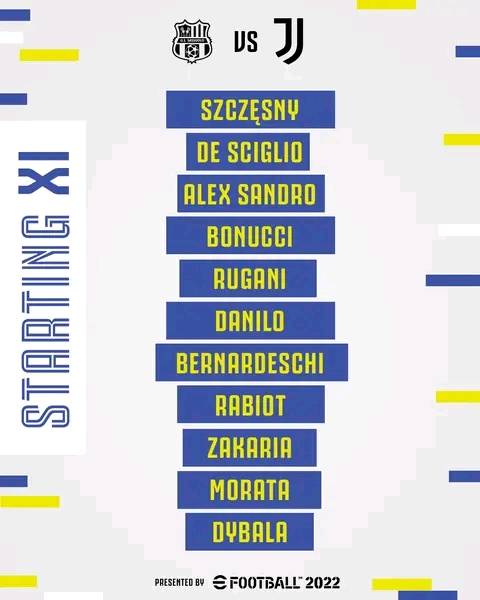 Wojciech Szczesny,

Daniele Rugani,

Leonardo Bonucci,

Alex Sandro,

Mattia De Sciglio,

Danilo,

Denis Zakaria,

Adrien Rabiot,

Federico Bernardeschi,

Álvaro Morata,

Paulo Dybala
Substitutes:
Matthijs de Ligt,

Carlo Pinsoglio,

Fabio Miretti,

Emanuele Zuelli

Luca Pellegrini,

Mattia Perin
Coach: Massimiliano Allegri
HEAD TO HEAD
They have both played against each other 59 times leaving SASSUOLO with 8 wins, JUVENTUS 34 wins and 17 draws.
Regarding this record, it can easily be predicted that Juventus would take the victory in this match.
Match Summary
The first half of the match was very skeptical for both sides. Both teams played with high expectations of achieving victory. The first 25 minutes of the match was dominated by Sassuolo. They tried every possible best to gain access into the Juventus box but all access was denied by the defenders. Wojciech Szczesny was also very vigilant not to allow any ball into the net.
Fortunately, for Sassuolo, in the '39th minute Giorgos Kyriakopoulos made a pass behind the Juve's defense to his team mate (Domenico) then to Giacomo who made a nice finish into the net. The Sassuolo fans were rejoicing, still keeping their hopes high. In the '45th minute, Alvaro moved the ball into the box then made an accurate pass to Denis Zakaria then to Dybala who quickly located the net and got an equalizing goal for Juventus.
SASSUOLO 1:1 JUVENTUS
'1 minute of time was added before the end of the first half time.
Taking a brief look into the second half of the match, Juventus made an impressive come-back with a different strategy of play just to achieve a win.
Sassuolo is still dominating the pitch. Both teams tried to create a goal chance but their effort was fruitless due to the solid defending by the defenders. The '88 minute was favorable to Juventus, Alexis Sandro made a cross with a header to Moise Kean who quickly located the net. Juventus with a leading goal by Moise Kean. Juventus narrowly escaped a defeat and also gained a 3 point to retain the 4 position on the league table with 1 point behind Napoli.
It was a night of joy for Juventus as it happened that they were at the verge of losing the match against their counterpart. Regarding tonight's loss to Juventus, Sassuolo still retains the 10th position with 46 points behind Verona.
SUBSTITUTIONS:
Kean M. replaced (Morata A.) [JUV]
Djuricic F. replaced (Traore H. J.) [SAS]
Defrel G. replaced (Berardi D.) [SAS]
Soule M. replaced (Bernardeschi F.) [JUV]
Matheus Henrique replaced (Frattesi D.) [SAS]
Chiellini G. replaced (Rugani D.) [JUV]
Vlahovic D. replaced  (Dybala P.) [JUV]
YELLOW CARD:
Maxime López (

SAS)

Gianluca Scamacca(

SAS)

Mattia De Sciglio

(JUV)

Moise Kean

(JUV)
GOAL SCORER:
Raspadori G. assisted by (Berardi D.) [SAS]
Dybala P. assisted by (Zakaria D.) [JUV]
Kean M. assisted by (Alex Sandro) [JUV]
Do you think Juventus will finish the league on the top 4 position regarding the numbers of injured players in the squad?
Let us get your view in the comment section.