Manchester City Vs Real Madrid 4:3 – Match Report, Summary
Manchester City Vs Real Madrid on 26 04 2022. The UEFA Champions League has always been the top most title every European club has ever wanted to participate in. Only those who have what it takes would remain in the competition until the final stage and also likely to lift the trophy. Manchester City hosted Real Madrid in the semifinal playoff first leg at Etihad Stadium. Manchester City Vs Real Madrid 4:3 – Match Report, Summary. Read: Barcelona Vs Rayo Vallecano 0:1 – Match Report, Summary, Highlight.
Both teams occupy the 1st position on their individual league table. In an interview with Manchester City coach, Pep Guardiola, he expressed his happiness for his club side regarding their current achievement so far. Having gotten this far in the Champions League tournament, it's of great joy to him.
Taking a look at Manchester City's record in the Champions league, this is the third time City will compete at this stage. It would remain in history if City could get through this stage. Following the interview Pep Guardiola had with the press, he further expressed how hopeful he was to win the Champions League title.
Carlo Ancelotti made a challenging statement in an interview he had with the press. In a statement he made to the press, he said it would be less of a success if Madrid failed to emerge winner of the Champions league title. Trending: Latest News on What 86FB is all About: Ponzi or Real?
The 13-time European champions were not among the favorites to get through to the semifinals due to their low performance at the beginning of the season. In an interview he had with the press, he expressed how important the history of the club in the Champions league is of great advantage for the player. He furthermore disclosed that he hoped to begin the match with an attacking approach so as to easily penetrate Manchester city's defense for an away goal record.
Manchester City Vs Real Madrid 4:3 – Match Report, Summary
HEAD TO HEAD
The both teams have encountered each other 8 times leaving them with 3 wins each and 2 draws. Regarding this record and their current league form, it would be difficult to predict a direct win for either side. Sassuolo Vs Juventus 1:2 – Match Report, Summary
MANCHESTER CITY STARTING LINEUP: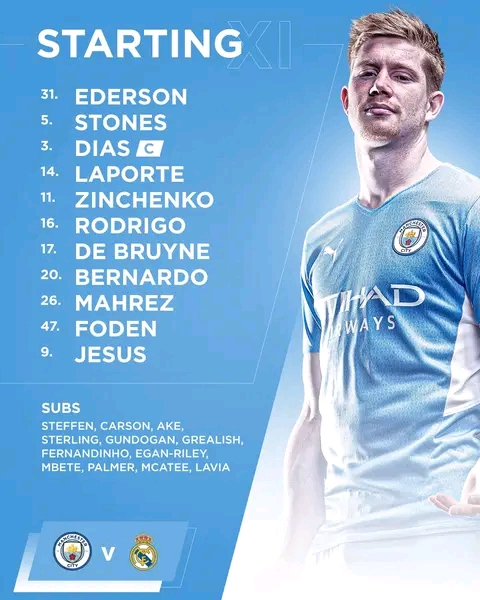 Ederson, Aymeric Laporte, Rúben Dias, Oleksandr Zinchenko, John Stones, Rodri, Kevin De Bruyne, Bernardo Silva, Gabriel Jesus, Phil Foden, Riyad Mahrez
FORMATION: 4-3-3
Substitutions:
Nathan Aké, Romeo Lavia, James Mcatee, Cole Palmer, Zack Steffen, Jack Grealish, Luke Mbete, İlkay Gündoğan, Scott Carson, CJ Egan-Riley
COACH: Pep Guardiola
REAL MADRID STARTING LINEUP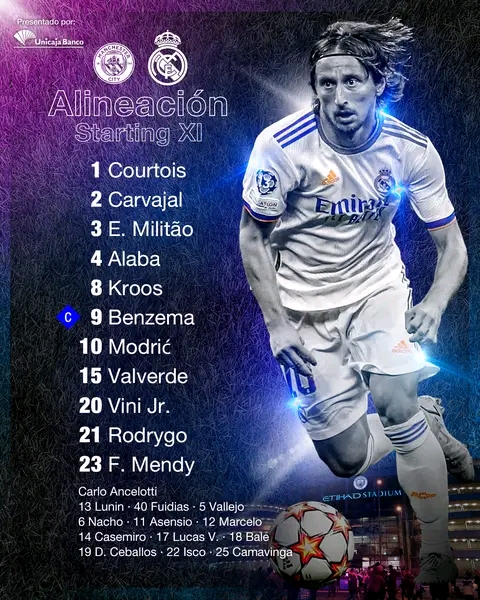 Thibaut Courtois, David Alaba, Éder Militão, Ferland Mendy, Dani Carvajal, Toni Kroos, Luka Modric, Federico Valverde, Karim Benzema, Vinícius Júnior, Rodrygo
FORMATION: 4-3-3
Substitutions:
Casemiro, Toni Fuidias, Jesús Vallejo, Marcelo, Andriy Lunin, Lucas Vázquez, Isco, Gareth Bale
COACH: Carlo Ancelotti
MATCH SUMMARY
The first 45 minute of the match was full of action and goal chances were created by both teams. The stadium was filled up by 52,217 spectators looking forward to seeing their team get a victory. In the 2nd minute Riyad Mahrez made an accurate cross to Kevin De Bruyne in Madrid box and fortunately for him he converted it into an opening goal for MAN. CITY.
Man. City still dominated the pitch with 61% possession. In the 11th minute, another chance was created by MAN. CITY's Gabriel Jesus located the net with his right foot after a defensive blunder was committed by David Alaba. And that was the 2nd goal for CITY. Luckily for MADRID a chance was created in the 33rd minute where Ferland Mendy made a pass to Karim Benzema who quickly located the net. More chances were created but none was converted into a goal. 1 minute of time was added to the initial 45 minute of play time until the first half elapsed.
MANCHESTER CITY 2:1 REAL MADRID (HT)
There were great chances created by both teams in the opening of the second half. MAN. CITY still dominated the second half, 53 minute into the second half Fernandinho made a cross through to Phil Foden and luckily for him he located the ball with a header into the net. MAN. CITY leading the score line.
However, their counterparts were not discouraged by the score line but put up more effort to get an equalizing goal.
In the 55 minute, MADRID's effort yielded a result and a goal was scored by Vinicius Júnior. A dramatic move was made by Bernardo Silva in the 74 minute that got  MAN. CITY a 4th goal.
MADRID, now dominating the pitch, made an effort into CITY's box and a defensive blunder was created by Aymeric Laporte that resulted in a penalty. Karim Benzema set to take the penalty. Unfortunately, Ederson Moraes made a wrong guess and another was conceded making the score line:
MANCHESTER CITY 4:3 REAL MADRID.
The score line remained the same until the final whistle was blown by the referee.
GOAL SCORERS
Kevin De Bruyne (2')

(MANC)

Gabriel Jesus (11′)

(MANC)

Phil Foden (53′)

(MANC)

Bernardo Silva (74′)

(MANC)

Karim Benzema (33′)

(RMD)

Vinícius Júnior (55′)

(RMD)

Karim Benzema (82′)

(RMD)
SUBSTITUTIONS
Fernandinho

replace

John Stones

(

MANC)

Raheem Sterling

replace

Gabriel Jesus

(MANC)

Nacho

replace

David Alaba

(RMD)

Eduardo Camavinga

replace

Rodrygo

(RMD)

Dani Ceballos

replace

Luka Modric

(RMD)

Marco Asensio

replace

Vinicius Junior

(RMD)
YELLOW CARD
Fernandinho

(MANC)

Nacho

(RMD)
Manchester City Vs Real Madrid 4:3 – Match Report, Summary
Summary
Both teams are hoping to get to the final stage of the tournament, which teams do you think will make it through?
Let us get your view in the comment section.