Barcelona vs Rayo Vallecano (0:1) – Match Report, Summary
Barcelona had a shocking defeat to their rival Rayo Vallecano. No one expected this defeat regarding the current Barcelona form. They were high in spirit and also at the top of their game. Barcelona vs Rayo Vallecano (0:1) – Match Report, Summary. Trending: Angers Vs PSG – Match Reports, Summary (Angers 0:3 PSG). 
Comparing the position Barcelona occupied on the league table compared to that of their rival, the match could be easily predicted in favor of Barcelona. The previous week was a very bad one for Barcelona following the loss they had at home to Cadiz on Monday.
Regarding the shocking loss, Barcelona remains at 15 points behind La Liga Leaders Real Madrid giving an edge to their counterpart Rayo Vallecano to be ahead of Celta Vigo with a point. Barcelona failed to convert some chances they had both in the first and second half. Trending: Osasuna Vs Real Madrid – Match Highlight.
Barcelona vs Rayo Vallecano (0:1) – Match Report, Summary
BARCELONA STARTING LINEUP:(4-3-3)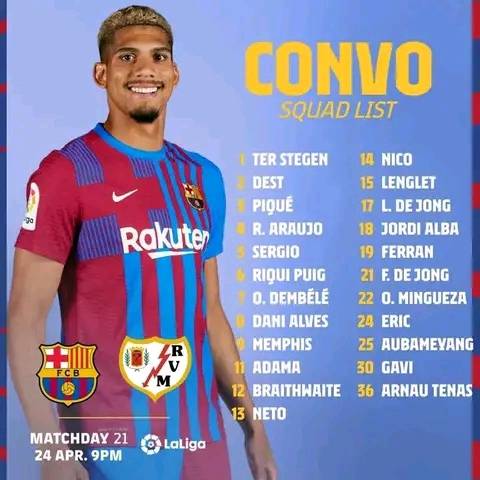 ter Stegen; Dest, Araujo, Eric, Alba; Gavi, Busquets, de Jong; Dembele, Aubameyang, Torres
Substitute:
Neto (GK), Mingueza, Alves, Pique, Lenglet, Puig, N. Gonzalez, Depay, Traore, L. de Jong, Braithwaite.
RAYO VALLECANO STARTING LINEUP: (4-2-3-1)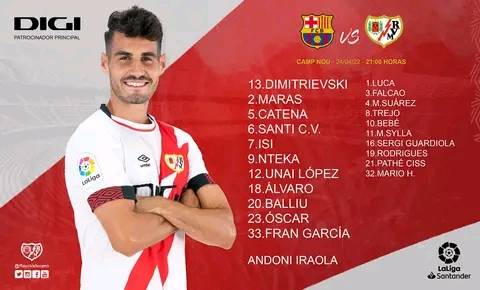 Dimitrievski (GK) — F. Garcia, Catena,
Maras, Balliu — Valentin, Comesana — A. Garcia, Lopez, Palazon — Nteka.

Substitute:
Zidane (GK), Suarez, M. Hernandez, Rodrigues, Ciss, Trejo, Guardiola, Falcao, Sylla, Bebe.
HEAD TO HEAD:
Barcelona and Rayo Vallecano have had 29 matches which involve the league title and others. So far, Barcelona have been able to win 20 matches and Rayo Vallecano have been able to win 5 matches leaving them with 4 draws.
Since soccer could easily be considered as a game of luck, no one could have actually predicted Rayo Vallecano could come out victorious in this game.
Match summary and report
The early minute of the match was a very rough one though Barcelona had most of the ball possession on the pitch. Looking at the Rayo team, we can see that few of their influential players were rested for their next match which also gave a chance to other players to show their performance. Players like Oscar Trejo, Sergi Guardiola were rested to give chance to Unai Lopez and Randy Nteka. The players really played to impress the coach (Andoni Iraola).
Rayo's most influential player, Alvaro Garcia with his creative playing  pattern also performed with a high spirit. Barcelona were not also left out in resting some of their key players as a result of injury. The likes of Pedri was rested due to the injury he sustained. Ansu Fati was not quite ready as he is not fully returned from his long term layoff. Which means Eric Garcia and Clement Lenglet will have to be involved in the match.
In the first 45 minute, Barcelona had a series of opportunities to score but failed to convert those opportunities. Fortunately for Rayo Vallecano, Alvaro Garcia made a surprising move at the 7th minute that got them an early and a winning goal. However, Xavi Hernandez got a yellow card for committing a foul.
Looking at the  2nd HALF  of the match, Rayo Vallecano came in with a defensive strategy so as to secure their early goal. As a result of this, Barcelona found it difficult to have an equalizing goal after all attempts were denied by Rayo's defender. More yellow cards were also awarded to both teams as the match became rough.
YELLOW CARDS AWARDED
Xavi Hernandez

(BARCELONA)

Luuk de Jong

(BARCELONA

Ousmane Dembele

(BARCELONA)

Jordi Alba

(BARCELONA)

Pablo Gavira

(BARCELONA)

Santi Comesana

(Rayo Vallecano)

Ivan Balliu

(Rayo Vallecano)

Isi Palazon

(Rayo Vallecano)

Mario Hernandez

(Rayo Vallecano)

Oscar Trejo

(Rayo Vallecano)

Alejandro Catena

(Rayo Vallecano)
The league tie for both teams was accompanied by 57023 spectators at the Camp Nou. 11 minute(s) of time was added to the initial 90 minute play time due to some delay encountered during the match.
However, as the end of the Spanish La Liga draws near, all league clubs have 6 matches to play. These matches will determine those who are to qualify for the UEFA Champions League, Europa and also those who are going to be relegated.
As a matter of fact, Barcelona, Sevilla and Atletico Madrid are the main top four  contenders. Real Madrid are sure to be the winner of the league title with a total of 15 points ahead of the 2nd position.
Could Barcelona end up at the second position by the end of the Spanish La Liga?
Let us know your view in the comment section.