About JMK BBNaija Biography
About JMK BBNaija Biography. JMK BBNaija's real name is Jumoke Zainab Adedoyin. The 23-years-old BBN season 6 female housemate is a native of Kwara State; located in the North Central geo-political zone of the Nigerian federation. Her nickname, as being used in the Big Brother house, is JMK.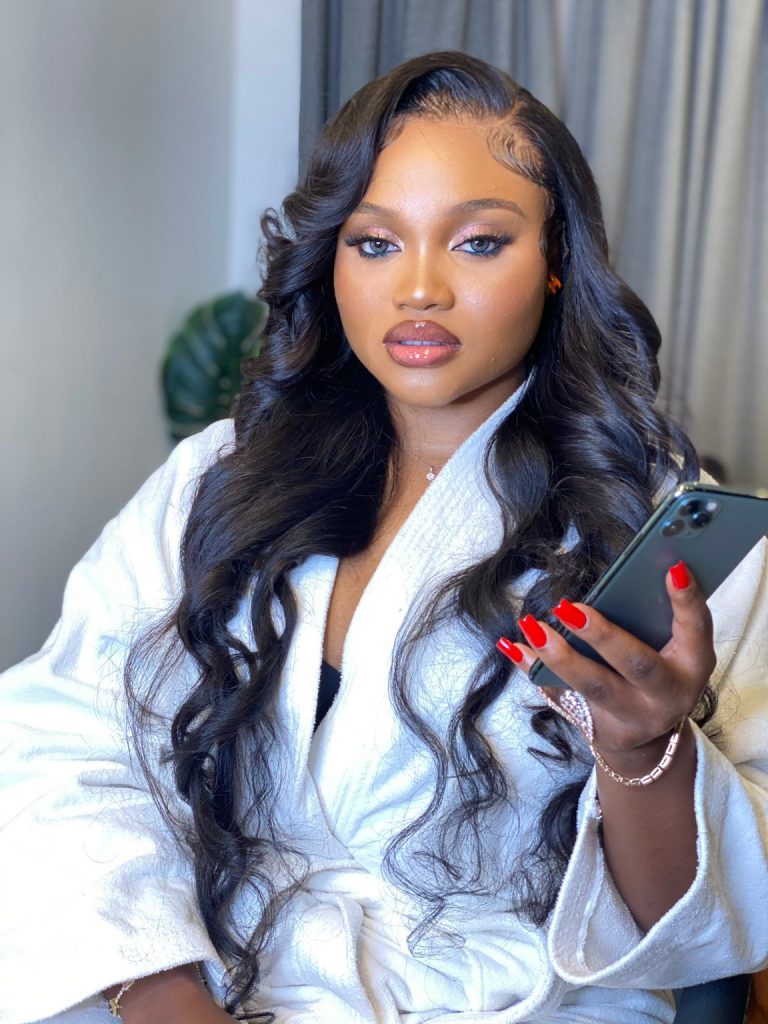 You May Also Read:
About JMK BBNaija
The sixth edition of the popular reality TV show, Big Brother Naija, kicked off with a total number of twenty-two (22) housemates. However, the show which is always full of uncertainties and plot twists took an unexpected turn, when four (4) extra housemates were introduced to the existing housemates.
This plot twist happened after three housemates were evicted earlier, the same evening. The three evicted housemates included: Yerins, Beatrice, and Niyi; while the four new housemates namely: Kayvie, Queen, Jumoke (JMK), and Michael.
Jumoke, on her first night of coming into the house, had made it clear that she doesn't have any tactics or any intention to use any gimmick on her fellow housemates, so as to win the grand prize. According to her, her main goal in the Big Brother house is to meet new people and widen her social network, after the completion of the ongoing reality show.
Prior to her introduction into the Big Brother Naija house, Jumoke mentioned that she ensured all her clothing and wears were of high quality and also learned to study people's behavior. She asserted being ready for any kind of energy she will receive from other housemates.
The female and beautiful housemate also promised herself and viewers that she will put in maximum efforts to steer away from any potential fight, but won't be soft with any individual that may want to stretch her nerves.
In her words, "I know they will come across me, and they will collect." Obviously, Jumoke will eventually learn to blend well with other housemates being one of the last contenders to be introduced into Biggie's house.
Very quickly, we take you along a mental voyage into the personal life of your favorite BBNaija housemate. This article features Jumoke BBNaija's biography, her net worth, early life, education, relationship status, and any other interesting details about Jumoke BBNaija.
JMK BBNaija Biography
JMK, whose real name is Jumoke Zainab Adedoyin, is a native of Kwara State; located in the North Central geo-political zone of the Nigerian federation. Her nickname, as being used in the Big Brother house, is JMK.
How Old is JMK BBNaija?
Jumoke, who is one of the youngest housemates in the BBNaija Season 6 house, is twenty-three (23) years of age, as of 2021.
Jumoke BBNaija Early Life & Education
Jumoke Zainab Adedoyin was conceived, given birth to, and nurtured in Nigeria (exact place unknown), in a family of three kids. She is said to be the last child of her parents.
Although, we don't have information about her primary and secondary school education, Jumoke, at the moment, is a fresh graduate of Law from Afe Babalola University in Ekiti State's capital – Ado Ekiti. She signed out from the institution in 2019, after a continuous academic sojourn spanning five years.
JMK BBNaija Career
Same with her early educational background, we don't have concrete information about Jumoke's career; we learned that the female housemate circumvented her law school studies for the Big Brother show.
She intends to invest her energy into becoming a bonafide member of the Nigerian Bar Association, after leaving the house. She strongly believes that her appearance on the Big Brother reality show will help her to boost her popularity, and probably help her to build a strong client base.
About JMK BBNaija Biography
Jumoke BBNaija Likes & Dislikes
JMK said she is the type of lady who derives much satisfaction from entertainment. Consequently, she likes to dance since she knows how to dance well. She also mentioned her addictive flair for playing music, and also stated vividly she would be playing music for a whole day, if she gets the opportunity to be Big Brother for just a day.
In addition to Jumoke's hobbies, she loves the idea of traveling. According to her, she gains a lot of exposure and experiences from traveling.
JMK stated that she does not readily flow with people that are judgmental, backbiters, and manipulative individuals.
Jumoke BBNaija Relationship Status
Is JMK single? Is Jumoke BBNaija in any relationship? Not at all, Jumoke is single, at the moment of writing this article. She made mention of being single as a result of trust issues, and that she's yet to meet the man of her type.
However, there might be a possibility of her breaking her single status by boarding a ship in the Big Brother house since it is a common trend associated with BBNaija housemates. As we always say, time is a great revealer of all truths.
JMK BBNaija Net Worth
How much is Jumoke BBNaija's net worth? According to the record, she has an estimated net worth of $70,000.
Frequently Asked Questions about JMK BBNaija
Answer: Yes, Jumoke is exposed to a luxurious lifestyle, and is said to have a house of her own.
Answer: The answer to this question is yes. Jumoke was brought up in a comfortable family.
As a result of her father's wealth, and the profits she earns from her businesses, she owns an SUV vehicle. The details of the car are not yet available.