Actor Yul Edochie Biography, Marriage, First Son's Death, Latest News.
Yul Edochie is a Nigerian actor, film director, and politician. He was born on January 7, 1982, in Nigeria. He is the son of popular Nigerian actor, Pete Edochie. Yul Edochie started his acting career in 2005 and has since then become a household name in the Nigerian movie industry. Actor Yul Edochie Marriage, First Son's Death, Latest News. Read our trending story: This is why Tom Tom and Cold water is Trending on Twitter
Early Life and Education
Yul Edochie was born in Lagos, Nigeria, and grew up in Enugu, the eastern part of Nigeria. He attended the University of Port Harcourt in Rivers State, Nigeria, where he obtained a degree in Dramatic Arts.
Acting Career
Yul Edochie began his acting career in 2005 when he featured in a movie titled "The Exquires." He rose to fame after he featured in the movie "Wind of Glory" in 2007. Since then, he has featured in several Nollywood movies such as "Royal Challenge," "The Billionaires," and "Beyond Expectation," among others.
In 2015, Yul Edochie was nominated for City People Entertainment Awards for Best Actor of the Year (English). He has won several other awards, including the Best Actor in a Leading Role award at the Africa Magic Viewers Choice Awards.
Film Production and Direction
Apart from acting, Yul Edochie is also a film producer and director. He produced and directed his first movie, "The Innocent Prophet," in 2012. Since then, he has produced and directed several other movies, including "The Painful Soul," "Palace War," and "My Wife and I."
Politics
In 2017, Yul Edochie announced his intention to run for Governor of Anambra State, Nigeria, under the platform of the Democratic People's Congress party. He contested in the election but did not win.
Personal Life
Yul Edochie is married and has five children, including a son he had with his colleague and controversial second wife, actress Judy Austin. He is a Christian and is very vocal about his faith. He is also known for his philanthropic activities, especially towards the less privileged in the society. Actor Yul Edochie Biography, Marriage, Son's Death, Latest News.
Yul Edochie is one of the most talented actors in Nigeria's movie industry. He has worked hard to earn his place in the industry and has continued to inspire younger actors to follow in his footsteps. He has also ventured into politics, showing that he is not just an actor but a man who is passionate about the development of his community and country.
About Actor Yul Edochie Marriage
Yul Edochie, the Nigerian actor, film director, and politician, is married and has four children. He got married to his wife, May Aligwe, in 2004, and their union has been blessed with three boys and a girl.
Yul Edochie's wife, May Aligwe, is a trained accountant and businesswoman. She is also involved in the entertainment industry as a movie producer and director. May Aligwe is known for producing the movie "Hand of God," which featured her husband, Yul Edochie.
Yul Edochie and his wife, May Aligwe, have been married for over 17 years and have remained committed to each other despite the challenges that come with being in the public eye. In an interview, Yul Edochie spoke about how he and his wife have been able to maintain a strong relationship by keeping their private lives away from the public.
Yul Edochie is known for being vocal about his love for his wife and family on social media. He often shares pictures of his wife and children, expressing his love and admiration for them.
Yul Edochie is happily married to his wife, May Aligwe, and they have been able to maintain a strong and loving relationship despite the demands of their professions. They are an example of how love, commitment, and communication can keep a marriage strong and successful.
However, the last paragraph was what his fans were made to believe about him until recently when he made a shocking a revelation about keeping secret romantic affair with a fellow actor which has produced a son, Judy Austin. He called himself a renowned Polygamy and since then has been promoting polygamous family.#
His action has since put him and his first wife May Yul-Edochie, the mother of his four children into a loggerhead. She recently made move to sue Judy Austin who she said is guilty of bigamy.
Yul Edochie First son's death
The news of one of the sons of Actor Yul Edochie from his first wife, May Yul-Edochie flickered into the internet this morning. Yul Edochie had 3 sons with Queen. The couple has lost one of them. He lost his first son with Queen May yul-Edochie, Kambi Yul-edochie who just turned 16 years old.
What Killed Yul Edochie's son? The Cause of Yul Edochie,s son death.
The actual cause of death of Yul Edochie's son is not yet made public. However, 9jainformed reporter gathered from reliable source that the boy was not sick. It was said that the boy slumped in school and died. From the story, the boy read through the night, which no mother should allow, for an Exams. After the Exams, he should have rested but went to play football. He collapsed in the field while playing ball with others.
Photos of Yul Edochie First son who died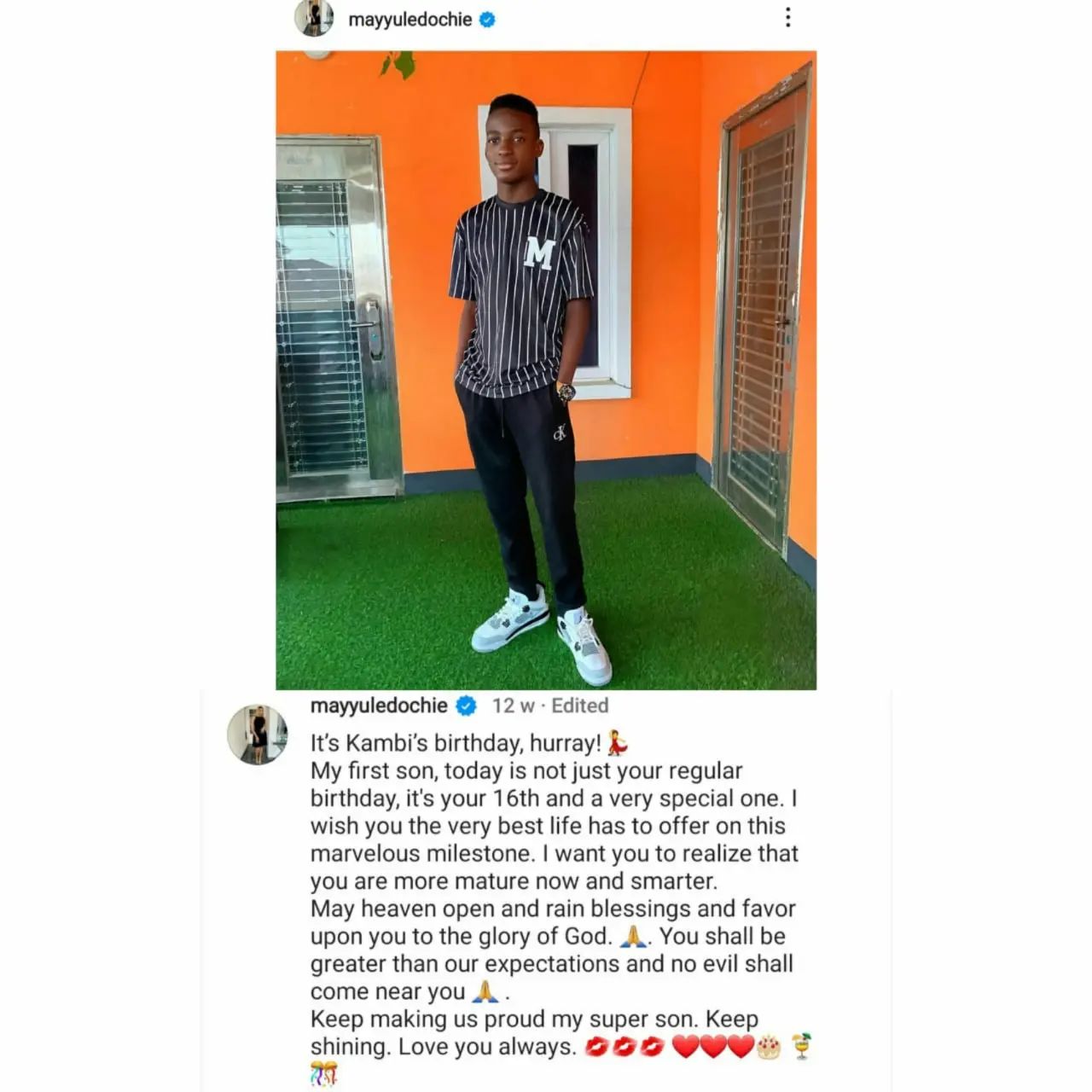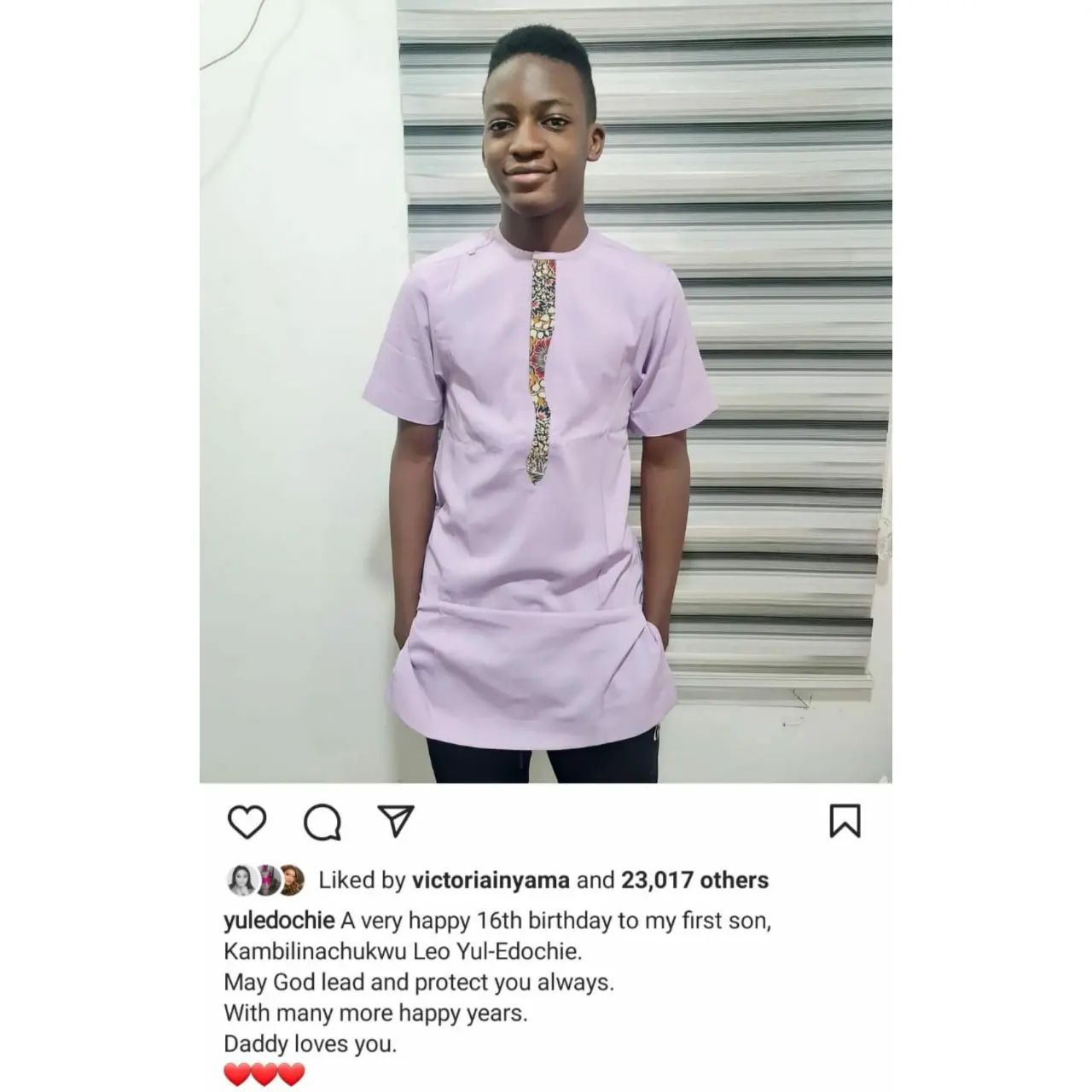 Actor Yul Edochie Biography, Marriage, Son's Death, Latest News
Social media users are reacting differently on the boy's death. Some are already pointing accusing fingers on the second wife. Read this Facebook post and the comments below:
It was said that the boy slumped in school and died, we are now blaming it on Polygamy.

Pls what about the chrisland student that died, is it the handwork of Polygamy too?…

See more

I know a polygamous man his first wife led the marriage of the other 5 wives.

I also know a polygamous young man of 42 whose 3 graduate wives are happy.…

See more

The one I saw in Nnobi is the first wife that is giving the headache and Jazz. I asked the second why did you enter the marriage she said the first one packed and left the marriage before she came in, after giving two kids the first came back bec…

Nchedo Marcelo UnaGod replied

6 Replies

This have nothing to do with polygamy. Only God knows why the boy had to leave now

That was the 1st thing that came to my mind when I saw this, polygamy ooo, who never see, no go know…

May this news be false ooo…

What about autopsy report? Haba.

What if dude had some undiagnosed heart issues?

From the comments I'm seeing I don't see what correlate polygamy with the death of a young boy. Death can happen to anyone and in any family.

I have see some comments here,Biko umunnem everything is not the will of God,..once there's no peace in the family everything will just scatter…May God give May the fortitude to bear this 

and may his soul rest in peace

So people who are not polygamous have not lost their child?

What has polygamy got to do with the death of this boy?

Make una try to dey not to dey post hot takes here abeg.

Polygamy is bad Bamda is seriously sick in the hospital the two wives are seriously fighting about properties right in the hospital

My Boss second wife on 4days of arrival she took the first wife clothes and cut some parts not knowing that the house he…

Mind what you people post on online , a family is mourning the lost of their son , and you are here writing these jargons

And some of your b!le mumu followers dey cheer you

Is it polygamy that killed the boy? From the story, the boy read through the night, which no mother should allow, for an Exams. After the Exams, he should have rested but went to play football. He collapsed in the field (as I heard). That boy must have…

Actor Yul Edochie Biography, Marriage, Son's Death, Latest News

As usual, pointing fingers instead of thinking about the real cause of the death . We as a people can do better than this nah . Ahhhhh

People who are not polygamous don't lose their child? It's so dummy to link this to polygamy and I use to see you as an intelligent woman. My bad…

Wetin concern the young boy death with polygamy. Sometimes una go just post to get comments.

And people are already pointing fingers at Judy

Omo if you wan turn second wife Nne reconsider oh

Because any little thing that happens in that home you are a suspect

This has nothing to do with polygamy..is sad Judy is caught up in this..May the young boys souls Rest In Peace

Actor Yul Edochie biography, Marriage, First Son's Death, Latest News

So pastor Adeboye that lost his son, is he also polygamous?

Stop posting rubbish here on fb just to get comments……

See more

Any oloriburuku man wey wan do polygamy shld do in peace. If u use ur rubbish reggae spoil my blues e no go funny. Foolish men

If you like, keep saying polygamy has nothing to do with this.

If you know the part of Umuoji Judy came from, you'd know she didn't come to play. Babe is very very de.sperate.

Make una dey play o

Yul claimed the blessings of David but never his curse,he thinks he can cheat God.

Go and verify same thing happened to David in the Bible whom he claims to be.

My pain is that innocent children suffers the consequences of the sins of their fathers