Enugu state government has issued a public notice to all residents of Enugu state, announcing a 24-hour curfew which commenced at 7 p.m Wednesday till further notice.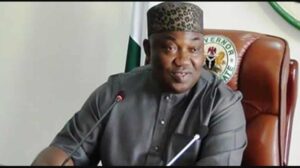 This announcement was made known by his Special Assistant on Media and publicity in the state, Mr. Louis Amoke via Facebook. The three local government areas are Enugu East, Enugu North, and Enugu South.
The announcement read thus;
"Breaking News:
#EndSARS protest:
Enugu State Government imposes 24-hour Curfew in Enugu East, Enugu North, and Enugu South Local Government Areas, effective from 7 pm today, Wednesday, October 21, 2020, until further notice.
Enugu State is in the hands of God".
Meanwhile, protesters have disregarded the information and continued in their protest even as at the time of documenting this.
The curfew is to restore peace in the state as the protest took another dimension today. Sporadic gunshots were on the air throughout this evening. In Igbariam, two protesters were feared dead.