ENDSARS: This Is The Video Of Okuzu SARS Prisoners That Fueled The EndSARS Protests In Anambra State. Video Of Okuzu SARS Prisoners, Alleged Criminals Awkuzu SARS.
These men in their large number in this video were prisoners at Okuzu SARS in Anambra State. The video was leaked sometimes last year but the insensitive government of Nigeria felt unconcerned about the plights of these prisoners. They sent out a cry for help in form of rendition.
These are men who were arrested by SARS and detained at Awkuzu SARS in Anambra State. The number of these men run in hundred, jam-packed together, brought under the sun for the reason I can't explain here.



I have played this video countless times. Each time, it leaves goosebumps on my body and gives me swell in the head. The song was an example of a song of despair. It was a lamentation of a wounded lion.
The #EndSARS Protests didn't start today. Helpless captives in their custody in the years past have yearned for the disbandment of the police unit and this is what this song is talking about. To know that SARS was standing at their back fully armed while they sang is another message.
If you don't understand Igbo language, get an interpreter. You need to hear and understand this rendition. #EndSARS Protests didn't start today.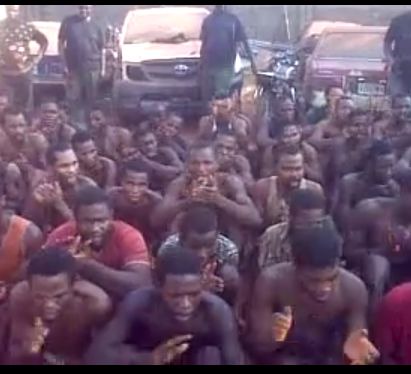 This is what they sing;
"Onye ga-azomu n'aka SARS? Jehovah mo, bia zoputa mu n'aka SARS".
These are lines in the rendition meaning, who will deliver us in the hands of SARS? My Jehovah, come and deliver us from the captive of SARS.
Wherever these men are today, they will be the happiest people on earth. This is because the prayer they made over SARS is about to be answered. Or, should I said it is already answered.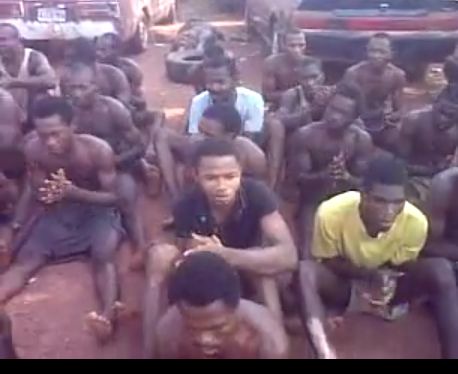 Click the link and watch the video. Pass this article to the next readers until it gets to all corners of the country. So that people should know why it is necessary to end SARS extra-judicial activities like illegal detention, and the time is now.
Like and share.