Rev. Fr. Mbaka Adoration Gutted by fire.
The ENDSARS protests in Enugu today has gone out of control as the angry protesters invaded the Roman Catholic adoration ministry owned by Reverend Fr. Ejike Mbaka, drove every worshipper away, and set it on fire.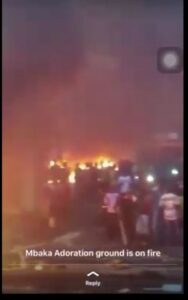 The Protesters in Enugu has defiled the 24-hour curfew placed by Governor Ugwuanyi, the governor of Enugu state.
Details to come later………
UPDATE:
The rumour that Mbaka Adoration ground was set on fire by angry youths and ENDSARS Protesters has been dismissed as false rumour. The managers of the adoration ground told the public via their Facebook page that there must no smoke seen around the adoration premises.
This claim was also confirmed by some youths who said they cannot set adoration ground on fire.
Adoration ground is personal Ministry owned by a Catholic Rev Father, Rev Ejike Mbaka. It is located at Emene in Enugu State. People from far and near, Catholic and non Catholic faithfuls go to receive prayers there.
The rumour and anger to set the adoration ground on fire was fueled by the alleged Mbaka open support to President Muhammadu Buhari and his recent political prophecy.
So, during the #endsars protest, the irate protesters saw it as an opportunity to get to the Rev Fr., by setting his ministry on fire.
Meanwhile, this rumor has been dismissed as a just mere rumour. Mbaka Adoration ground was not set on fire.