How to Prepare Homemade dog food 
How to Prepare Homemade dog food. It is easier to walk into a pet store and purchase your dog food. Usually, it takes less than twenty minutes to get all you need and return home. The convenience of buying your dog meal makes it more appealing than preparing their meals yourself.
However, recent health complications surrounding dog health calls for caution in how we feed our dogs. Dog owners have reported several cases of cancer, diabetes, heart diseases, and lots more.
Not that ready-made dog food causes these diseases, we need to know that natural food prevents disease exposures in dogs and other pets. Several Veterinary doctors also suggest that dog owners include natural ingredients in their dog ration.This article will show you how to prepare healthy dog food right there in your kitchen in less than 1 hour.
Here is an advantage to this recipe: you can cook a sizable amount of meal and store it in an air-tight container, freeze it and feed it to your dog for as much as three months. But if you are the type that has the time, you can prepare this meal for your dog every three days.
Dogs are not like human beings; they don't get bored by eating the same meal repeatedly. Although some dogs reject meals, this is a rare instance. However, if you want variety in your dog meal, you can switch to vegetables, fruits, and ready-made dog foods once in a while. That way, your dog has a variety of meals to relish.
YOU MAY READ:
How to Prepare Homemade dog food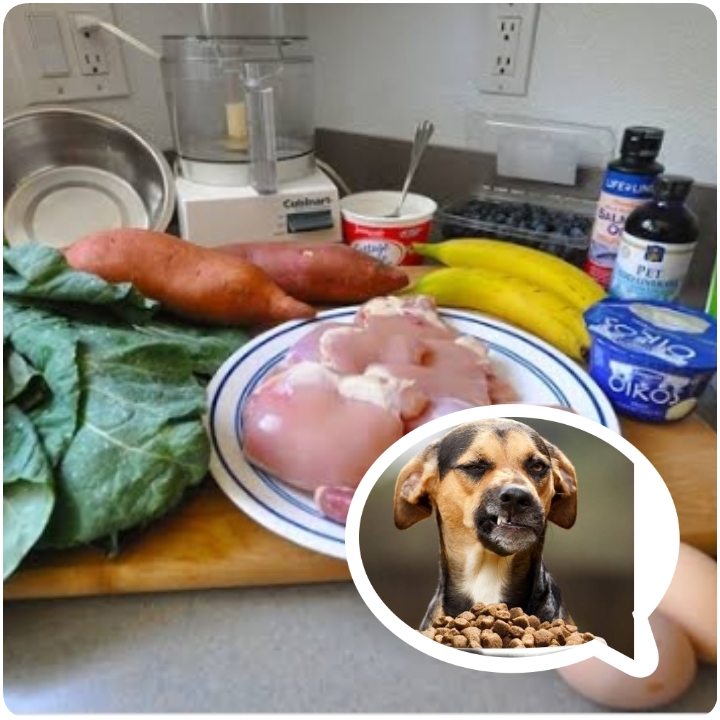 This recipe requires you to boil three cups of brown rice or white rice, depending on the one available to you. Strain the rice and keep it in a bowl.
 ground turkey
carrot
 Coconut oil
1 cup of grated Zucchini (if this is not available in your country, you can research dog vegetables and use the one available in your country)
1 cup of grated Carrot (washed and peeled)
1 cup of grated Spinach (you can substitute this with vegetables in your country, provided it is safe for dogs)
1/2 teaspoon of Turmeric
1 big sized egg
3 cups of cooked brown rice
Procedures on how to Prepare Homemade Dog Food
Heat a large pot over medium heat.
Melt one tablespoon of coconut oil (if you are using the fluid coconut oil, you can add seven tablespoons)
Once the coconut oil heats, add in one pound of ground turkey
Break the ground turkey into smaller chunks and fry till it turns mildly brown. It should take about 10 minutes.
Add 1 cup of grated Zucchini, 1 cup of grated Carrot, 1 cup of chopped Spinach.
Do not add salt to your dog food. Add a half tablespoon of Turmeric to spice things up instead.
Stir it all together and get it all mixed.
Allow it to cook for about 8 – 10 minutes; while you stir it as it cooks.
Notice the tenderness in the vegetables to know if it is ready.
Turn off the heat and break one egg into the mix.
The heat of the food is enough to cook the egg.
Stir the food until the egg mixes in properly
Add the three cups of rice
Stir it into the mixture (you may turn on the heat slightly to warm it all together)
You have a beautiful-looking meal that will blow your dog away. It may even tempt you to eat it all.
Turn off the heat, and set the pot on the table. Allow the meal to cool down completely before you serve it.
If you have used more ingredients than your dog can consume in one serving, you need to get an air-tight container to store the leftovers. Cover the container and put it in your freezer. If you freeze the meal, it can last as long as three months.
It is not a good idea to feed your dog with three-month-old food. Prepare your dog meal every five days to keep it fresh and healthy.
Note: Before you prepare your dog food, conduct some research to know the food that your dog can not eat. Several meals are appropriate for humans but poisonous for dogs.
You must make sure you don't include these kinds of food, fruits, or vegetables in the ingredients used for your dog food. If you stick tightly to the recipes shared in the article, you will be just fine.
How to Prepare Homemade dog food – Conclusion
There you have it. Now your dog can feed on a rich and healthy meal. You can mix several other varieties of dog food into the ration of your dog. You can create a kind of timetable for your dog where you switch between options, including the ones you prepare and the ones you purchase.
As it is in human beings, so it is in dogs. Their health depends heavily on the kinds of food they eat. Experiment with this recipe until you master it and see how your dog loves it. It is not the only dog recipe available.
However, you can start with this one and move on to another one. As stated earlier, some meals are poisonous to your dog, do not include them in your recipe. Conduct some research to identify safe and unsafe dog food and avoid them.