How to Prepare Bitter Leaf Soup
How to Prepare Bitter Leaf Soup. People cook their food differently according to their tastes, culture and traditions. Method of preparing a particular food may vary from one Community, tribe and another. For example, Anambra bitter leaf soup making is quite different from how Enugu and Ebonyi States make their own Bitter leaf soup. The way Yoruba tribe prepare their bitter leaf soup is different from how the Igbo people prepare their own bitter leaf soup.
Preparing Bitter Leaf Soup may be difficult when you are not grounded in the use and choices of the ingredients. Here are all the Secrets You Need in Cooking Delicious Igbo Bitter Leaf Soup. How to Prepare Bitter Leaf Soup
We are going to go "kitchen" in our post today. In this post, we shall be talking about the secrets behind the delicious Igbo Bitter leaf soup. Please, share our post and SUBSCRIBE to our notification.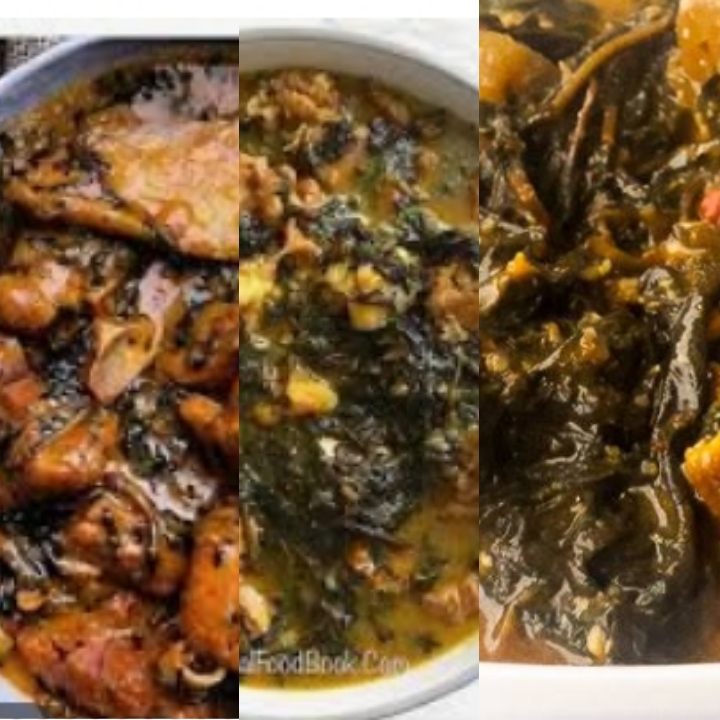 Bitter leaf soup known as (ofe onugbu) in Igbo native dialect is a natural delicacy. The people of Eastern Nigerian enjoy it the most. It is a core soup of the Anambrarians mainly the Nnewis.
When it is prepared by these groups of people mentioned, the difference is always clear. Not all of them anyway, not all persons can cook well.
I have discovered that many people find it difficult to make a bitter leaf. This popular delicacy appears to be the most difficult soup to make for some people. When they make the soup, is either the oil separate s from you the soup or the bitter leaf is quarreling with the soup water.
It has become a tradition now among many to contract the service of Anambrarians cook for the preparation of bitter leaf soup whenever there is a ceremony. This shouldn't be so. There is no big deal in bitter leaf soup preparation.



How to Prepare Bitter Leaf Soup
There are just a few things that needed to be removed from the meat before it can be eaten (proverb).
Again, people who do not contract the native cook have found a shortcut to cooking this soup.
This shortcut is making use of bitter leaf soup spices, flavor, and starch to make the soup. This method gives the desired taste anyway.
Read this article to learn the 10 Diseases you can Cure by Just eating Bitter leaf.
But it is no longer natural. What is supposed to be a natural meal has become artificial full of preservatives. This method of preparing bitter leaf soup, even though it might be delicious, kills the body system silently.
Bitter leaf soup that is cook with flavor, artificial spices, and starch give heartburn and indigestion. It clogs in the stomach lining and forms toxins. Cooking a healthy bitter leaf soup does not require two many.
All it required are having the right ingredients and knowing the appropriate time to put them. Traditionally, delicious and healthy bitter leaf soup is prepared this way:
Steps in Cooking Delicious Igbo Bitter Leaf Soup
 Put the desired quantity of palm fruit (akwu) and cocoyam (ede) in a pot of water and cook until they are done. Separate them. Process the palm fruit in a mortar or container. Pour warm water and sieve the palm fruit crude into a pot until you get the desired quantity.
Peel the back of the cocoyam and pound in a mortar or blender until it becomes pulp. Put it on a plate and cover it.
 Put the pot of the palm fruit crude on the fire and allow to boil away the foamy crude.
Wash an already scrubbed bitter leaf and put it in the boiling pot.
Add salt. Cover to cook but not tightly covered.
Wash the meat and stockfish and add.
NOTE: Bitter leaf is added earlier to allow it to be softened. When it is well cooked, it blends with other ingredients. Raw bitter leaf soup is not ideal.
Pound pepper, crayfish, and Ogiri Igbo (melon Seeds or Ugba) or both. Add them and allow them to continue cooking.
Taste the bitter leaf to see the level of its softness. Add the pounded cocoyam (ede).
Add dry fish at the time it will not disappear or melt in the pot.
Add Maggi and salt to your desired taste and continue to stir.
Delicious Bitter leaf soup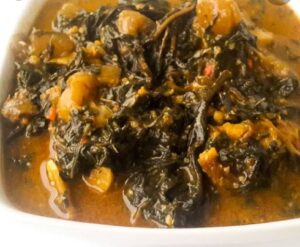 By now, everyone in your neighborhood and compound should be aware that a pot of bitter leaf soup is on the fire in your kitchen.
If you are using Chicken to cook, do not put it at the same time as the bitter leaf. If you do, it will turn into pulp, even before the soup is done. (Me, I like steaming my chicken and put it at the end of the cooking).
Add cocoyam before you add your chicken. You can also add grounded "azụ ịbara", smoked fish, and fresh fish at the same time with your chicken if you have them.
Be sure you do not cover your boiling pot of soup tightly. If you do, it will not thicken. Cover your cooking pot of soup half-opened.



Summary
What to do, if your soup refused to thicken or the cocoyam is not enough.
Very simple.
Get garri and spray a small quantity in the pot. Turn it from the bottom to the top. In less than a minute, the soup is good to go.
Learn the Secrets You Need in Cooking Delicious Igbo Bitter Leaf Soup. Have a great meal!