"God Cannot Punish Me Twice Na". Lady Reacts To Post Showing A Father Getting Drunk With His Baby
This post is about a lady's epic reaction to a Facebook post of a man who was drinking with a little child. The poster claimed he is a father to the little baby he was giving alcoholic drinks. He was drinking alcoholic with a little boy and both fell asleep after finishing a crate of beer. A lady who is a Facebook user could not bear the sight and commented thus; "God cannot punish me twice na".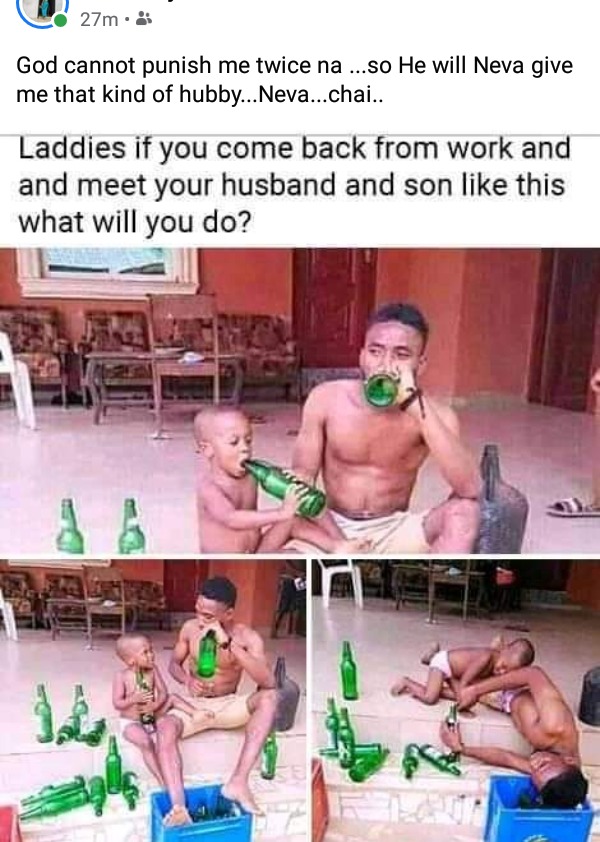 *Image credit: Facebook
Honestly speaking, if this photo is for real, the man should be apprehended and taken to this Psychiatric hospital. The child should be taken away from him and puts in safe care.
Some will call this having fun. But is no fun. This is nothing but child abuse. The man can get drunk as he wishes. After all, he is an adult. But taking a little baby and giving him a full bottle of beer to gulp down is sheer stupidity and foolishness.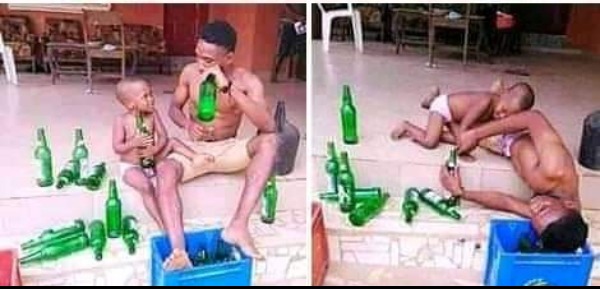 He doesn't like the life and the future of the little boy. Someone was asking what you will do if the young man is your husband. A young lady has given an epic reply to the post by saying that God cannot punish her the second time by giving him this type of husband. She means to say that she's been through enough in the hands of men. Giving him this kind of husband is another punishment.
She could also mean to say that her husband may be poor but must have sense. She cannot endure both hardship and foolishness.