SUPFRICA: Nigerians Promote First-ever African messaging App
After the news of banning Donald Trump's from accessing Facebook and Instagram hit the media, Nigerians promote SUPFRICA, a messaging app made by an African for the Africans. They said they want to avoid future monopolies and relegation.



Supfrica is a creation of a US-based Sierra Leonean by the name of Hafiz Alhassan Kanu. The company Techfrica released Supfrica on Google Play Store on December 11, 2020. The app is also amazingly rated number 1 on Google Play Store Top Free Apps; leading the world's top messaging apps like WhatsApp, Messenger, Facebook, Telegram, WeChat, etc.
In less than one month, the app has already gathered 100, 000 downloads. This is a welcome development. This has also confirmed that Africans are waiting for the birth of their own messaging app from their own root.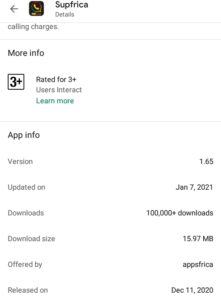 A veteran journalist, Anya Igu Idika joins to champion the awareness creation. According to him;
"Just a few minutes ago I harped on the need to think and invest in indigenous tech and media companies. Not knowing that one was already birthed, viz Supfrica, a messaging app that is faster than WhatsApp.
We need to key into this tech race, as we cannot just be relegated to be only users of tech products and not producers. On Supfrica, messaging has never been this fast. Faster than WhatsApp, with high-quality voice and video call that is even cheaper without any form of scrambling, whether you are on 2G, 3G, or 4G network. And you can forward messages to more than 20 contacts at once.
You can also create a Supfrica group and add an unlimited number of contacts to your group.
What are you waiting for? Join me on Supfrica, download the app through".
https://play.google.com/store/apps/details?id=com.supfrica.Appsfrica
See what other Nigerians are saying about this new app made for the Africans by an African: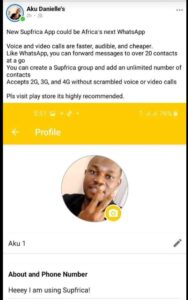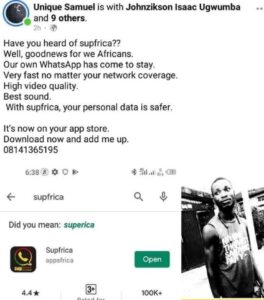 I support this move. But my fear is; will the app last? Won't it end like other indigenous apps to the highest bidder? What is your view on this?