Joe Igbokwe, a Chieftain of the Lagos state chapter of All Progressive Congress (APC) recently has made a statement regarding what Nigerians are to expect come 2031, after the 2 governing terms of the 2023 president elect, Bola Ahmed Tinubu (BAT). If Tinubu Will Hand Over Power to a Northerner in 2031-( Joe Igbokwe,)  then there's a big question that needs an answer which is; What Would Be The Fate of Nigerians If Tinubu Hands Over to A Northerner? 
Joe Igbokwe, made this statement, it is believed he's one of the chieftains of APC that are in close contact with Bola Ahmed Tinubu. His statement has stirred up a lot of negative reactions, the reason being that Nigeria is a democratic country, and no president elect, or any government official has the right to cling to power if not elected. In Nigeria today, corruption has made it a Norm for a person to serve two terms even amidst underperformance. This is common among the Governors and Senate representatives.
In addition to this, Joe Igbokwe added that the president elect, after his 8 years of governing the country, would hand over power to a Northerner.
What Would Be The Fate of Nigerians If Tinubu Hands Over to A Northerner?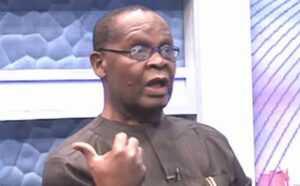 The fact that  Tinubu Will Hand Over Power to a Northerner in 2031  has awoken the corrupt politicians. Majority of them have started making plans on who will take the lead after Tinubu is a clear indication that the country is in a great siege of corruption. This furthermore establishes the fact that absolute power corrupts absolutely. This bold declaration has been met with mixed reactions from various groups and organisations, and it is now a hot topic of discussion among young Nigerians.
Joe Igbokwe's comments are pointing fingers to the current situation of Nigeria's political landscape, which is already rife with ethnic and regional tensions. The idea of a northern politician taking over the seat of power in 2031, after two consecutive terms of a southern president, raises questions about the proposed balance of power between Nigeria's various regions and ethnic groups. Nigeria is a country with multiethnic groups all over the country. At least the majority of the states have one or two ethnic groups cohabiting together in such states.
A country with over 200 million people is supposed to be an example of how efficient it is to rotate power amongst the ethnic groups.
Not only that, in religiosity, the country is a house to more than 3 types of religion. During the preparation for the presidential elections, the All Progressive Congress refused to recognize the country as a multi religious state. This led to the adoptions of the Muslim – Muslim ticket the party capitalised on to emerge victorious in the just concluded 2023 presidential election.
Read Also: Obi In Court: Only INEC has the Right to Collate Verified Results 
As a multi-religious country, it is expected that there's fairness in power acquisition. For example, like other political parties adopting a "Christian – Muslim" ticket,"Muslims – Traditional" ticket, or "Muslim – Christian" ticket is far better than adopting the same region ticket.
Should Tinubu retain power for 8 years, he may end up transforming the religious stand of the country to become a Muslim country. If Tinubu Will Hand Over Power to a Northerner in 2031 then the country may regret doing such.
These and many other things, are what the Christian Association of Nigeria (CAN) are pursuing to make sure the interests of the people are protected.
Igbokwe's statement can be seen as a deliberate speech to unapologetically provoke the, easterners despite being one and to make them succumb to the tune of the APC.
This is especially relevant given that Nigeria has a history of coups, uprisings, and violent conflicts that have been fueled by ethnic and religious tensions. Furthermore, Igbokwe's statement appears to be a thinly veiled taunt directed at the people of the South-East region, where he himself hails from.
This has not gone unnoticed, and many people are waking up to criticise Igbokwe for trying to instigate ethnic rivalry, and continuously supporting the flames of division in an already fractured country.
Interestingly, Igbokwe's comment was made in a Facebook post where he was seeking support for the re-election bid of Lagos Governor Babajide Sanwolu, a sitting APC governor of Lagos State.
The negative post attracted a lot of attention and generated a flurry of negative comments in the comment section. Many people accused Igbokwe of being insensitive to the feelings of people from other regions of the country and accused him of promoting a political agenda that is capable of totally collapsing the national unity of the country.
Despite the backlash and criticisms, Igbokwe has remained unapologetic about his comments and has continued to defend them effortlessly. He insists that he was simply stating a fact and that his statement was not meant to be divisive or incendiary.
However, many Nigerians remain sceptical of his motives and are concerned about the implications of his words. Igbokwe's statement about Tinubu handing over power to a northerner in 2031 remains a statement of division, seeking to destroy and disrupt the national interest of the country.