EBONYI Claims to have Scientific Ability to Suspend Covid-19 Potency
EBONYI Claims to have Scientific Ability to Suspend Covid-19 Potency for a Limited Time; Stramples on Covid-19 Safety Measures. This was made known to the press today, by the State Government during a press briefing.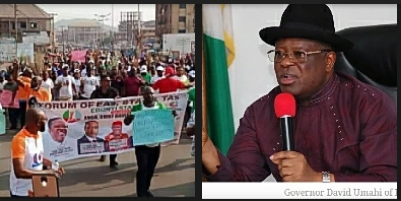 Reactions are trailing the claims by the government of Ebonyi State on Social Media on the claim that they have figured out scientific means to curb or suspend the potency of the deadly Coronavirus for a limited time. This claim was pronounced by the State Governor, His Excellency Dave Umahi
What this means is that the citizens of the State can lead their normal lives again without abiding by the stipulated Covid-19 measures like keeping physical distance, washing of hands, wearing of facemasks, etc. This is a huge surprise since the medics and health experts are still figuring out the real cure for the deadly virus. The recognized vaccines are still undergoing clinical trials.
In the Social post Media by the Veteran Journalist in the State, there was nothing mentioned as to what the state will use to suspend the deadly virus for a limited time. It only shows groups of people from the State, showing their solidarity for the new move by the Ebonyi State government.



Men and women were seen together in the streets of Ebonyi State, bearing placards without observing physical distancing and with no facemasks. The groups embarked on a solidarity rally for the Governor yesterday, trampling on the stipulated Covid 19 measures of social distancing, wearing of masks, etc., on the backdrop of the scientific success of suspending the potency of the virus for a limited time.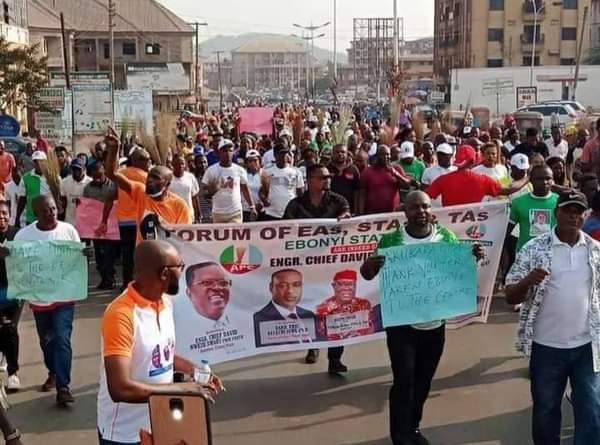 According to Igu Idika;
"… with the full assurance of this scientific breakthrough, churches can actually hold beyond the government stipulated hours, people can do their weddings, burials, child dedication ceremonies that require a large number of people without being cracked down by the government Covid 19 taskforce.
While we wait for the world to be briefed on how they achieved this feat, I salute the government for this success.
#Ebonyi_is_moving_forward".



Meanwhile, Social media users are reacting differently to this move. See the screenshots of their reactions: