Fr Mbaka Under Suspension and House Arrest
Fr Mbaka's Disappearance; What Transpired. Fr Mbaka Disappearance and Reappearance; This is What Really Happened. Fr Mbaka Under Suspension and House Arrest.
News broke in the early morning of yesterday about the disappearance of the Enugu-based political but fiery Roman Catholic priest, Fr. Ejike Mbaka. He was rumored to have been whisked away by the men DSS or SSS to an unknown destination.



Those who attended prayer in his Enugu Adoration ground couldn't see him when they sought for him. His mobile lines were also switched off. When they asked those living with him, no one could account for his whereabouts. They were only told he left the previous evening to Bishop's house and has not been seen since then.
The worshipers who attended Adoration mass that morning had a strong intuition that thing was not well with their beloved Fr. On normal outing days, Fr. Mbaka used to arrange for Reverend Fathers who would stand on his behalf in the Adoration and bless the Mass for the people. But no one came and no message was heard from him either.
They waited and waited and yet no message was heard from Fr. Mbaka. One thing led to another and protest began. It started from a peaceful demonstration and with time, it escalated.
Other worshipers who were at home heard the news and came to join in the protest. It became even worse when it was rumored that the men of DSS came and whisked Mbaka away.
Fr Mbaka Under Suspension and House Arrest
Another information from a reliable source came again that Mbaka was summoned by his Bishop, Most Rev. Dr. Callistus Valentine Onaga, and handed him over to the State Security Service (SSS).
Upon hearing this second part, the enraged protesters took the protests to the Holy Ghost Cathedral and threaten to burn it down, including the house of the Bishop. They also planned to go to the Government House at Independent Layout to stage a protest too.
It was at the heat of all these that Fr. Mbaka suddenly resurfaced.
What Really Happened
The men of the State Security Service and the DSS have distanced themselves in yesterday's Mbaka-Onaga-gate controversy. They said they never came closer to Fr. Mbaka let alone arresting him as just the rumor had it.
Fr. Mbaka has finally addressed the crowd at his Adoration who refused to go to their various homes even after his reappearance. They were asking him questions upon questions, trying to know where he was taken to and what happened to him.
"Daddy ebee kiino (Daddy, where did go)?"
"Daddy gini ka ha mere gi (Daddy, what did they do to you)?" The inquisitive marmot crowd kept asking Fr. Mbaka.
A Foiled House Arrest and One Month Suspension
What actually transpired yesterday in the house of the Clergy of the Catholic Diocese of Enugu was an example of a foiled house arrest and one-month suspension gone wrong. Fr. Mbaka was given a one-month suspension, to be served indoors without his mobile contacts.



According to verified news sources, Fr. Mbaka was asked to proceed on suspension with effect from May 3 after being summoned by Callistus Valentine Onaga, the diocesan bishop. This was following his continual clashes with the federal government.
Church officials familiar with the matter told The Gazette that Bishop Onaga summoned Fr Mbaka to his house, along with other Senior Reverend Fathers. This is following his repeated clashes with President Muhammadu Buhari and warned that his conduct was smearing the image of the church, the largest of any Christian organization worldwide.
Fr Mbaka sparred with Muhammadu Buhari's aides in a series of verbal fireworks that included the Nigerian presidency threatening to blackmail the priest as a political jobber and public contract racketeer. But Fr. Mbaka has denied all of these allegations.
For this ongoing unhealthy fracas between Mbaka and the Buhari-led administration, Bishop Callistus Onaga and other senior Reverend fathers of the Enugu Diocese wadded in. They were compelled to step in and mitigate the unfolding public perception tumult that could have far-reaching consequences for the conventional but unofficial church and state relationship.



The one-month suspension which was supposed to be done under house arrest was foiled yesterday following the agitations by his followers. There was no other option than letting him go to avoid the inferno that would have burned down Enugu State yesterday.
Fr Mbaka Under Suspension and House Arrest
Fr. Mbaka's Speech after His Release
As I said earlier, the crowd who were protesting for Fr. Mbaka's release refused to be dispersed until he came out to address them. There at the Adoration ground, he told the crowd his own part of the story. These were what he said:
"A lot of issues were presented against me after which the Church leadership, led by Bishop Calistus Onaga told me that I would remain indoors for one month, a period that would allow me to pray and meditate over my activities.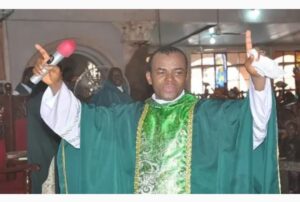 I requested to be allowed the opportunity to come and address my people in the Adoration, my parishioners after which he would shut down the Adoration for the said period, "but they said No.
I also begged them to allow me to send another priest to come and celebrate mass for you today, they said No".
Fr. Mbaka revealed that Bishop Onaga, upon seeing the protest over his sudden disappearance allowed him to go. He also said that one of the things presented against him was that he blessed Nnamdi Kanu, the leader of the Indigenous People of Biafra, IPOB.
"Are you the owner of my mouth? You can't tell me who to bless? If you are not happy that I blessed someone, you have your own mouth, you can curse the person," he declared…
"They said I spoke against the President. If my people are suffering and dying in poverty, should I close my mouth?"
He ended his speech with a proverb which he said in Igbo dialect.
"Bees and meat have the same spellings but the letter N in bees is marked on the head. When you want to go and buy meat in the market and you didn't look properly on the spelling tag "
Anu
" and you go for "
Aṅụ".

That is what just happened today, he said.
Fr Mbaka Under Suspension and House Arrest