Ankara and Lace Combo Gown Designs for Ladies.
This week in our Ankara and Lace category, we want to display 30 plus fabulous Ankara and Lace Combo styles for all queens and classy ladies who know what they want in fashion.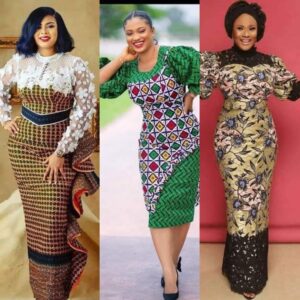 For Those of you who will be wondering what "Combo" means, it is just a short word for "Combination". We use Combo instead of saying "Combination".
So, this article is about the combination of Ankara and lace material styles for all classy ladies. The styles of the designs we have here are mainly gowns.
We have here, Ankara and Lace Combo long gown styles, Ankara and Lace Combo short gown styles. Also, we will show you few pictures of Ankara and Lace Material Combo in Skirt and Blouse styles.
One more thing, we promise to show you 30 fabulous Ankara and lace combo designs for classy ladies. But we have just more than that.



There are two styles we saw from the oven and we couldn't look away. So, we decided to include them in this post to make it 30+. It the latest Long gown Ankara style.
You are going to see all of them here, one after another. Just relax and take a sit.
Latest Ankara and Lace Combo Long Gown Styles for Ladies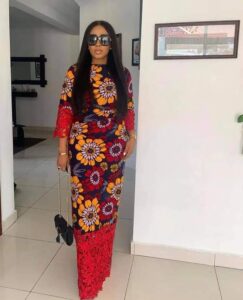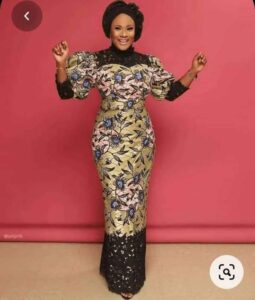 Ankara long gown styles
are styles for special occasions like weddings
,
naming ceremonies, parties, and Aso-Ebi. There are so many styles to sew your Ankara long gowns.
One of those styles is combining Ankara materials of Fabrica with Lace materials. This combination is a perfect match when done with perfect color.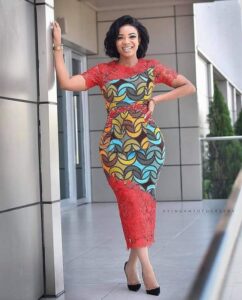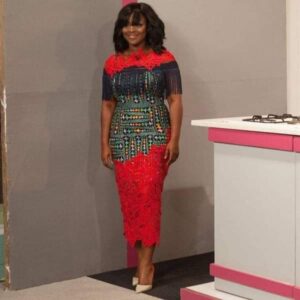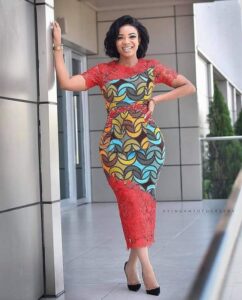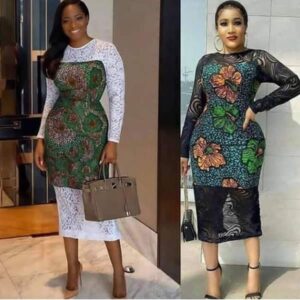 There are so many ways you can combine your Ankara with lace. You can choose to add it at the tip of the fabric like the hands, waist, or as bands.
Look at the Ankara lace combo style below We are not sure if this style is a skirt and blouse or gown. Whatever styles it is, it fits both.
We interested in the manner the fashion designer combined both materials; Ankara and Lace. This one is at just one part.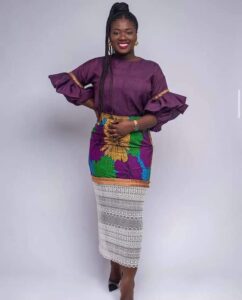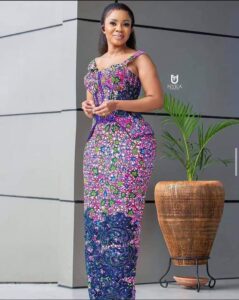 The combo style is good for all styles in Long gowns. It can be used to sew long flare gowns or long straight or fitted gown styles.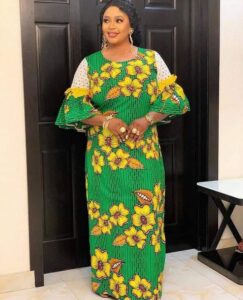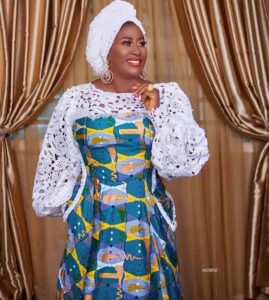 This is the end of Ankara and Lace material combo long gown styles for Classy Ladies'.
Read These Stories:
Ankara and Lace Skirt and Blouse Combo Styles
Ankara and lace combo styles for skirts and blouses are few but they are bam! I love these styles.
These are simple styles you cab rock for weddings and still stand out on the occasion. They can also serve as church wears or for offices.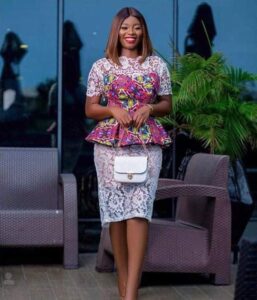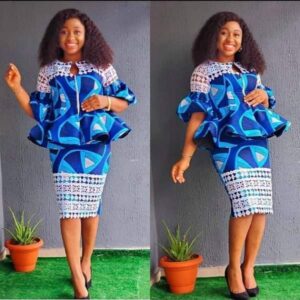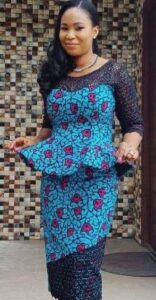 The next on the list is the Ankara and Lace Combo Short Gown styles for classy ladies. But before we show you the styles, I prefer we show the extra styles we included in this post.
I told you earlier they are the latest styles for the week, from the oven. When we saw these designs, they charmed us.
They are sewed with Ankara fabrics and coincidentally, they are gowns. but the styles are more than fabulous.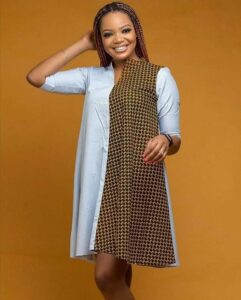 Latest Ankara and lace Combo in Short Gown Styles
Our Ankara and lace Combo in Short gown styles selections are unbeatable. These are the latest styles trending for the moment.
I have always advised my readers that if they want to look classy and at the same time taken on these kinds of styles, they should go and look for cover shoes with moderate heels.
Babe, when you demo in with this style and low-heeled cover shoes, MC will give you a seat.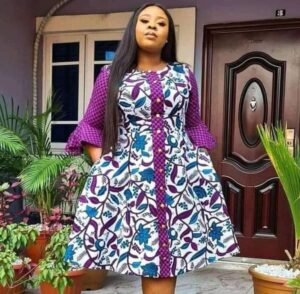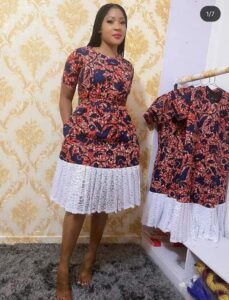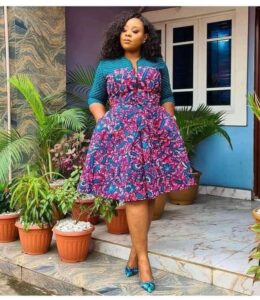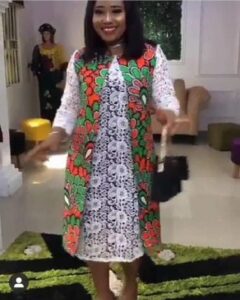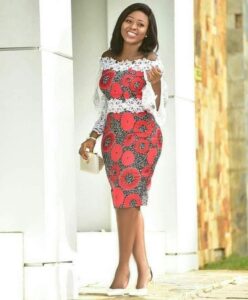 Just look at these five-style pictures below. Babe, just look at them. The moment these ladies work in on any occasion, looking this way, it is only a witch that will not turn to admire their looks.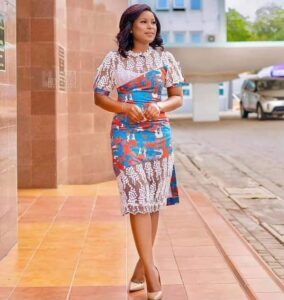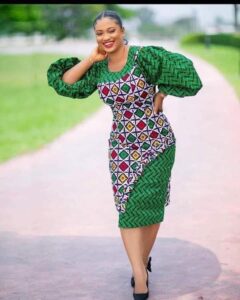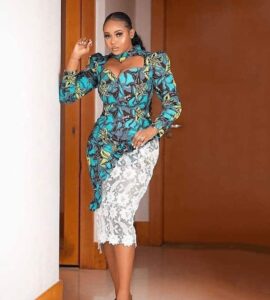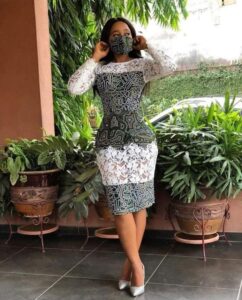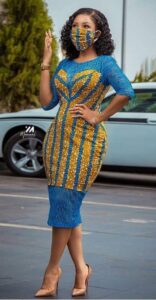 Factors to Put into Consideration for Ankara and Lace Combo
Before you plan to combine Ankara fabrics and any lace material, there are things you need to consider. Just because you hear Ankara and Lace Combo, is not enough reason to run to markets and chatter all the clothes in the markets.
You must consider the Color of your Ankara fabrics before buying or choosing lace materials for them. Always ask around in the market. In fact, show two or more people to help you choose the best matching color.'
Another factor you need to consider is your skin color. Do you know you can make a perfect choice of combo color for your material but they will end up looking like a Rainbow on your skin?
Yes! Color de riot. That is what we call it whenever we see them.
So, as you choose the matching color for your combo materials, look at your skin color too.
Another factor to consider is the quality of the materials you want to use. If you are using white lace on top of low-quality red Ankara fabric, sister forget it. Na once you go wear the cloth.