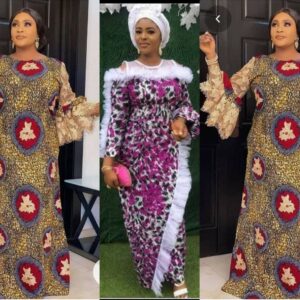 In our previous posts, we have published long Ankara gown styles and today we want to continue with volume three.
Ankara Long Gown Styles
Long Ankara gown styles are styles for all occasions. You can rock it to weddings and church.
One major feature associated with Ankara's long gown is that it makes the person who wears it look responsible. It makes one look mature.
Ankara long gown styles come in various styles. It can be sewn as a fitted gown or flowing gown. It can also be sewed as a fishtail or flowing kissing print.



Have you noticed that Ankara plain styles are not trending as the Combo. I have also observed that Ankara long gowns are more beautiful when sewed with combinations of other materials.
Even short gown styles, the fashionistas rock them with some adds here and there. See more of combo styles in Ankara long gowns.
Ankara Long Gowns Combo Styles
We have come to the end of the 70 stylish Ankara long gown styles. We promised to show you 70 styles but we provided more than the number. The styles were also segmented according to types and purposes.
So, enjoy your readings and for reading to the end.