What you should know about using 'Smoothy' Cream on your Baby's Skin.
In our today's post, we are going to discuss baby skincare. Our focus will be on Smoothy baby cream. That is, What you should know about using 'Smoothy' Cream on your Baby's Skin. One thing you should know about smoothy cream is that it is a medicinal body cream. It is not for regular or routine uses.
Smoothy or "Smooty" cream is a popular local cream sold everywhere, especially at the maternity clinics. The use of this cream has become very popular among mothers.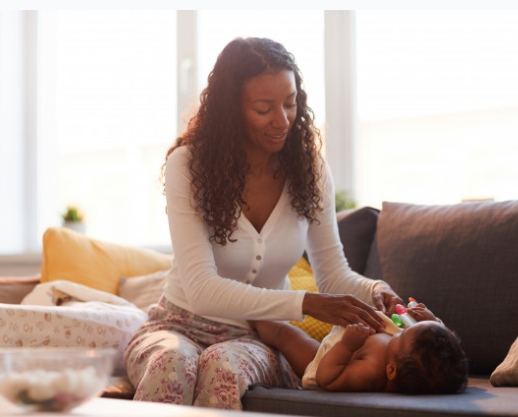 Some have gone to the extent of converting thus cream as their children routine body cream. As a mtter of fact, many mothers use this local 'herbal cream because of its bleaching effect on the tender skins of their children.
These set of parents have not taken time to find out what the effects the cream have on their babies' skin. They hardly look on the instructions on the body of the cream on hoe to use the cream and how long it should be applied on baby's skin.
What you should know about using 'Smoothy' Cream on your Baby's Skin
How Long Should you use "Smoothy" or Smooty Cream on Baby's Skin?
Smoothy baby cream should be used as prescribed by the doctor. Or, it should be dropped once the skin ailment for which it was used initially to cure is gone.
It is very unfortunate that the majority of Moms do not have a reading culture. I am sorry to say here too that is also found among some medics. Most of them do not bother to read the instructions on the drugs they prescribe to the patients. Even when the producers update their products, they keep giving them to the patients the old way.



We are all guilty of this. We buy edible items or cosmetics in the markets. But we use those products without finding time to see what is written on the body of the products.
I picked a cup of "Smooty" or smoothy baby cream and this is what I saw on the body.
"Smooty is a medicinal product. Use as prescribed"
Did you see that? The manufacturer left  a warning note on the body of the herbal baby cream. He wrote the instructions on the body on when and how the concoction should be used on babies.
"Medicine" is also written boldly on the body of the cup. This is to indicate that it is should not be used as a regular cream.
Is Smoothy Cream Good for Baby Skin?
It depends on how long it is used and the purpose. Smoothy cream is not good to be used on the baby's skin if it is used as a routine body cream.
Bleaching element is part of the chemical ingredients used to produce Smoothy. Most smoothy cream contains chemical ingredients like bleacing elements which help to work.
This is also what helps it to work on the affected part of the skin. This is to say that Smoothy can bleach or tone the skin.
Therefore, using  smooty or smoothy baby cream regularly on babies' tender skin is a hazardious. It should only be used as a medicine and the purpose for which it was produced.



The Summary on Usages of Smooty or Smoothy Baby Cream
I have seen parents buying Smoothy local cream for babies. I do not have issues with it. I buy it. I use it for the baby.
My problem is those mothers who don't know what Smoothy is used for. They think it is a normal body cream that can be used all around the year. The producers of smooty baby cream warn that it is a medicine.
Therefore, it should be used as the medicine it is. Bleaching the skin of your baby shown signs of illiteracy.
Every medicine has prescriptions, directions for usages, and durations. Every medicine is for a particular ailment and when healing is perfected, the medicine is withdrawn.
My question is, why apply Smoothy, morning and night, year-round on your baby's tender skin when there is no need for it?
Moisturizing cream like petrolum jelly is the best for baby. Smoothy is a medicine and not regular body cream. It should not should be used as one.