Latest Ankara Long Gowns for You
Welcome to 9jainformed.com. We have brought to you again the latest and trending Ankara styles in town. There is no other better place to find Ankara Premium, the latest styles, other than here. 2022 Latest Ankara Long Gowns for You. Read also: Latest Ankara Long Gowns for You.  You read also our post on Ankara Flare Gowns for Ladies – Styles for Office, Workplace and Weddings.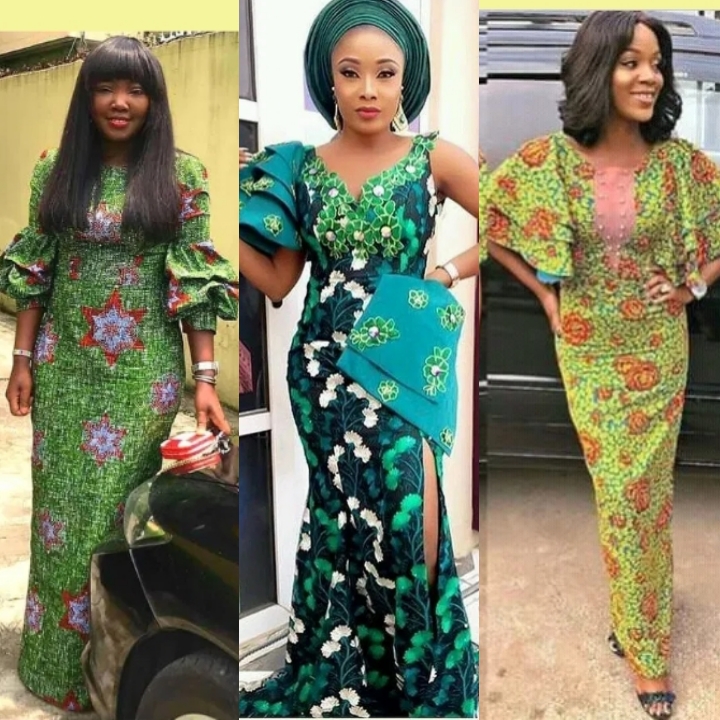 Our recent posts on styles and fashion were: Onion color Aso-Ebi styles for Ladies. The most recent is "Ankara and Lace Material Asoebi styles for all your outings.
Latest Ankara Long Gowns for You
Here, we want to talk about Ankara's long gowns styles. One thing unique about Ankara gowns, whether short, long, flare, straight or fitted gowns, is that it brings about the beauty of a woman. But gowns bring out more beauty.
Ankara gowns when sewed with the right styles give a woman that senior aura and mature look. It also brings out the quality of the material or fabrics used in sewing the gown.
By this, I mean to say that no matter the kind of fabric used in sewing Ankara long gown, the flowing nature of the gowns always cover traces of inferiority. When you look at it, you can only notice the flowing beauty of the gown. The type of material no longer matters. Latest Ankara Long Gowns for You
Don't miss our Top Posts:
Long gown styles are the best styles to sew Ankara fabrics. I love long gown Ankara gowns. This is because it gives me that senior and big chic look. I also want to state here that the best footwear for long gown Ankara remains Hills.
But this depends on choices and individuals. I rock mine with cover shoes with low heels. High-heel sandals are also ideal for Ankara long gowns.
Latest Ankara Long Gowns for You
Beautiful Ankara long gown styles rocked with high-heel straps.
Latest Ankara Long Gowns for You
Latest Ankara Long Gowns for You
Another technique to rock out in your gown as a lady is with the material gown types. As a lady, you frequently want to look put-together, elegant, and at ease. One is the material gown style. We'll be looking at some of the newest material gown designs for women in Nigeria in this collection.
A gown made of material fabric, such as chiffon, silk, satin, and many other closely comparable types of fabric, is referred to as a material gown. This kind of fabric can be used to create a dress, a skirt and blouse, or occasionally a two-piece ensemble, which is one of the newest trends in clothing right now. Latest Ankara Long Gowns for You
The material gown designs can be fashioned into a maternity costume for expectant mothers, a kaftan gown, a short gown, or a Bubu gown. The material gown is made of nice-quality, patterned fabric and may be worn for a variety of events, including business casual events, church events, and informal activities. We'll be concentrating on some of the newest material gown designs for women in 2022 and 2023 in this post.
When made of chiffon, the material gown is frequently lightweight, which makes it comfortable to wear, especially in the summer or during hot weather when the body favors a light cloth texture. Consider the following material gown styles while styling your material gown as a lady: Material Gown Designs for Women
The Bubu gown or the short gown, which are both quite easy to wear, is one of the newest material gown styles for 2022. Depending on the accessories it is matched with, the Bubu gown can be dressed as a long gown and worn by moms or older women, while the short gown can be worn by young women for informal or business events.
The different material styles for long gowns include maxi dresses, pencil-length dresses, A-shape dresses, and bubu dresses. The type of event you want to wear your material gown to and how comfy you want your clothing to be will mostly determine this style.
Latest Ankara Long Gowns for You
When it comes to styling the long gown, the chiffon material is one of the most frequently utilized material textiles. In addition to being inexpensive to purchase and featuring a variety of imaginative patterns to explore, the fabric also simplifies fashion for many women.
The short gown is one of the ways the material gown styles for women can be styled. The pencil gown, peplum gown, fitting gown, or a short Bubu gown are among the short gown styles for materials. Each category of short gown styles for material ranges in terms of comfortability and is stylish to wear.
The material cloth is available in both plain and floral versions. The styles for plain material gowns include maxi dresses, layered or Caribbean dresses, three-quarter dresses, and more. When choosing a simple fabric, colors are crucial.
Among the many gown lengths and styles the simple material cloth can be styled into are long gowns. The long gowns made of simple material can be made with sleeves, without straps, or as a slip dress. Material Gown Designs for Women
Latest Ankara Long Gowns for You
A free gown style is typically preferred when using material cloth to style a gown since it is the most comfortable for people of all ages to wear. Here are a few free dress designs for material gowns.
There are several fabric varieties to discover in the vast world of fashion. Any fabric can be used for the material gown styles. The chiffon and silk fabrics with floral patterns are also regarded as gown materials. This article examines many modern women's material gown styles.