Mariam Anako – Ooni of Ife new Wife Biography, Age, Career, State, Marriage
Ooni of Ife, Oba Adeyeye Ogunwusi, made headline news yesterday as he unveils his latest wife after his marriage to Naomi finally hit the rock. Here is Mariam Anako – Ooni of Ife new Wife Biography, Age, Career, State, Marriage. Read also: Facts about Prophetess Naomi, former Wife of Ooni of Ife; Her Biography, Age, Family and Ministry.
Miriam Anako, who is the present wife of the Ooni of Ife, Oba Adeyeye Ogunwusi, gained a lot of attention for herself after she was celebrated as the new wife of the Ooni of Ife. She's reportedly the 4th wife the King is getting married to. This was after his previous marriage to Naomi the prophetess became a failure.
The trend which gathered a lot of talks in late 2021, ended in divorce and further dissolved the union between the two. This article is a detailed review of her biography, which comprises her age, net worth, family, career, religion, origin, and education. Reading it would help you to know who she is better. 
Miriam Anako Ajibola Biography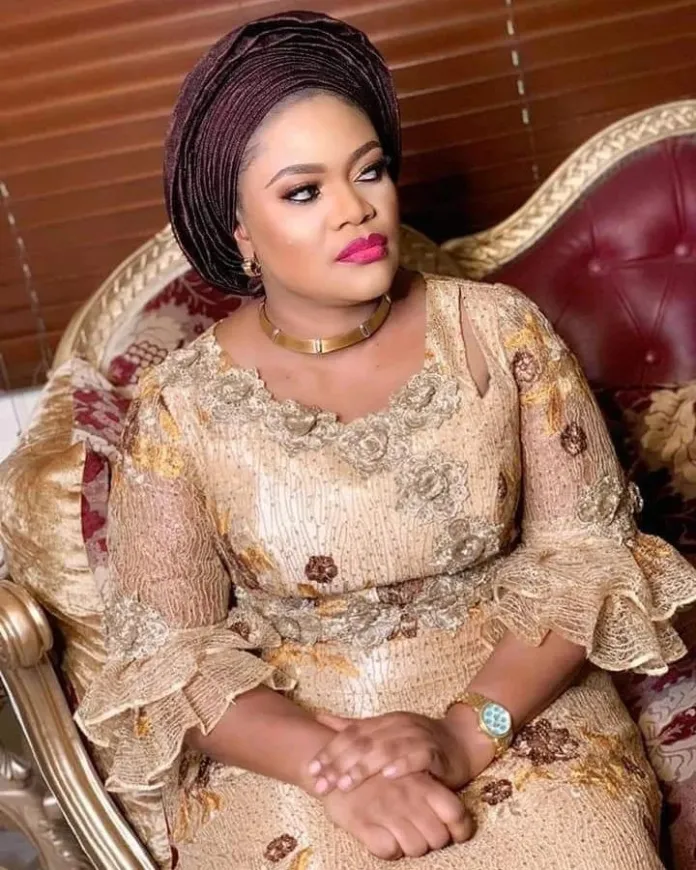 Mariam Anako – Ooni of Ife new Wife State of Origin
Miriam Anako was born in the 1980s into the family of the late Mr Anako, from Igbira Kogi State. She is the 5th child out of 7 children her father left behind.  According to her, she didn't grow up to meet her dad at an advanced age. He kicked the bucket when she was still very much younger.
Through connections and help, she was raised and nurtured in the house of the former Inspector General of Police, Mohammed Dikko Abubakar (2012 to 2014). There she stayed to complete her basic primary and secondary education before moving to complete her tertiary education. 
Her sisters and brothers are well-to-do individuals who are greatly excelling in their areas of career. Her immediate elder sister by name, Medinat Anako, is a businesswoman and a lawyer by profession and is currently the Special Adviser on Intergovernmental Affairs and Kogi State Diaspora Focal Point Officer. She, as well, is successful in her career and business. 
Another of her elder sisters, Mrs Raliat Abdulrahman, is currently the Special Adviser to the Speaker of the current National Assembly Speaker, Rt. Hon Femi Gbajabiamila. Generally, the Anako family from Igbira in Kogi, settling in Ilorin, Kwara State are successful. 
Career
Miriam Anako is a hard-working, active woman who has defeated all odds to make it in life. Despite her background, Miriam has found herself a spot in the administrative office. Currently, she is the Administrative manager of Nestoil Limited – one of Nigeria's largest oil companies. Apart from that, she also has some personal businesses she is running, which makes her more productive than expected. She is living up to her fulfillment in terms of her career. 
Marriage 
Miriam Anako is the fourth woman to marry the Ooni of Ife. This is after a series of breakups and crashes in his previous marriages. Nevertheless, Miriam Anako has once again proven that she has found love in the sight of the King and thus, has committed to staying loyal in union with him. She has made a promise that the king won't have any reason to remarry again. Whatever the king desires, is what she will do for him.
Prior to her marriage to the Ooni, she has never reported before that she has a child. Therefore it is expected that she will bear her first fruit of the womb for the king.

Mariam Anako – Ooni of Ife new Wife Age
The latest wife of Ooni of Ife, Oba Adeyeye Ogunwusi age is not available on the internet. However, those who know her allege she is in her 30s' . Merely looking at her she should be around 38 years old or more.
Mariam Anako – Ooni of Ife new Wife Children
Miriam Anako as of now does not have any child. It is expected that in a few years to come, she will be a mother to the child of the king. Mariam Anako – Ooni of Ife new Wife Biography, Age, Career, State, Marriage
Mariam Anako – Ooni of Ife new Wife Net Worth
Having her major career boost from her current position (as of 2022) the Administrative Manager has earned her a huge worth. Currently, alongside other of her businesses, she is calculated to be worth about $3 million approximately 2.1 Billion Naira as of 2022. It is expected that she will be worth more than this in a couple of years. 
Mariam Anako – Ooni of Ife new Wife Biography (Extras)
The Ooni of Ife knows the qualities that he sees whenever he looks at her that made it irresistible to let go of her. Through that, he concluded and decided to marry her. The Queen, who is also a public figure, has remained a humble role model to many people. Her marriage to the Ooni is indeed a blessed one and is expected to last till the end of time. 
She has demonstrated love and care towards the king and has come to fill the vacuums other 3 other persons that have married the kind within the past few years could not fill.  
Mariam Anako – Ooni of Ife new Wife Biography, Age, Career, State, Marriage
Meanwhile, social media users have taken it personal and bore their minds on the latest development. On one of the posts made by the aproko gist, netizens had these to say:
"OONI Takes another wife…
Her name is Mariam Anako from the Ebira ethnic group of Kogi State. She is an oil and gas executive with NestOil.

Mariam Anako's parents are based in Ilorin but lost her Dad at a tender age. She was brought up in the home of the former IGP Mohammed Dikko Abubakar who reigned as the boss of the Nigerian Police between (2012 to 2014) MD Abubakar as he is known, is the in-law of Africa's wealthiest man—Alhaji Aliko Dangote. The Ooni's new mother-in-law is a retired police officer.
It's believed she used her position at NestOil to get contracts for the monarch which must have endeared her to him and foster their relationship.. This will be Ooni's fourth official marriage after his marriages to Bukola, Zainab and most recent, Naomi collapsed."

Mariam Anako – Ooni of Ife new Wife Biography, Age, Career, State, Marriage

Netizens React
Anwu Nacha

Congratulations

..Ooni zuzue owelu ego machie nya nti gasike..

So Naomi will now go back to her church , prophetess

I thought they said he is Godly

Na only him know what he is doing to them .
Hmmmm this man should hold his……..Mau Mau complete it for me
Mariam Anako – Ooni of Ife new Wife Biography, Age, Career, State, Marriage
Ok nah.. Ooni the women changer
congratulations for this year… Let wait for another congratulations to you by next year because the chosen one is not yet there
Congrats to them…ooni go reach everybody last last

One year one congratulations on your marriage

Among all the wives, both divorced ones non of them reach Queen Naomi, I just wonder wetin that man dey find

Congratulations to them may their union be bless

The president of marring wife every yr Association, congratulations

Ooni love beautiful women, Congratulations your Highness

Oloma Ovoh

Wetin l de think na dis women wey de always welcome the wives for entrance that lady with white headtie is always available, seen I. All the welcoming activities

I pray for long lasting marriage this time. Congratulations to them

Hmmm. Na the same cane,wey flog first go still flog d 4th. But happy married life
Congratulations  Ma oil and gas
Mariam Anako – Ooni of Ife new Wife Biography, Age, Career, State, Marriage
Congratulations as it lasts ma

I pray this one will last… Congratulations to them.

This man sef. Ikegwuru. Congratulations to both of them

I thought he reconciled with naomi
Mariam Anako – Ooni of Ife new Wife Biography, Age, Career, State, Marriage