Ankara Flare Gowns for Ladies you can Wear to Office or WorkPlace
Backward to 10 years ago, we won't be talking about Ankara Flare Gowns for Ladies you can Wear to Office or WorkPlace. Yes, I mean wearing Ankara or Native wears (as we called it then) to offices or workplaces. Then, it was taboo.
During my days in school as a communication student, we were only thought about English wears fitting for the office environment. Putting on native wear to the office is looked at as being local and primitive.
But what is happening today? How time flies. Ankara Native is the in thing for some office workers. In some banks, the slogan now is "Friday is for native". Some entities have extended theirs to 2 days in a week.
So, what are you waiting for? We have featured here in this post, adoring Ankara flare gowns you can rock to that your office and look taken. I mean, you will appear boss lady in the lady with the feeling of a small girl with big God. Lol. Sorry, this last nyan no follow joor.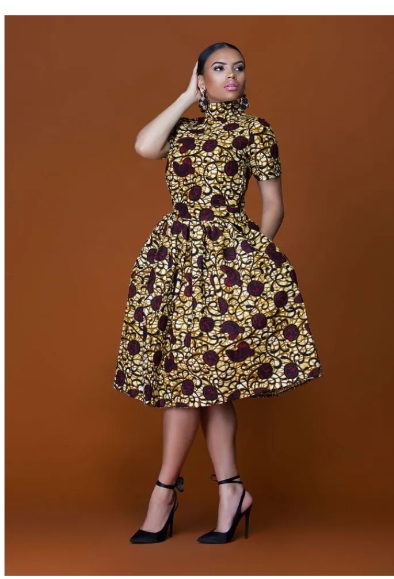 What is Ankara Flare Gown?
Ankara Flare Gown is a type of free gown style sew with Ankara fabric. It can be a long gown or a short gown. The only difference between it and another type of gown is that it is free on the body. It is not a pencil gown style or fitted gown style.
When we talk about Ankara flare gowns for offices or workplaces, we must be careful to choose the style that will still look official on us. This is because the office environment is an official environment. So, anything you put must compliment the officiality of the environment.
How to Choose Ankara Flare Gowns for Office or Workplace
There are three factors you should consider while choosing your Ankara flare gown styles for your office or as wears for your workplace. They are:
It must not be above the Knees
Look, any cloth that crosses your knees has become mini. It is not a good thing to go to the office in a mini dress. The way you dress is the way you will be addressed.
It is actually embarrassing to dress in a nude way in a working environment. Number one is that you won't be comfortable in the dress. You will be ready to face embarrassment from the unfriendly breeze because it will show your panties to your colleagues.
Flare Gown Styles are most Beautiful when sew as 3-quarter
It is not just a fabrication. The beauty of flare gowns is when it is sewed in 3-quarter style. Just take your time and look at all the images in the article. They are all 3-quarter flare gowns.
A 3-quarter flare gown is a measurement that is a little below the knee or further. If you rock it with a pencil-heeled cover shoe, you will remain bae till the close of work.
I love it because it makes me look smart. It makes the movement in the office or workplace free. For me, Ankara flare gowns day in our office is no girdle day. Mehn, it's a free breath day for big tummy Mamas like us because it hides a lot.
Ankara Flare gowns for Office or Workplace should not be a Long gown
Let's put it straight, Ankara long gowns are not for office. Don't make your flare gown for the office as a long gown. Are you going for thanksgiving in your office or church?
In as much as the style is ew with a Native material, it should also have an English touch. Don't go and turn our office wear to 'Iyawo iro buba'. Thankio.
Ankara Flare Gowns for Ladies you can Wear to Office or WorkPlace
For more unique and classy outfits, check out all our styles on our Fashion Gallery.