Best Ankara and Lace Styles Sew in 2021
Hi, welcome once again dear reader to my fashion page. As the year 2021 is grinding and winding up, we are glad to bring to you the best fashion and styles for the year. We mean the Best Ankara and Lace Styles Sew in 2021.
First, we want to start with Ankara designs. Why? No reason, just that I love Ankara styles. Before we go ahead, I want to tell you that we have published 10 new different designs this week for you this upcoming festive season. You can look them up in our Fashion gallery.
We cover Ankara, Lace, Senator, Kampala, and all kinds of materials for all classes of people. We also have your kids covered. You can check here for amazing styles you can sew for your kids this Christmas and New year celebrations.
Here we go for the real deal;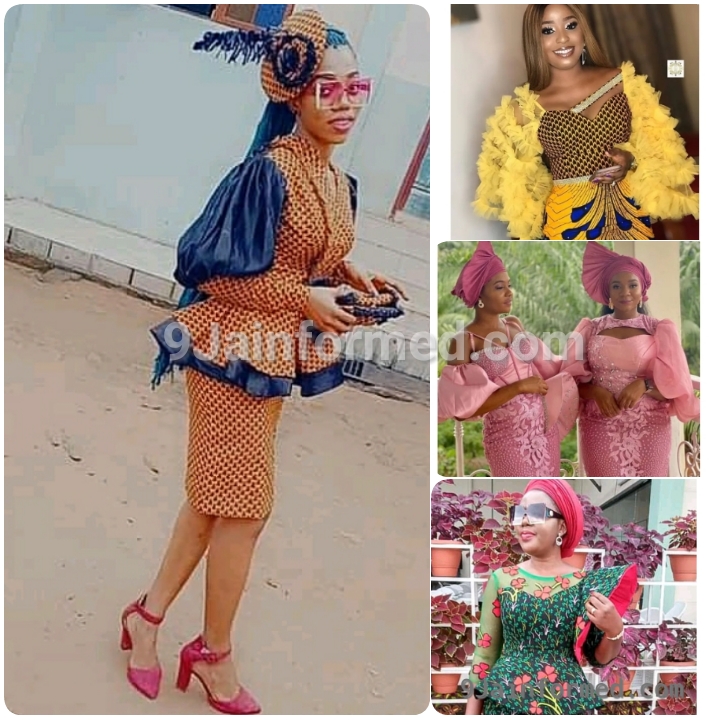 Best Ankara and Lace Styles Sew in 2021
Une's Mobile Peplum Ankara Gown (6 Styles in 1 Design)
You have heard it? It is one design but she made 6 styles out of it. What it means is that she gives you just one cloth which she designed for you and you can wear it in 6 different styles and people will not notice it is one cloth.
Don't quote me wrongly, the design is not called Une's design. I decided to attach the name of the fashion designer. her name is Love Une.
Early this year, her design became the most talked about due to the creativity she has knitted in just one cloth. Let's see what she did.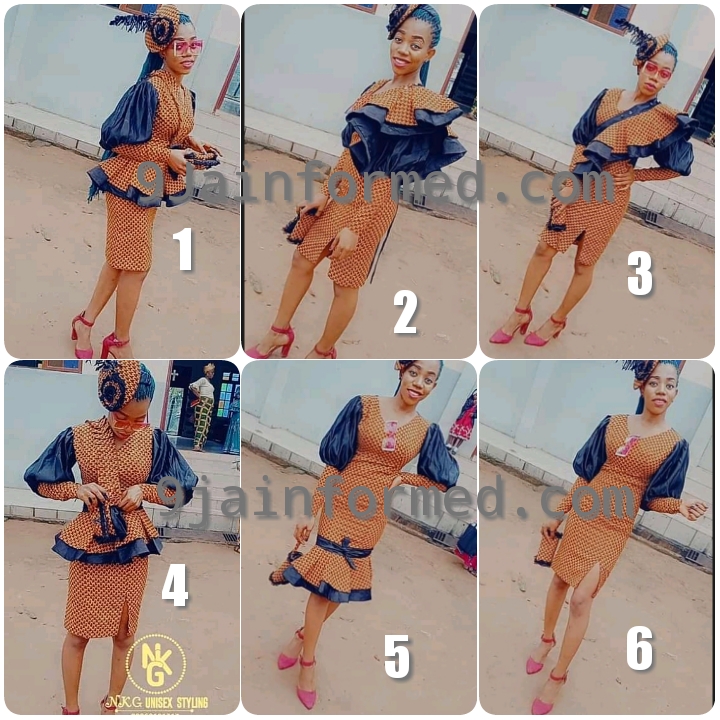 Have you heard about Ankara with Mobile Peplum? It won the best Ankara style of the year. That is what this creative fashion designer did here. First, it was a simple Ankara-fitted short gown.
We saw the Peplum crossed from the shoulder. On the side of the image, we saw the style change.
Look at the images below, levels have also changed. You can see why this design captivated our minds. But it is not yet over, more shockers are yet to come. Just keep reading.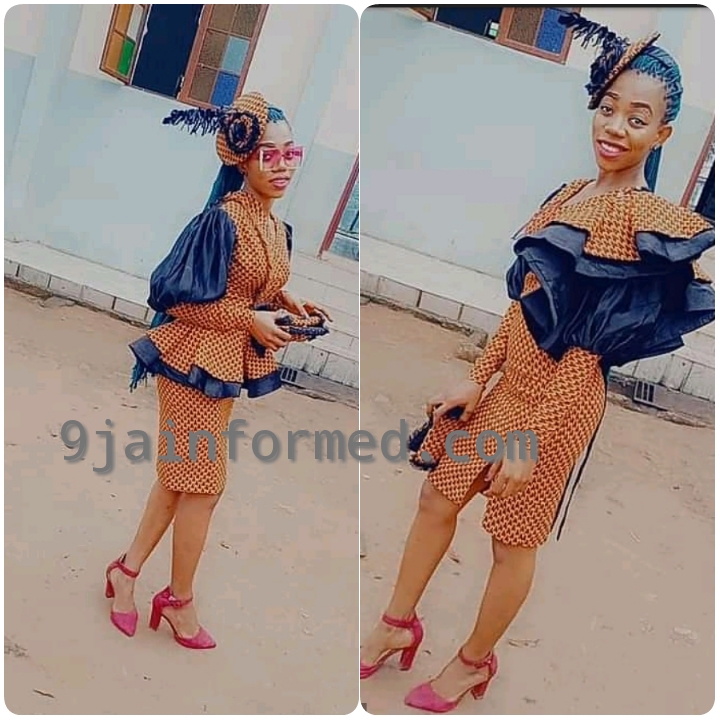 Somebody will still doubt that the images are different materials. They are not. Look at the first image below, the mobile peplum is now on the knee. It has changed the look of this Ankara gown that you will imagine if it is the same cloth we showed you before. Then the second image. What happened there? The mobile peplum is out completely but it still looks perfect and beautiful.
For those who will want to learn more or get in touch with the designer who made this dress, click here to see how to reach her.
Ankara Skirt and Blouse Aso-Ebi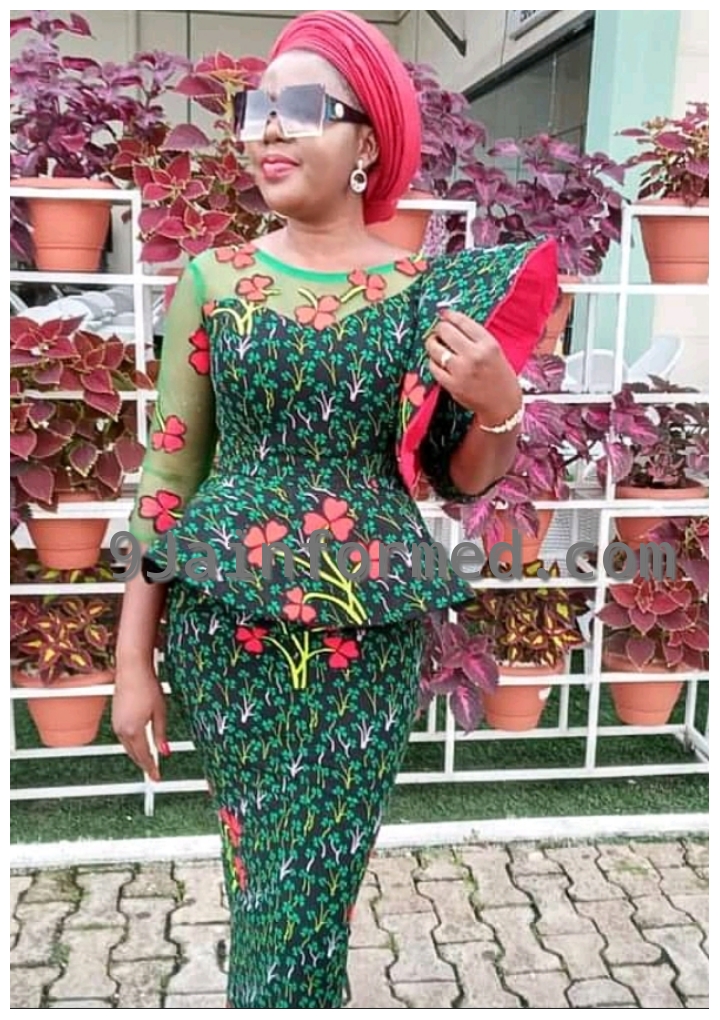 And, 'Anty Chino' rocks it the best.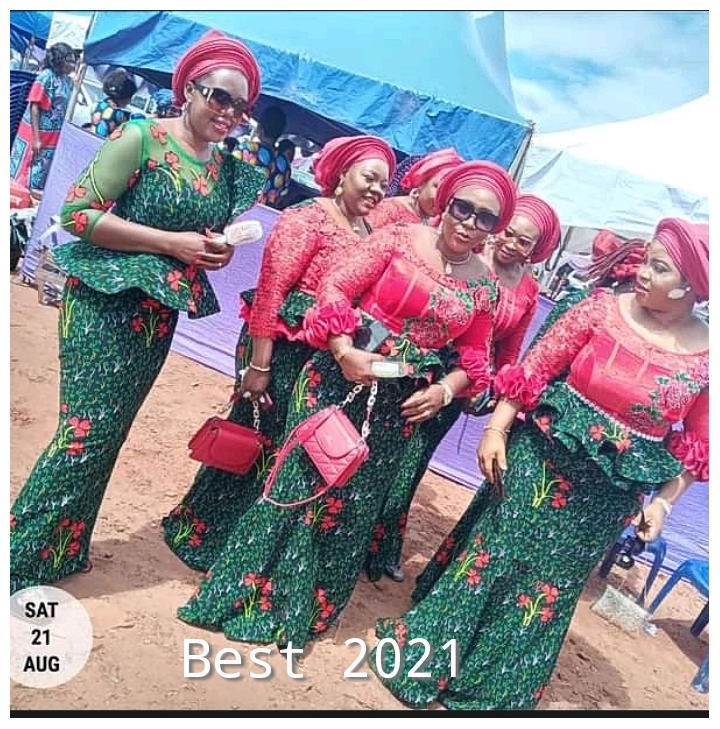 On a very beautiful Saturday, in August 2021, these gorgeous women graced a wedding occasion with their alluring Ankara Aso-Ebi Skirt and blouse style.
2021 Best Ankara Styles For Ladies
Best Lace Styles Sew in 2021
If you have any Ankara fabric or Lace fabric sitting idle in your wardrobe, this article will help you put them into good use. Christmas and New Year are around the corner and I know a lot of women are on the search for new styles to sew for their lineup occasions. So are some exquisite lace and Ankara styles for 2021.
The lace fabric is a staple in Nigerian Weddings. If you have a wedding to attend, you might as well take this as our free catalog for you. Just look here and make a choice.
Best Ankara and Lace Styles Sew in 2021
Conclusion
Thanks for reading to the end. I hope we did not disappoint you. If you want to receive news notifications from 9jainformed.com whenever we published new posts, just SUBSCRIBE to our notification.
With a good fashion designer, any of these styles are easily achievable. Are you going to try out any of these? Tell us in the comment section below.
Please, show some love. Like and share this post.