Latest Version of What I Gave my Tailor Versus what I Got
Please, don't open this article in public if you can't control your laughter. This is the latest version of what I gave my Tailor versus what I got. Nigerian Tailors are Working. Lol.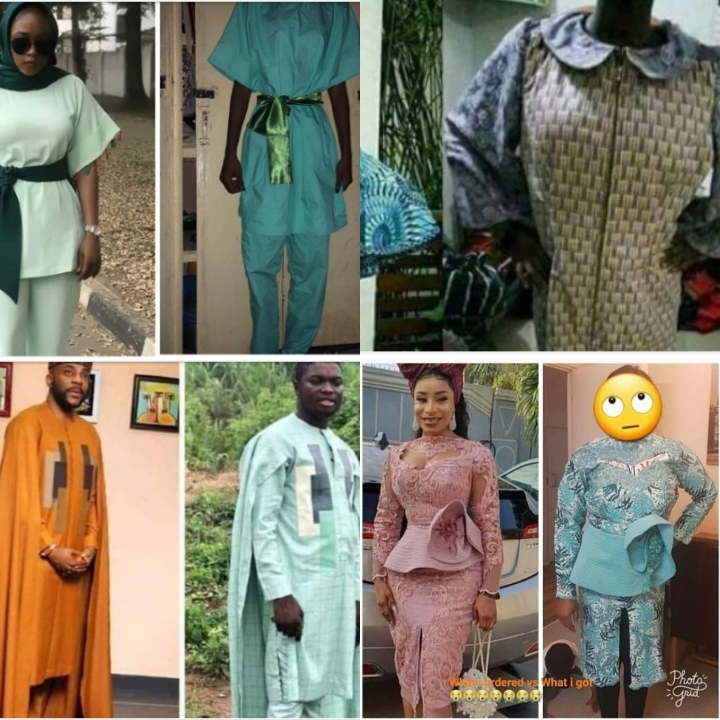 "What I Ordered Versus What I Got"
What I ordered versus what I got is a popular slogan for clothes designs gone wrong. It is used to describe the disappointment of the client over the flop of the designer in making the particular design with the material given to him.
Many people are always out to defend the designer; saying, he is making a style and not the exact body shape. It is not true. he should make the cloth and the shape too, Lol.
You will Like to read this trending story:
Pastor Strips Naked, Confesses of Sleeping with his 3 daughters and Killing Own 8 Children
I said so because, if the designer is not dumb, shebi he will tell the cloth owner from the beginning that the design will be exactly like the style that is shown to him?
Picture 1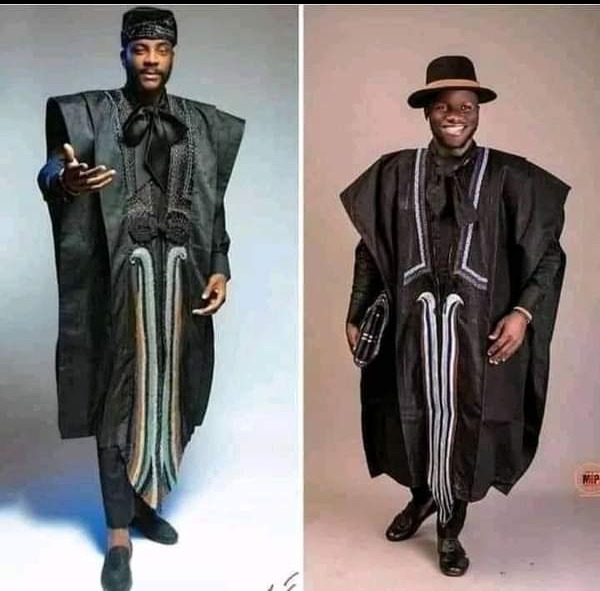 I have nothing to say about this first photo other than demanding for the contact of the tailor. I will have to calm down before I ask him questions about the copy design he made for my friend.
My readers, where is the bold tie?
If you want to know why Tom Tom Sweets and Coldwater is trending, Read it here.
Latest Version of What I Gave my Tailor Versus what I Got
Picture 2: I no Gree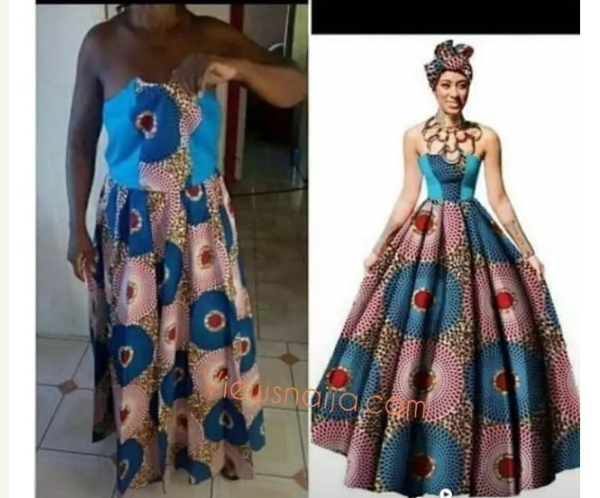 See, there is nothing you will tell about the Tailor that made this design that I will agree. This black woman and the fair one who get shape pass?
Abeg, where the flare?
Picture 3: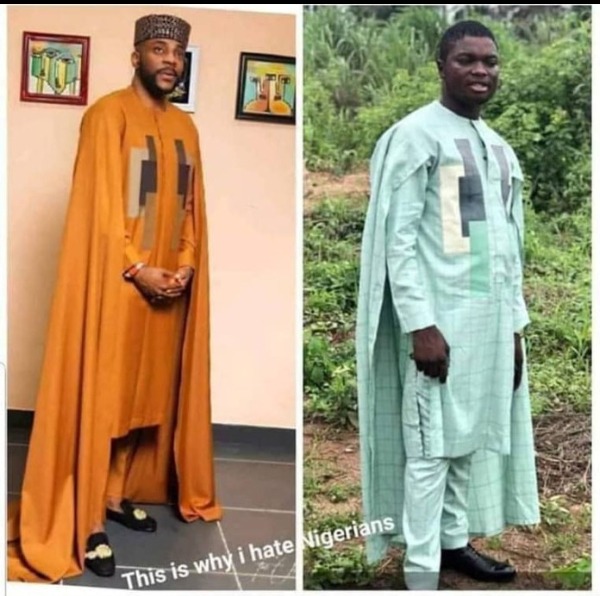 What I don't understand in these attire melodramas is why they keep involving Ebuka. The tailor that sews this very garment should have his tailoring license revoked. What is that sef!
But, have you now understood what I was saying in the introduction? How on earth can this hard puff material be able to sew this Ebuka's senator material-silk-like style?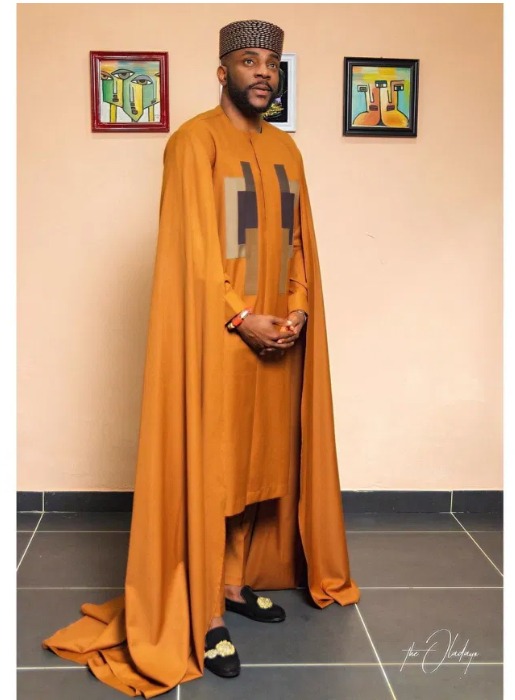 And if I may ask; why was the Tailor economizing the material? Is it his money? Is it his pay? Simple Agbada that my grandmother can sew with thread and needle.
Picture 4: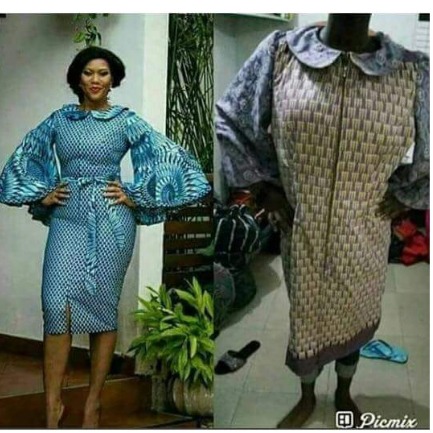 Let's assume you are ready for the wedding. You have got everything on and the seamstress that made this dress just brought it for you to wear. Lol
When Haunty put it on her body and it got her like that. It is like I am hearing "600 years". Lol.
Picture 5: Enemy at Work
This is what happens when the new apprentice girl in your Seamstress's shop is dragging the same boyfriend with you. She uses your precious material to learn work. And she will be like; 'cloth wear you there'.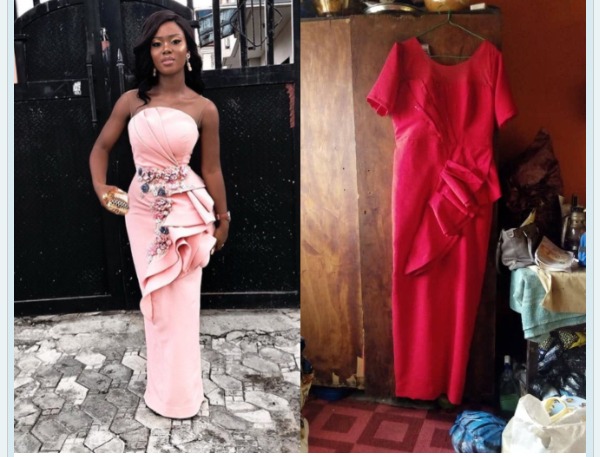 Picture 6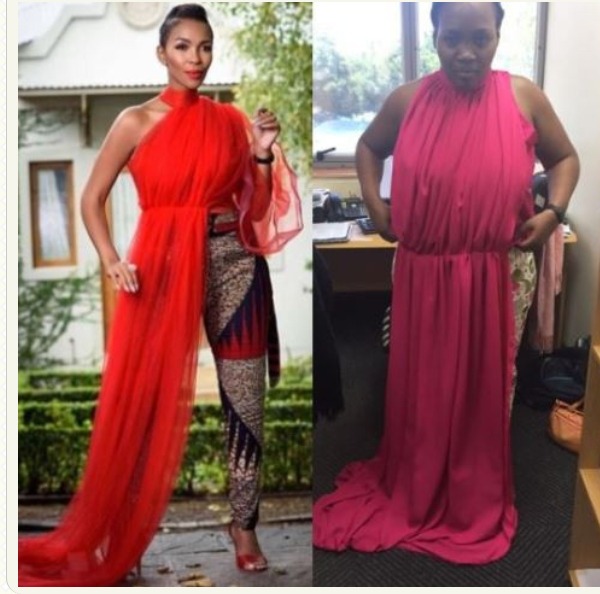 Madam seamstress, why?
Biko, is it fair?
Madam seamstress, the judgment is not here. These designs didn't come closer at all.
Latest Version of What I Gave my Tailor Versus what I Got
Picture 7: Kunfu regalia!
Common style they will kuku sew for my sister, they didn't. Rather, they went to China to hir Kun fu garment.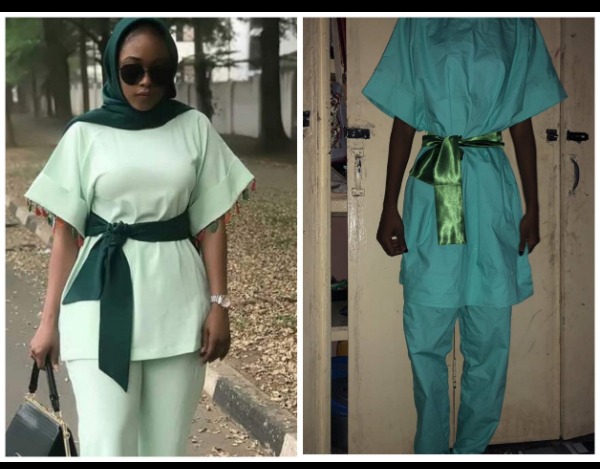 But, wait! Look closer again on both designs. I think both are the same except for the colour.
Is this not the same design? Sister, it is the cloth you ordered. It is just your flesh.
Picture 8: I No Gree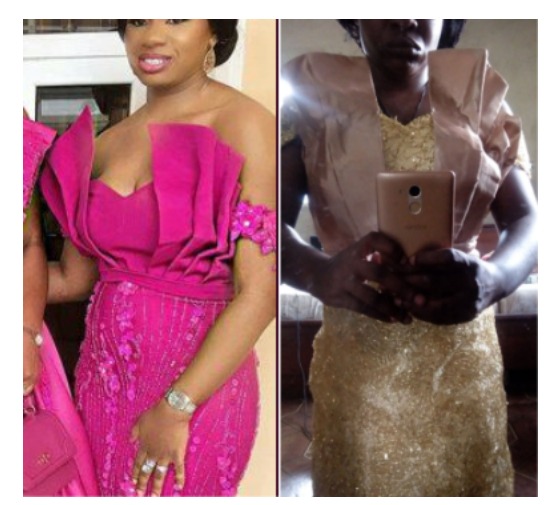 I will manage this cloth and attend the wedding first. When I come back, I and this seamstress will insert two legs in one mouth of the trouser.
For this one? I no gree.
Picture 9: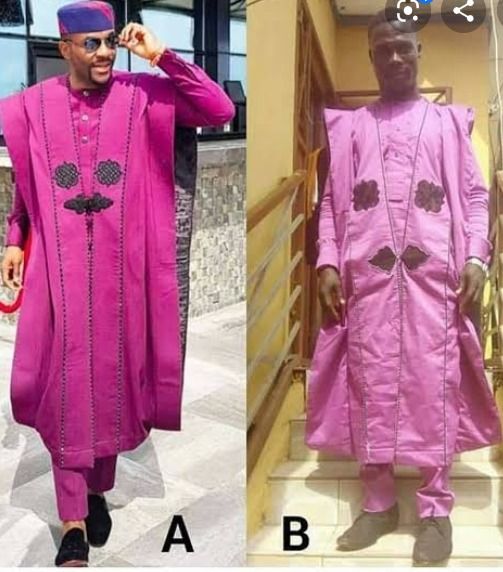 Leave Ebuka attires alone, they won't hear. Which tailor have you seen that has gotten any of his styles?
Picture 10: Wetin happen here?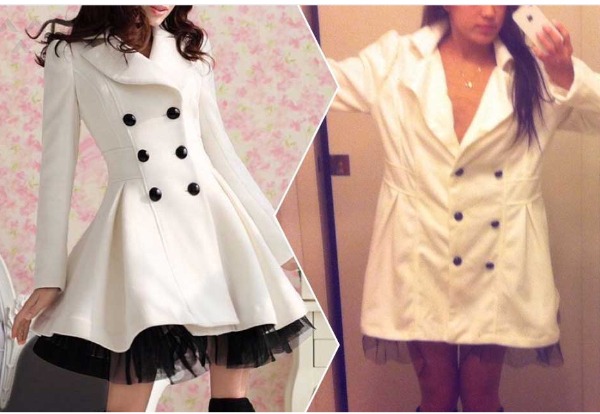 Everything here is the Tailor's fault. Even the k-leg, it the tailor's fault. This one is mini Angelina Ballerina.
Picture No: 11
If only this sister will hear my advice. I mean the one I gave to number 8.
She should first manage the cloth for the wedding if she doesn't have other cloth to wear. But she will not hear.
The style is manageable. Just a little push-up and hoss to cover the over-tear. Hmmm.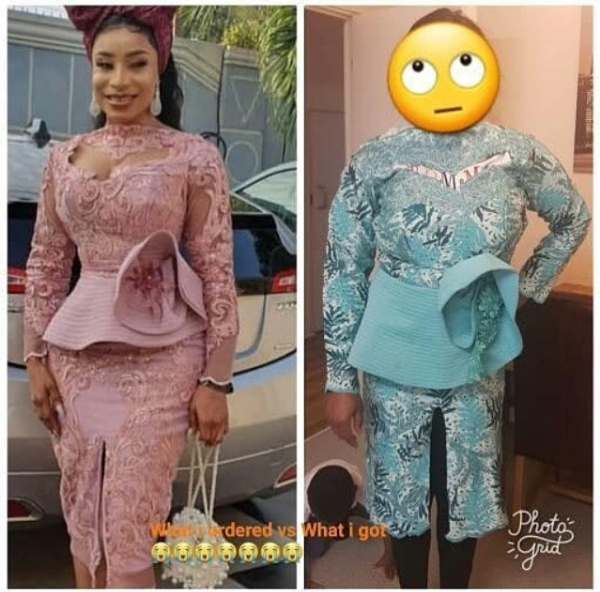 One funny thing about all these cloth design blunders is that they are like madness caused by weed. It can't be treated. Even if you try to treat it, it will still have brown hair and dirty fingers. Lol.
What I mean here is that, no matter how you try to amend it, the earlier injury given to the cloth will still show somehow. E no get 'mekwantalism'. I mean, it is beyond 'amendalism'.
See more about 'What I ordered from my tailor Versus what I got"
Picture 12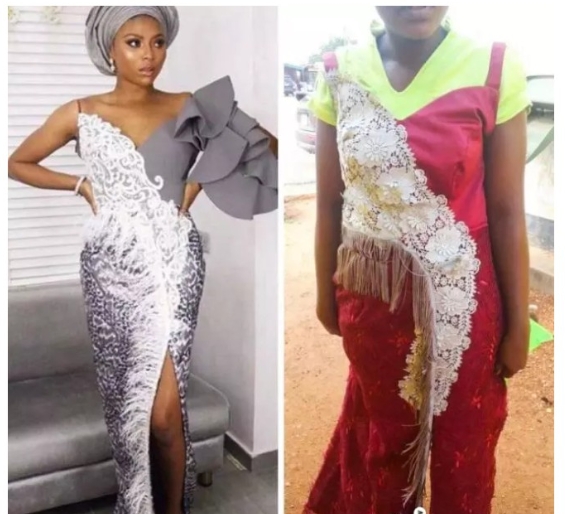 Nobody should just tell me anything here. This is an intercontinental mismatch.
This one no near at all. Madam tailor, I command you to return to your Madam where you learn work.
Picture 13:
Anyone I left vacant, know that I don't understand. This tailor confused me here too.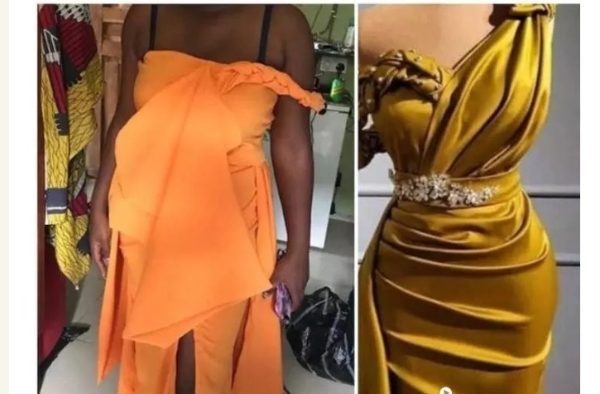 Picture 14
I no know oo!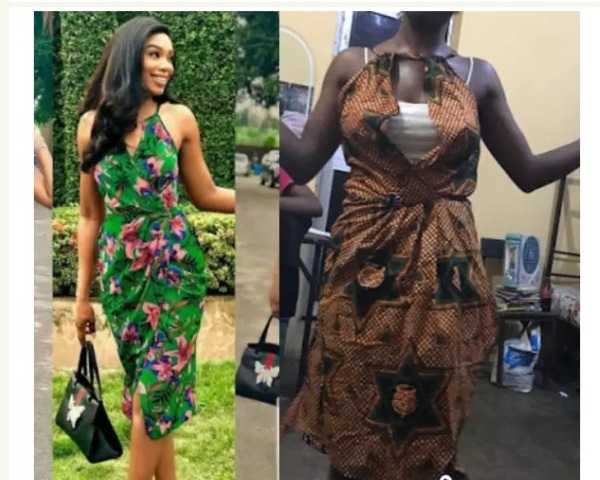 Latest Version of What I Gave my Tailor Versus what I Got
Picture 15
Confuse plenty for here. Come and analyze this one biko.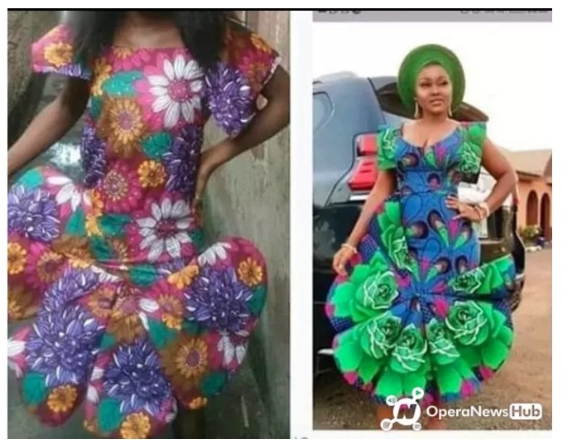 Picture 16
The hands tire me. So, where the flare for leg, abi fishtail?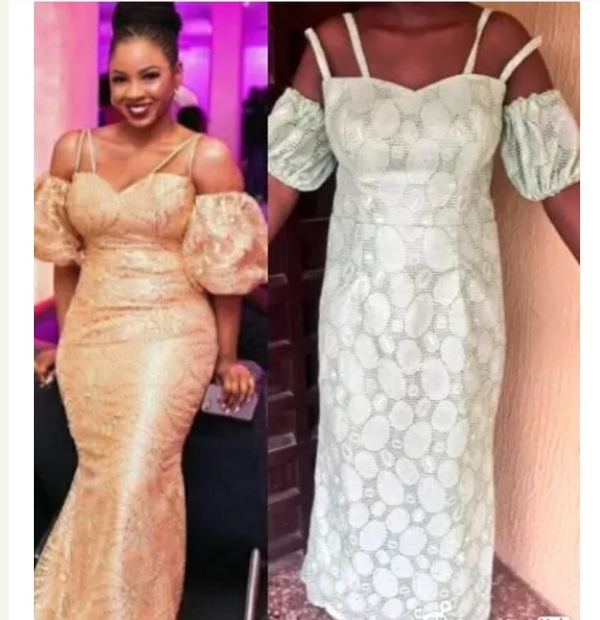 ****Don't just laugh alone. Share with others. If you want to receive notifications when we publish new posts, just SUBSCRIBE to our Push Notification.