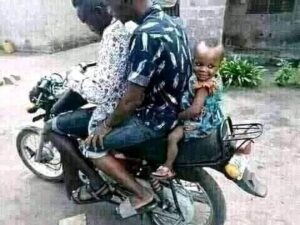 This photo is hilarious. It got my attention from Facebook due to how people are reacting to it in their different understandings. I am sure the man who snapped this photo did it for fun. What do you expect from a man when he finally knows the true DNA of his child.
But people are seeing it from different perspectives and giving it different interpretations. This is actually why it is said that pictures speak a thousand words. The most hilarious of these comments is that of the poster who captioned it "When he finally knows the DNA of his child".
People take everything as a joke. But they are not to be blamed in this case. How do you want people to react when grownups sat inside a moving motorcycle and put a baby at the back as a shield?
A Facebook user had jokingly alleged under the post that it was the baby who took the man to the hospital. But I think the photo is for fun and this poster means fun too. This post too is for humor.
See the screenshots of how Facebook users are reacting to the photo. You can give the photo a caption as well.