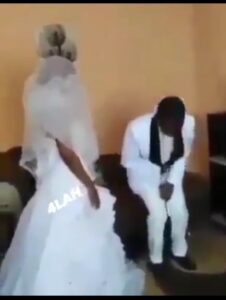 Call it anything you like. The heart knows what it feels and how it feels. Here's an usual story where the groom trembles as he tries to kiss his bride.
This groom's reactions as he was about to unveil the face of his wife in their wedding is one in a million. It is an exact picture of the bible verse that says he who finds a wife has found a good thing and obtains favor from the Lord.
He couldn't behold the beauty of his bride and he keeps trembling and spoke in tongue each time he tried to unveil the bride. One Facebook user said; if was he was fidgeting like this for just a kiss, how will he react when it gets to eating the other one"?
I don't know what he meant by "eating the other one". But all the same, he made sense. The union between man and woman should be cherished this way. A man should admire his wife and a woman should adore her husband. This man didn't hide his feelings for his bride.
See the Video link of the wedding
These are the screenshots of people's reactions on Facebook: