Ankara Maternity Blouses For Pregnant Women
Hi, welcome to our Ankara and lace page. Today, we want to talk about a very important dressing pattern. It is for pregnant Moms. We are going to show gorgeous styles of Ankara Maternity Blouses for pregnant Women. Click here to see all the amazing styles and collections on Ankara and Lace we have published so far.
Pregnancy is a very important stage in the life of a woman. This new phase comes with a lot of changes both physically and mentally. Ankara Maternity Blouses For Pregnant Women.
Anxiety, depression, and change of taste might creep in. When pregnant, dressing might be a big challenge because your body is changing by the day and you no longer know what fits you anymore.
Even the most fashionable lady will have this challenge because all of a sudden your body looks different to you making the choice of clothing a big task. Here are our gorgeous Ankara Maternity Blouses For Pregnant Women.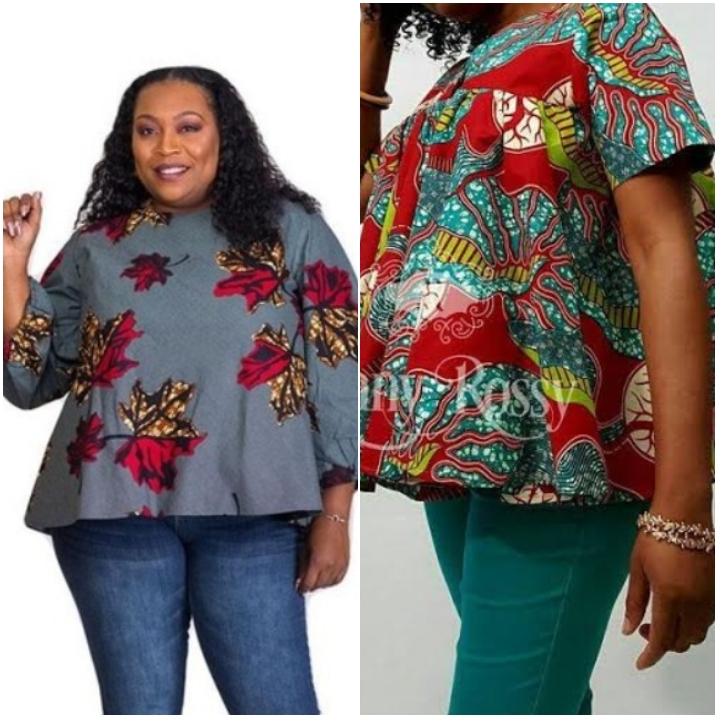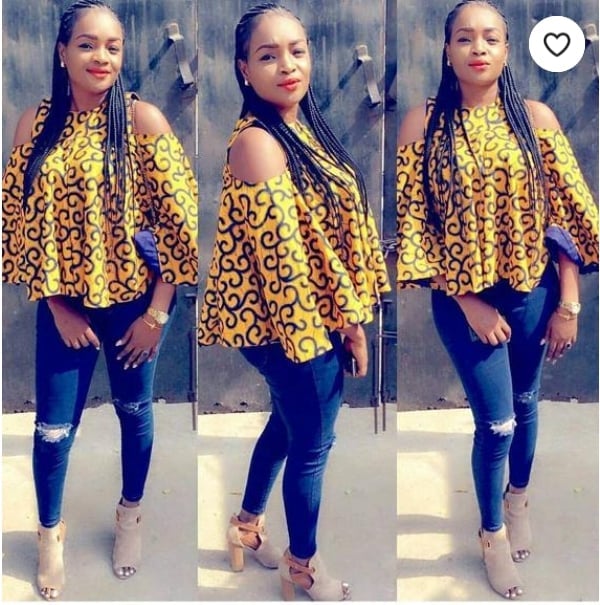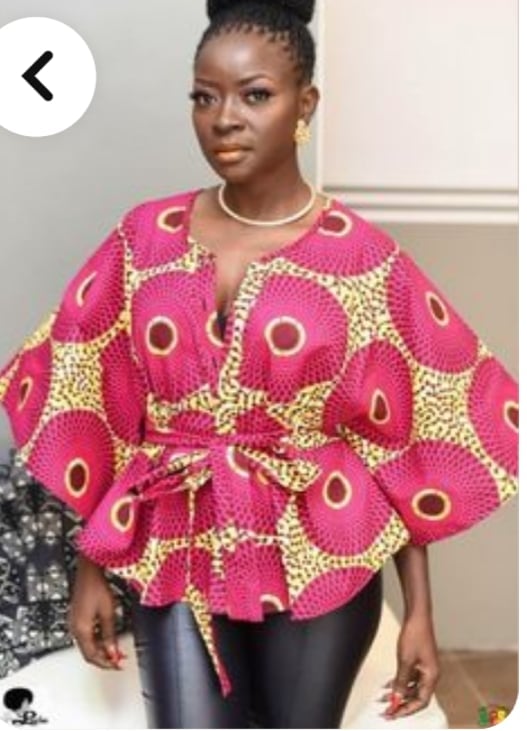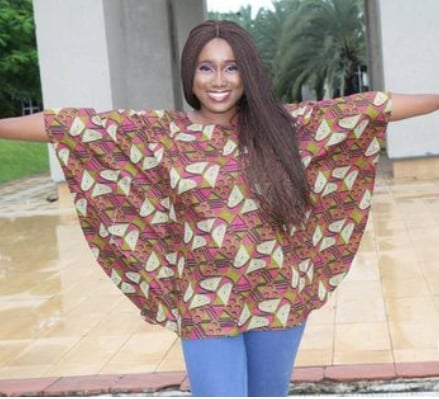 As hard as dressing during pregnancy is, one thing is certain, freedom is key. During pregnancy, a woman should try as much as possible to wear something loose and free. The reasons are very simple. During pregnancy, the woman's body stature changes so wearing unnecessary tight dresses will result in many discomforts such as pain, heartburn, reduced circulation, etc.
Wearing loose clothing doesn't mean you should not put on fashionable wear but you should be careful when making decisions on your choice of wear. In this article, we made a complication of traditional maternity dress you can put on and still look good while still maintaining the loose clothing theory.
The Peplum Top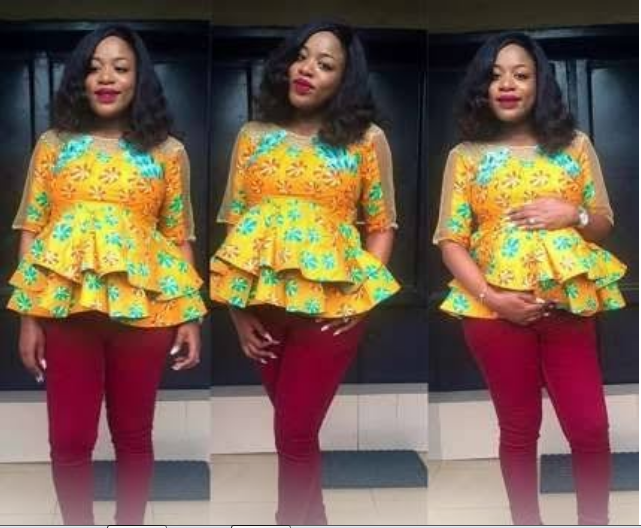 Peplum as a word means "A short or pleated strip of fabric attached at the waist of a woman's jacket, dress or blouse to create a hanging frill or flounce. Due to the unique design of the peplum top, the flare part can hide to the stomach. This is best worn at the early stage of pregnancy when the pregnancy has not to be revealed yet. It can be worn with a skirt or trousers to fit.
Ankara Tunic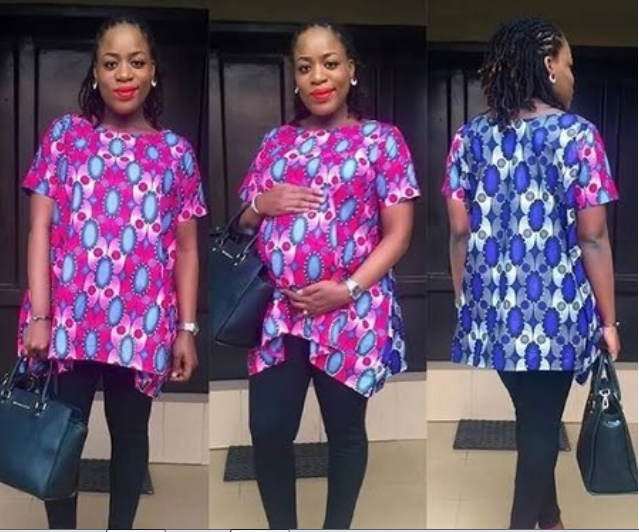 A tunic is a simple-looking dress that was worn far back by ancient Greece and Rome. The garment was made styled in such a way that it starts from shoulder length and stops somewhere around the knee or hip. Ankara tunic can be paired with either skirt or trousers.it is one of the most suitable yet stylish clothing for pregnant women.
off-Shoulder Ankara blouse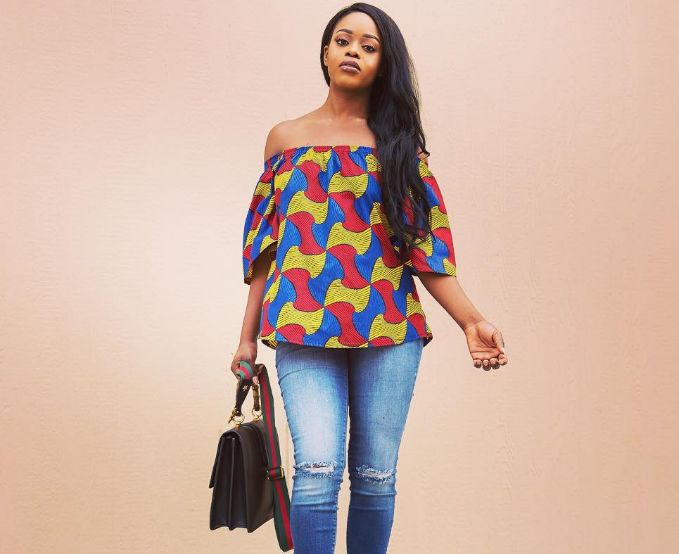 The off-shoulder blouse is one of the leading styles in the fashion world right now. One thing about an off-shoulder top is that it can be styled in many designs which most of which can perfectly fit a pregnant woman. It is just a simple way to still look hot while pregnant
High collar Ankara tops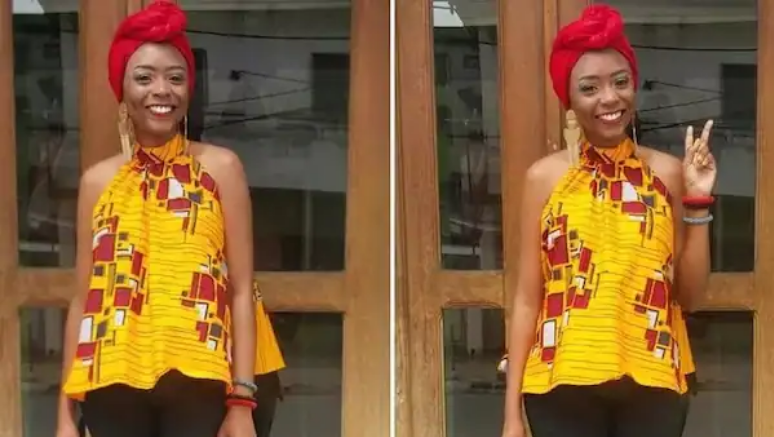 This is another recommended style for pregnant women. They can be styled in such a way that they go up to the neck then leaving the shoulder bare. This can be worn on a sunny day to prevent much heat. It can be blended well with trousers or a skirt.
Ankara bomber jacket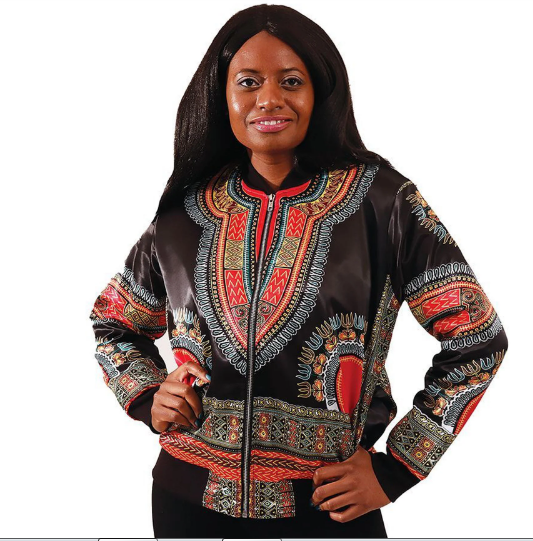 This is a traditionally made suit/jacket made in the sweater-like form. It completely covers the upper part of your body. This can be worn in raining season with trousers to make it more fashionable
Cold-shoulder Ankara Blouse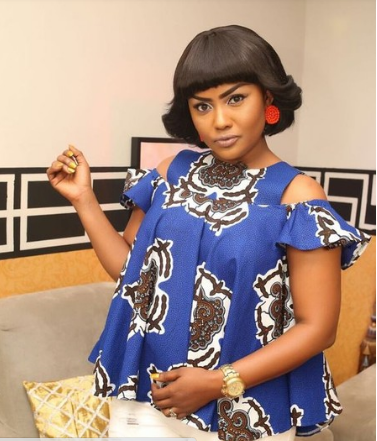 This is recommended because it allows a breeze to enter the body through its cut-off arm. It can also hide the stomach at the early stage of pregnancy. The cold shoulder is almost like off shoulders but the difference is that only some part of the shoulder is revealed
Long Maternity Top With Gathers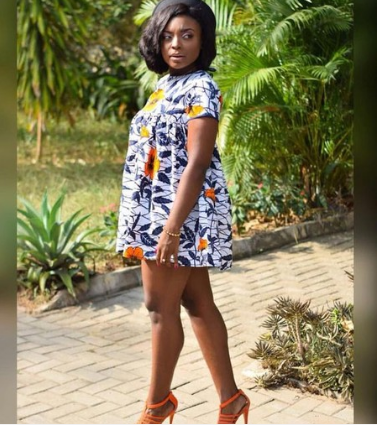 This looks almost like a maternity gown but the difference is that it stops somewhere around the hip. I can be worn out for date night or a party with friends. Blending with the high heeled shoes will absolutely  be perfect
Stretchy Off Shoulder Top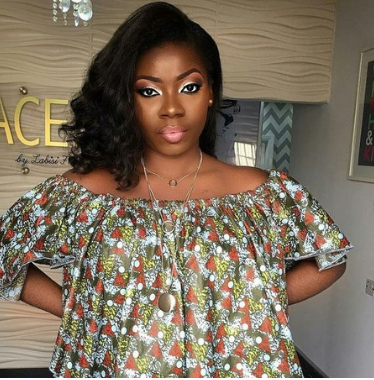 This is almost the same with off shoulder top but the only difference is that the neck has an elastic band that makes it stretchy. In this case, it can still perfectly fit you even if you add a little weight. It gives enough freedom to the belly too
Ankara Flared Top With Bell sleaves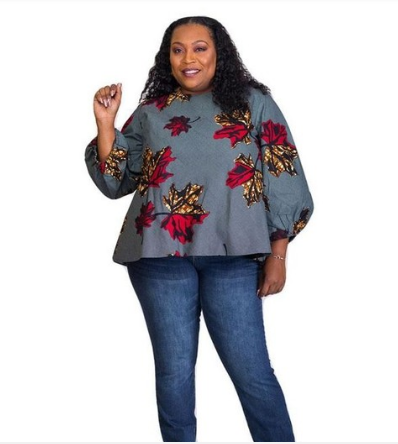 Because of its sleeve can be worn for an outing during the rainy season.it can also be worn in hot seasons due to the lightness of the material.  It is styled in such a way that it gives freedom to your belly during pregnancy. Blending with jean trousers or leggings will be absolutely perfect.
Summary on Ankara Maternity Blouses for Pregnant Women
Am sure by now you have already found your favourite you of the above listed. Bear in mind that whichever choice you make will only be made to look the way you desire only if you give your material to a good tailor. If you are ordering online, be sure to order your size so it will suit you perfectly. Thanks for reading.