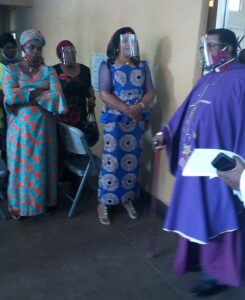 **His Grace, The Most Revd Dr. E. O. Chukwuma OON (Archbishop of Enugu Ecclesiastical Province)
The Ecclesiastical Province of Enugu is comprised of 12 Dioceses. The Province was carved from the Old Niger Province about 13 years ago. The first Archbishop to be in charge of the province is the Most Rev'd Amos Madu. He was the Archbishop of the Province for 5 years before he stepped down and handed over to the present Archbishop of the province.
His Grace The Most Rev. Dr. E. O. Chukwuma OON is now the current Archbishop of the Enugu Ecclesiastical Province.
The lists of the Dioceses in the Province of Enugu and the Names Of the Bishops:
Enugu Diocese: (The Most Revd Dr. E. O. Chukwuma OON)
Diocese Enugu North: (The Rt. Rev. Sostheness Eze)
Diocese of Nssuka: ( TheRt. Revd. A. E Agbo).
Diocese Awgu Aninri: (The Rt. Revd. Chukwunwike Benson)
Diocese Of Abakaliki: (The Rt. Revd. Monday C. Nkwoagu)
Diocese of Afikpo: (The Rt. Revd Paul A. Udogu, JP).
Diocese of Ngbo: (The Rt. Revd Godwin A. Awoke)
Diocese of Ikwo: (The Rt. Revd Ken C. Ifemene)
Diocese of Oji River: (The Most Revd Amos. A. Madu)
Diocese Of Nike: (The Rt. Revd Dr. Christian Onyeka Onyia)
Diocese of Eha-Amufu: (The Rt. Revd Daniel Nkemjika Olinya)
Diocese of Udi: (The Rt. Revd Chijioke Augustine Aneke)