Klint Da Drunk Biography, Age Career, Family, Wife, Comedy, Net Worth. Read also: Kuda Bank Owner Babs Ogundeyi Biography, family, business and net worth.
Currently, Comedian Kint de drunk is in the search with Sarki Dariya Kenneth 3310. Some of us are aware of the recent trend. The talented actor is in London comedy outing with Sarki Dariya. The show commences on the Friday, 19th November, 2022.
If you want to learn everything there is to know about one of Nigeria's finest comedians, Klint da Drunk, including his whole biography and net worth, you have come to the correct place.
Concerning the life, work, marriage, children, family, and wealth of comedian Klint Da Drunk, his real name is Afamefuna Klint Igwemba.  Klint De Drunk is Nigeria's top stand-up comedian, comic actor, musician, dancer, master of ceremonies (MC), and television personality. Since 1991 till the present, the man has been able to make people laugh and forget their troubles.
He is a well-known and respected comic both at home and abroad. He has also been in a number of international comedy shows. He is the only person who does his job properly; upon first seeing him, you may even begin to laugh before he begins to tell a joke.
The gifted comedian was born on March 3, 1975 in Agukwu-Nri, his hometown in the southern-eastern Nigerian state of Anambra, in the Aniocha local government area.
Klint Da Drunk Biography, Age Career, Family, Wife, Comedy, Net Worth
Klint Da Drunk Profile Information
Full Name/Real Name:  Afamefuna Klint Igwemba
Stage Name: Klint Da Drunk
Birthdate: March 3, 1975.
Age: 47 years of age (2022).
State of Origin: Anambra State is the origin state.
Place of Birth: Agukwu-Nri was born in Anocha, Anambra State, Nigeria.
Profession: Comedian, comic actor, musician, and dancer
Active from 1991 till the present.
Relationship status: Married.
Spouse Name: Lilien Klint Igwemba
Children: 4 kids.
Net Worth: $1.5 million or more
KLINT Da DRUNK CARRIER
Afamefuna Klint Igwemba, also known as Klint Da Drunk, is a well-known Nigerian comedian. He has been performing since about 1991, but his popularity increased after he made his debut in the Nigga Raw single "Obodo," which was published in 2005 and was taken from his album "Right Or Wrung." He also made appearances in a number of other videos.
Klint Da Drunk first gained attention following a standout performance on Opa Williams' comedy program "Night Of Thousand Laughs," which was broadcast throughout Nigeria.
Additionally, the comedic actor and comedy have appeared in a number of Nollywood films, including Lost Kingdom (2017), My House Help (2017), Destroyer (2017), Chain Reaction, 19 Willock Place (2019), Bond (2019), Knock Out (2019), Dry (2014), Men On The Run 1 & 2 (2016), Fast Cash (2016), and others.
Klint Da Drunk has been in a number of AY comedy programs both domestically and internationally. He is currently regarded as one of Nigeria's top comedians, and he has been nominated for a number of honors there. In his career as a comic, the actor and comedian has won numerous accolades, including Best African Comedian at the City People Entertainment Award, Best Comedian in Nigeria at the Nigeria Entertainment Award, Best Comic Actor at the African Movie Academy Award, Best Actor In Comedy at the Africa Magic Viewers Choice Award, and many more.
The comedian, meantime, was able to survive a catastrophic vehicle accident on August 18, 2019, on the Bauchi-Jos express road. The comedian expressed his thankfulness to God the Father on Instagram under the handle @Klintdedrunk.
Klint Da Drunk Biography, Age Career, Family, Wife, Comedy, Net Worth
He wrote the following: "Please join me in thanking God the Almighty for saving us from the Jaws of Death." We were involved in a severe car accident on the Bauchi-Jos express road. "The driver was careful enough so I had no difficulties with him, but then, out of the blue, a truck leapt right in front of us and the road was wet because it had been raining," the passenger said.
The driver did everything he could to stop the car, but the slick road made it appear as though he did nothing. All I could yell was "JESUS! JESUS!! JESUS!!!" as we slammed into the back of the truck at a speed of roughly 100 km/h.
We were able to exit the vehicle with only minor injuries thanks to God's mercy and goodness; the truck's taillight's ability to prevent us from suffering more severe injuries is all God's doing.
I give thanks to God for life, for His mercies, for His grace, and for his love for sinners like us.
He prayed, "May your name be exalted forever in Jesus Mighty Name!!! Amen!" The unfortunate car accident the comedic actor and comedian was in may not be his first, either. The comedian survived a second automobile incident on Abuja Road on November 5, 2021.
He also posted several photographs of the wrecked automobile on his verified Instagram account @Klintdedrunk with the message, "Can't believe I was in this car! ", to show how happy he is to have survived yet another car accident. I sincerely thank you, Lord God Almighty, for giving me life. You came to my rescue and got me out unscathed. Lord, I give you thanks!
Read our Trending Posts:
Klint Da Drunk Family
The comedian was born Afamefuna Klint Igwemba on March 3, 1975 in Anambra State, in the southern-eastern region of Nigeria. Little is known about his parents or siblings.
the Drunk Educational Life of Klint.
Klint Da Drunk completed his primary and secondary education and earned both the West Africa Examination Certificate (WAEC) and the First School Living Certificate (FSLC) (WAEC). Comedian Klint Da Drunk attended Institution of Management and Technology (IMT) in Enugu State, Nigeria, after finishing primary and secondary school, and he eventually earned a Higher National Diploma (HND) in Fine and Applied Arts there.
while a student at the Nigerian Enugu State Institution of Management and Technology. When 2face Idibia was accepted into the same university and began to dominate him, comedian Klint Da Drunk decided to switch to comedy and began performing as a master of ceremony (MC) and also entertaining his subsequent students with humour.
Klint Da Drunk's Wife and Children
Afamefuna Klint Igwemba, a gifted Nigerian humorous actor and comedian Klint Da Drunk, also known as, wed his longtime lover Lilien, and the union produced four beautiful children. They have a beautiful marriage. Here are the photos of Klint da drunk and family.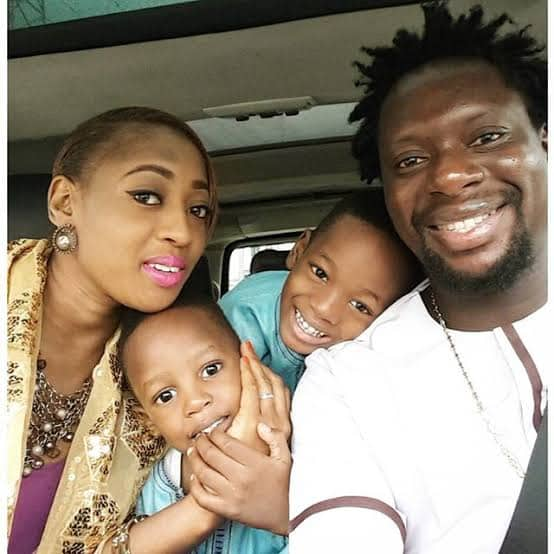 Klint Da Drunk Net Worth
What is the net worth of Klint da Drunk? As of the time and date of writing this article, Klint Da Drunk has an estimated net worth of over $1.5 million, which is equal to 663,217,006.50 (NGN), or six hundred sixty-three million two hundred seventeen thousand six naira 50 kobos. Klint Da Drunk is one of the wealthiest and most influential comedians and comic actors in Nigeria.
How old is Klint da Drunk?
He is currently 47 years old. He was born on March 3, 1975.
Klint De Drunk State of Origin
Which state in Nigeria is Klint da drunk from? He is from Anambra State. He is an Igbo man. He is a native of Agukwunri.  Agukwu-Nri is a town in the southern-eastern Nigerian state of Anambra, in the Aniocha local government area.
Summary
It was helpful to read the entire biography of Nigeria's finest comedian and comedic actor, Afamefuna Klint Igwemba, better known by his stage name Klint Da Drunk. Thank you for reading this post about Klint Da Drunk's biography, career, family, wife, comedy, and net worth. Please share this story on social media and let us know what you think in the comment area below.