latest Bubu Gown Styles for Ladies
Today, we are moving from our usual fashion styles – Ankara, Lace, and Senator materials to something different. We want to talk about Bubu Gown styles for ladies.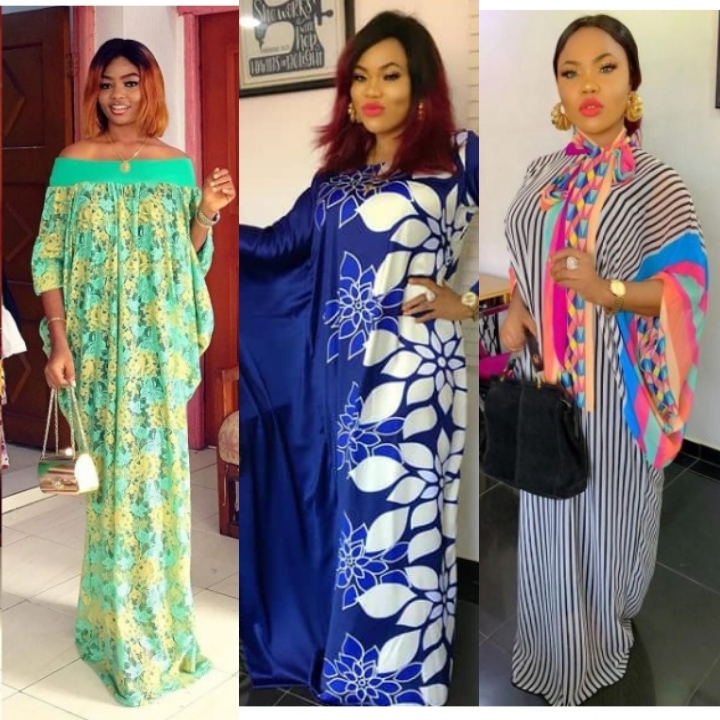 I know many of us may not know what Bubu gown stands for. We mean "Bubu" not "Buba". Buba styles are associated with one wrapper and a bogus long-hand blouse.
In the simplest terms, it is the female version of Agbada. The Bubu gown styles are worn by ladies while the men wear Agbada.
The Bubu gown styles are elegant dresses women of all classes and ages can wear and feel and comfortable. No matter how bad a lady's figure may look, these styles will hide them.
Do you have any special occasion to attend and you are looking for befitting wears for the occasion? Bubu gowns are there. It gives that classic aura (for the chic, "thick madam").
Have you noticed how men look when they rock beautiful Senator material designs to an occasion? That is exactly how elegant ladies look when they rock Bubu gowns.



Origin of Boubou/Bubu Styles
Bubu or Boubou as pronounced is a long flowing and fitted garment worn by both males and females in some parts of Africa.
"The boubou is the classic Senegalese robe, worn by both men and women all over West Africa and in West African diasporic communities of Europe and the United States and so on".
As we stated earlier, it is a cloth and design for all women. It is suitable for women of any size. Bubu gown styles can conceal 9 months old pregnancy. It hides all shortcomings in women's figures, especially those with a big tummy.
Install our fashion and Styles App to see varieties of Trending styles
ALL TRENDING FASHION STYLES
This app is available for all of your devices.
See the Best Lace Bubu Gown Style you can Rock in 2021
You will see more of these lace styles as you scroll down. Our styles are the best.
As you can see in those pictures, talking about the fabrics from African like Ankara, Lace, Batik ann even other types of fabrics like chiffon, crepe, and so on.
The Bubu style can be designed with different fabrics. It just about what you want and how you want it to be your dress to be styled.



Types of Materials for Bubu Styles
It is a good thing to know that Bubu gown styles can be sewn with all kinds of materials. It can be sewn with Ankara fabrics, cord net materials, silk materials, bridal silk materials, etc.
But left for me alone, I will always go for cord net and bridal silk, chiffon materials, and elastic materials.
Many people make Ankara fabrics the number one choice when it comes to Bubu gown styles. That is not bad. But I think the material does not bring out the whole beauty of the style.
Check it out here:
Ankara Material Bubu Gown Styles
You may also read These:
Bridal Silk Bubu Gown Styles
One thing I love about bridal silk is that it looks cool on the body. It makes you feel free and its shiny feature is always there to announce your presence on any occasion.
Chiffon Material Bubu gown Styles
I so much love this style. The next one you are about to see too, it is super attractive. The boubou was made to the right side while the other is plain.
I told you Bubu gown styles are super for both slim and plus sizes. It does not segregate age. The people in this image below are mother and daughter.
Lace and Cord Net Bubu Gown Styles
Elastic Material Bubu Gown Styles
See More Stylish Bubu Gown Styles Trending in 2021
Are you thinking of what to wear underneath the latest Bubu gown style? Check out this nest image.



The Summary on latest Bubu Gown Styles for Ladies
Bubu gown styles for ladies are styles for all women. They may be worn to church, traditional wedding ceremonies, a  family get-together, etc.
The materials and styles come in various colors. It can be super colorful, two colors, or even plain. Bubu gown style, even though it has a pretty modest look, it is still capable of turning every woman into a chic lady.