Mike Davids Accuses Apostle Suleman of Adultery with Wife – Audio Clip
Apostle Suleman and Pastor Mike Davids's adultery accusation take a new dimension. Mike Davids Accuses Apostle Suleman of Adultery with his Wife – Audio Clip.
The former Pastor who worked under Apostle Suleman has been on a words battle with his embattle boss overheating accusation of having canal knowledge of his wife who is also a senior Pastor in the same Church. Pastor Mike Davids, recently has threatened to released video evidence against Apostle Suleman.
 
-Davids released an audio clip which he claimed was a conversation between him and Apostle Suleman, the general overseer of Omega Fire Ministries
-The video on the other end is alledged to belong to Apostle Suleman
Mike Davids, the ex-Pastor with Omega Fire Ministry (OFM) who accused Apostle Suleiman, the general Overseer of OFM of sleeping with his wife Pastor (Mrs.) Faith Edeko, has evidence has finally released audio clip evidence against him.
You will like to Read
Biden Will be Disgraced and Impeached — Apostle Johnson Suleman
Mike Davids Accuses Apostle Suleman of Adultery with Wife – Audio Clip
On the other end of what appeared like a telephone conversation, a voice was heard threatening Mike Davids. The voice at the other said he would make him disappear on the earth. Davids claimed the voice belonged to Apostle Suleiman.
Recall that Pastor Mike Davids has filed a 2 billion Naira suit against Apostle Johnson Suleiman for sleeping with his wife and for destroying his marriage. On the counter-accusation, it was said that Pastor Mike Davids was dismissed from the Omega Fire Ministry for his inimical acts against the body of Christ.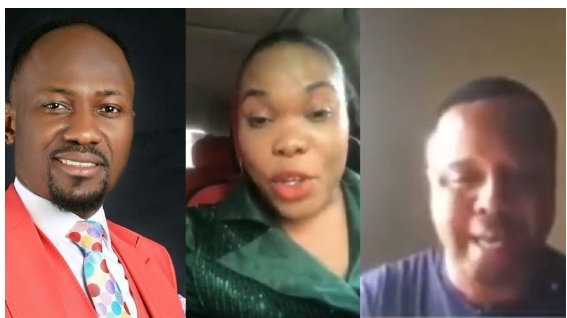 His marriage to his wife was said to hit the rock some years ago and both have walked their separate ways. It is a surprise to the church why Davids bounced back suddenly to accused the general Overseer of being responsible for his marital woes.



In reaction to the accusation and the court suit, Apostle Suleiman has filed a 5 billion naira suit against his ex-Pastore for defamation and damages to his reputation. The matter has been reported to the IG of Police who has made a move to arrest Pastor Davids.
It was on the hit that Davids released an audio clip that has been threatening Apostle Suleiman with. He claimed the voice at the other end belongs to Suleiman.
These are voice Conversations that took place in the audio clip:
Mike Davids Accuses Apostle Suleman of Adultery with Wife – Audio Clip
"I avoided you because of the way you talk but it is clear to me that you are possessed with a demon. The same thing that made me avoid you, you keep repeating them. You will die prematurely. God will punish you. Whatever you are looking for in this life, you will not get it.

"I stepped aside to make this call. You will die an untimely death. From the day I noticed you don't know how to talk, I stopped talking to you. It is like you didn't notice. I was free, I was chatting from the day I noticed your mind; you don't know how to talk.

"When I noticed it because I am very temperamental; my temper is not good. That is why I am telling you tonight. I will make you disappear."
My Take
This too shall pass. The church must match forward.
Please, comment your view in the box. Argue with your brain, not with your skull.
News Credit: The Punch