-See What Apostle Suleiman Says Will Happen To Biden After Becoming the US President
-Apostle Suleman Prophecy  about the fate of Biden when he becomes American President
-Biden will be disgraced and Impeached — Suleman
It is exactly 8 months since Apostle Suleman, the founder of Omega Fire Ministry made a prophecy about the US election and what will happen to the elected president. Most of us doubted his prophecy and took it with a pinch of salt. The part of the prophecy has come into fulfillment but one.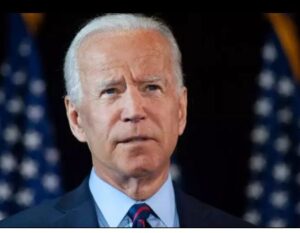 President Joe Biden
In the prophecy, Apostle Suleman said Donald Trump would not be reelected as American President. He said a woman would become the VP of the candidate who will emerge as the new president of America. The election has come and gone. The outcome of the election was as he saw it. It was as he said it. He said Biden would win and he did win.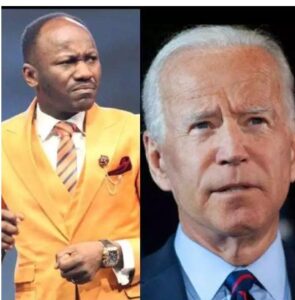 Apostle Suleiman made this prophecy in a video in one of the church services in March 2020. Reno Omokri reacted to the video immediately after the final American election result was announced. See the screenshot of what he said about the prophecy.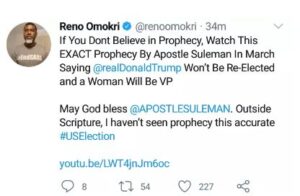 Now, this is not all. Even though Suleiman prophesied that Biden would win the election and become the American President, he also said he would be humiliated and removed from office.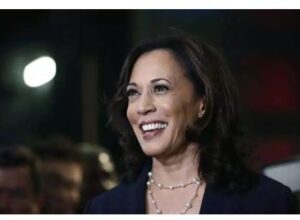 Senator Kamala Harris (Joe Biden's running mate)
Just as he said about the winner of the US election choosing a running mate who would be a woman, Biden did just that. And the name of the woman is Sen. Kamala Harris. The Prophecy was fulfilled. She was chosen as a running mate to Biden.
Donald Trump has lost to a presidential bid to Joe Biden. The final result of the November 3rd US election has been announced and a winner has emerged. The new president is Joe Biden. But there is a sad part remaining.
According to Apostle Suleiman, Joe Biden will be humiliated and impeached and his Vice who is a woman will replace him as a president. What this means is that American will soon be ruled by a woman and that woman is currently the Vice President of America.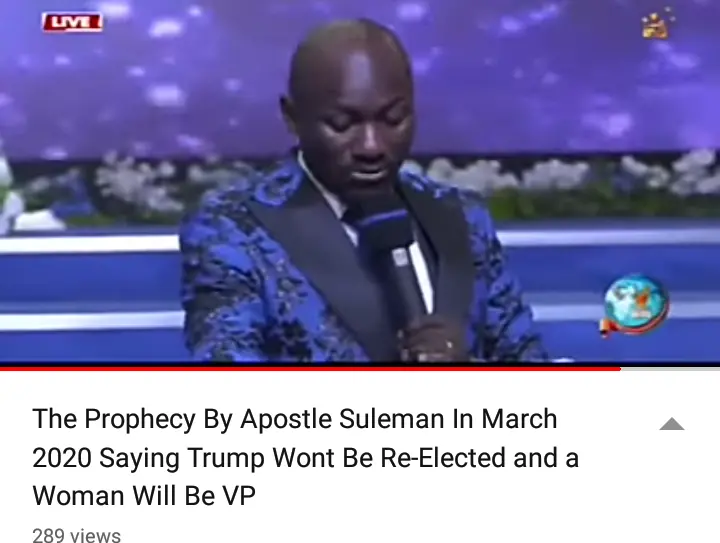 Just like Reno Omokri had said after watching the video; "This prophecy is nothing short of accurate!", that is also the same way I feel. Apostle Suleiman is not an ordinary man of God. He is not seeking cheap media fame like others. All he had said were all that happened except the last.
Are we expecting the humiliation and the impeachment of Joe Biden? It is just time; time has the answer. The fulfillment of a prophecy lies with time.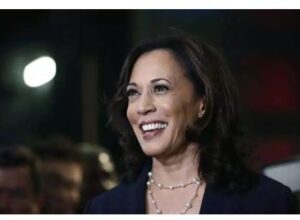 Did you watch the video? What do you think?  Do you believe Biden will be impeached and Kamala Harris becomes the next President?