Sen Shehu Sani Advice to Palliative Looters
Sen Shehu has shown his concerned fr those who broke into Government's warehouses and looted the palliatives which were meant to disburse to the masses. If You Know You Have The Food Items From Government Warehouses. Sen Shehu Sani Advice to Palliative Looters – Check for the Expiry Dates.



Try to listen to Senator Shehu Sani. Senator Shehu Sani has given important information on the Covid-19 palliative which was stored in the government warehouses. The information is for all Nigerians, especially those who were among the people that carried food items in those warehouses.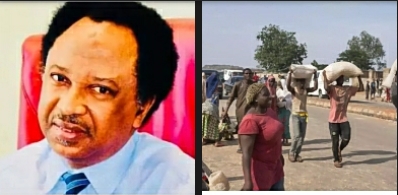 So, if you're living in Lagos, Oyo, Jos, Kwara, Osun, Cross Rivers, and those other states where palliative warehouses were broken during the EndSARS Protests, you need to listen to the advice senator Shenu Sani gave concerning the Covid-19 palliatives that were found in the above-mentioned places.
The Honorable is not concerned with the invasion of warehouses that is currently rocking states across the country. He has not condemned the act either. He said it is not yet clear why some state governments are hoarding the food meant for the masses. But he has one serious concern.
Photos of EndSars "Covid-a9 Palliative Looters at Government Warehouse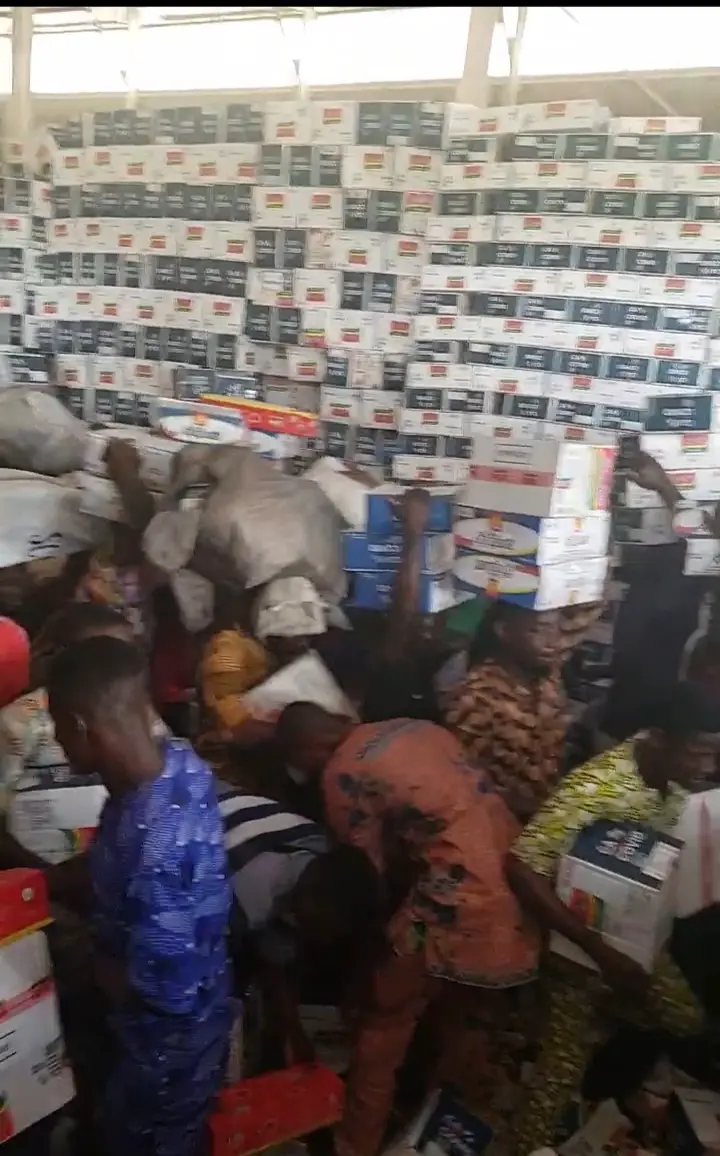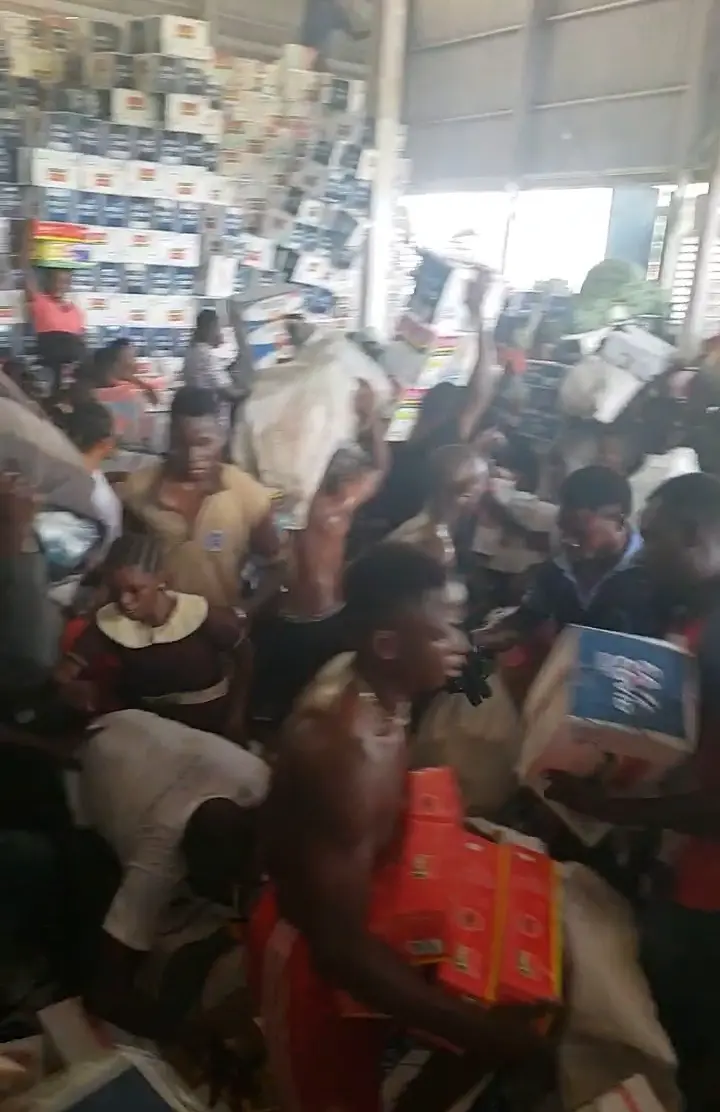 Senator Sani via his Twitter page pleaded with the residents of Lagos, Oyo, Jos, Kwara, Osun, Cross Rivers, Abia, Anambra And the Taraba States who were able to break the warehouses where those relief materials were packed and carted them away. Some were even aided by the Soldiers they met at the various warehouses.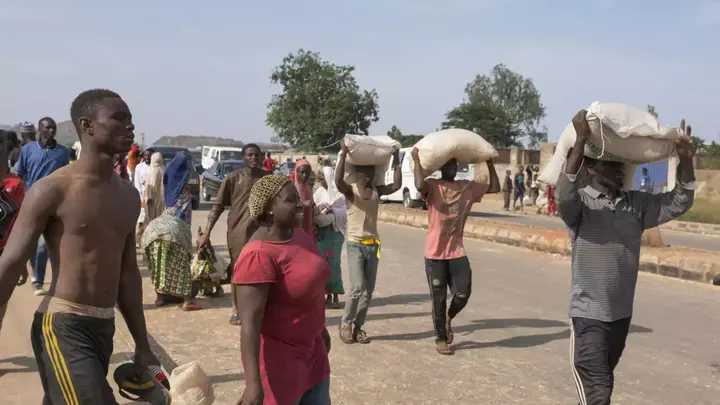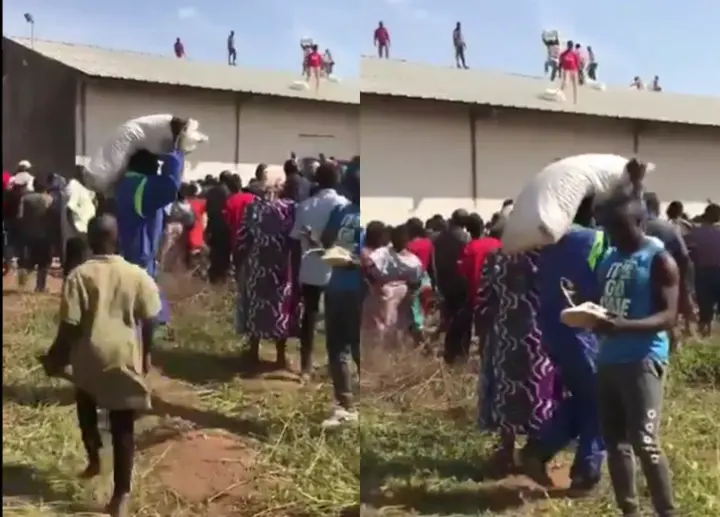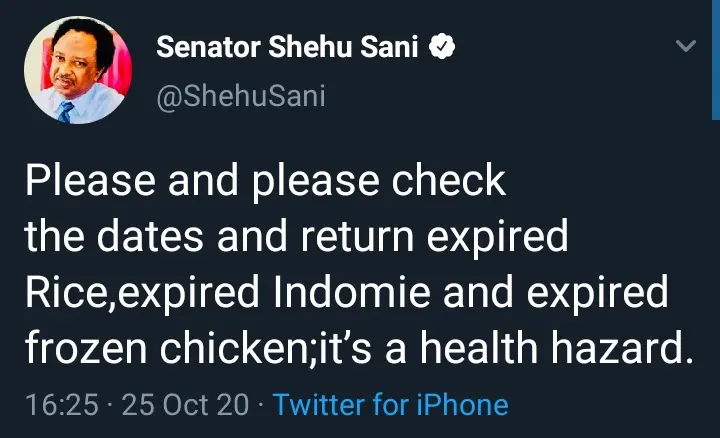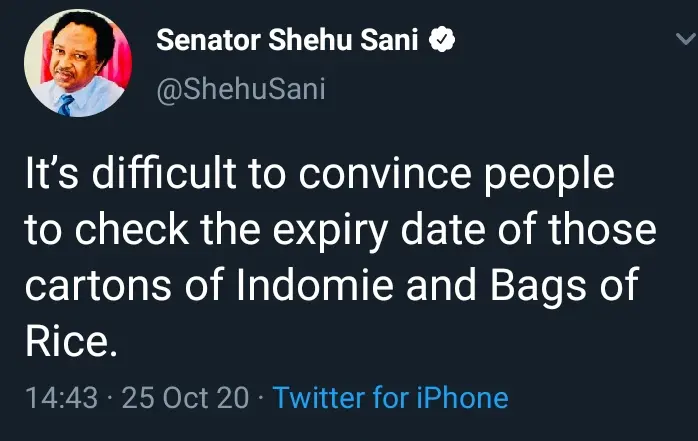 Like I said earlier, Senator Shehu Sani is not against the act rather he believes that palliative belongs to the masses in the first place. His only advises is that people should endeavor to check the expiry date of the foodstuffs they carried. Food like rice, noodles, and spaghetti have expiry dates. Please, listen to Senator Shehu Sani.



RECOMMENDED NEWS:
I think he hasn't said anything bad. Some of those food items have expired. People should see the expiry dates on the items before eating to avoid falling sick.
Or, what do you think?
Please, remember to click on "Read the Original" to see more interesting articles from us. Thanks for reading. Remember also to share this post.