The portal for the registration was opened on Monday, the 21st of September. However, several complaints stating that individuals could not access the registration site were received. In order to ensure a seamless registration process, the Project Delivery Office (PDO) has designed a registration schedule. Registration for Payroll Support will start with educational institutions on Monday and will be followed with businesses in the hospitality industry on Friday, September 25 beginning from 12 am. The portal will also be open to other categories of small businesses from 12 am, on Monday, September 28, 2020.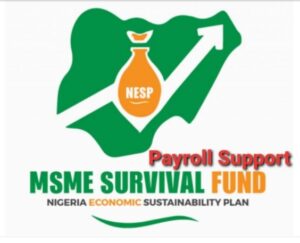 It is pertinent to note that the scheduling of registration for prospective beneficiaries is to ensure that the process is seamless and hitch-free.
The benefiting companies are to meet the following criteria:
Employees' company Must be registered in Nigeria under the Corporate Affairs Commission, CAC
Must have BVN by company CEO
Must have a staff strength of no less than 3 persons
Must be owned by a Nigerian
Self-employed Individuals in the following categories
Service providers in the transportation sector, ie. Bus drivers, Taxi drivers, Rideshare drivers. (Uber, Bolt Taxify, etc) and Mechanics.
Artisans, Electricians Plumbers, etc.
How To Access The Federal Government Survival Fund Registration Portal
Interested and qualified Nigerians who are eligible in the scheme are advised to log on to https://survivalfundapplication.com/ to register for the FG support programme.



Please note that the Federal Government Survival Fund Application is Free (FOC). On no account should you pay anyone for anything in the name of helping to Shortlist your name.