Trouble looms for IPOB leader. The downfall of the leader of the proscribed Indeginuos People of Biafra, Maazi Nnamdi Kanu seems to be coming nearer as the OYC asks the UK Government to immediately deport him following his threat to Okwu Nnabuike. This was as a result of the Nnamdi Kanu's live broadcast on the 25th of October, 2020.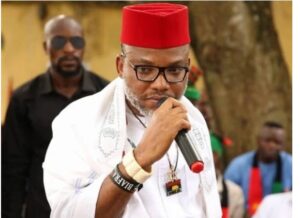 The leader of the proscribed Indigenous People of Biafra had via live broadcast incited his followers and issued a death threat to Maazi Okwu Nnabuike, Secretary-General, Ohanaeze Ndigbo Youth Council. His comment may be the last straw that will break the camel's back as his own people now demand his immediate arrest and deportation.
OYC is an organization that seeks the common good of the Igbo group just like the IPOB group. But a house divided against itself cannot stand. If OYC seeks Maazi Kanu's deportation from the UK, it shows he has lost it.
RECOMMENDED NEWS:
The statement by the OYC which was endorsed by Dr. Bond Kalu-Uduma, the Deputy National pub.Sec Ohanaeze Ndigbo Youth Council Worldwide, yesterday read thus;
"…Cowardly rantings of a fleeing felon like Nnamdi Kanu, Proscribed Leader, Indigenous People of Biafra (IPOB), is affirmative evidence that Ipob has lost focus and Glory and Igbos are Wiser now.
Nnamdi Kanu's broadcast of 25th October 2020, where he issued death threats to Mazi Okwu Nnabuike, Secretary-General Ohanaeze Ndigbo Youth Council, is a clear trap that will lead to the destruction and extinction of Ipob
OYC is set to publish all the Fraudulent financial transactions between Nnamdi Kanu's Ipob and Politicians Sponsoring his activities through third parties including the planned protests, if there are any death casualties, recorded in the planned Protest on 26th October 2020.
OYC call on UK Government to deport Nnamdi Kanu immediately, for him to come and lead Protests in Nigeria, Ipob Protests was planned to impress Nnamdi Kanu's Sponsors and cause deaths of innocent People in other to instigate favorable grounds for declarations of State of Emergency in Southeast and South-South. The idea of clean up exercise is craftily designed to lure innocent Igbos out of their homes to be shielded for Ipob suicide squads that will Target marked properties in aba, Oyibo, Owerri, Abakiliki, Enugu, and Onitsha for looting. Can any sane man ask Igbos to go and confront Security Agents and die?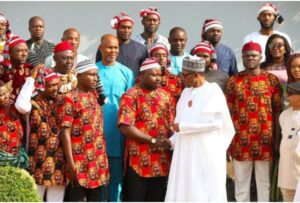 Igbos had seen Nnamdi Kanu's is not genuine in Biafra agitation and nobody deserves to die with his Selfishness and quest for fame and Fortune seeking games. We know that as an Unstable character, he(Nnamdi Kanu)will still deny these alleged death threats like he always does but there are compilations of death threats he had escaped through damage controls, but definitely, these inflammatory directives to his members to kill Mazi Okwu Nnabuike will be the last threat from him before he will be inevitably deported to Nigeria."
Dr. Bond Kalu-Uduma
Deputy National pub.Sec
Ohanaeze Ndigbo Youth Council Worldwide
**Please, click on "Read the Original to follow us for more great posts