Price of Cooking Gas in Nigeria Today
Cooking gas has become one of the most sought-after commodities in Nigeria today. Many families and individuals now prefer to use cooking gas for their cooking. Probably because of its stress-free cooking and ease of use. Personally, I have used nothing in my home for the past 11 years now other than cooking gas. I love the way my kitchen and pots are clean even after cooking with it. Price of Cooking Gas in Nigeria Today. You may Read "Good Businesses to you can start in Nigeria in 2022 with little or no capital and make it.
Unfortunately, the price of cooking has continued to hike in Nigeria. It keeps rising and yet it continually sees more users. In this post, we shall discuss the price of cooking gas in Nigeria in 2022 per kg. We shall also try to make a comparison with prices of the previous years.
Before the Yuletide season, it was speculated that the price of cooking gas would skyrocket. In fact, it did. Before December 2021, the price of the cooking gas stood at N8, 000, N4,600, and N4,000 for 10kg, 5kg, and 3kg respectively.
In the mid of December period, a market survey showed that the price of 12.5 kg has risen to N8,500 but could rise further to between N9,000 and N10,000 during the yuletide period that normally records increased demand. Read also; "Cost of hair transplant for man and woman in Nigeria and the locations.
What is the Current Price of Cooking Gas Nigeria in 2022?
As of 31st December 2021 and January 23, 2022, the prices of cooking gas have hiked and remained at N660 (six hundred and sixty-six Naira only) per kg. I am not saying what people said. I am writing what I bought from the filling station in Enugu town.
I refilled my 12.5 kg gas cylinder on 31st December 2021. It finished on the 23rd of January, 2022 (Sunday morning). On these occasions, it refiled #660 per Kg, the total of #8,250. Currently, below is the rate of the cooking gas in Nigeria as of today:
3 kg    ×  N660 = #1,980
5 kg    ×  N660 = #3,300
10 kg  ×  N660 =  #6,600
12.5 kg  ×  N660 = N8,250
19 kg    ×  N660 =  #12,540
25 kg    ×  N660 =   N16,500
Price of Cooking Gas in Nigeria Today
How long does 12.5 kg cooking gas last?
I used to be among those who ask this question. The correct answer to this question is 'no specific time'. Your gas lasts depending on the amount of cooking you have done with it.  If you cook less, it will last longer.
However, on a few occasions, the gas filler robs it of gas users by filling the cylinder with air. In this case, it will finish earlier than it used to.
My 12.5 kg gas cylinder lasts an average of 21 days. We are 6 in the family: father mother, a teenager, and 3 children – the last is 5 years. I am explaining all of these to make you understand how often I cook with the gas.
There was an occasion when the gas lasted just 17 days. When  I raised alarmed, Oga said he was not surprised because others were, lots of water boiling with the gas in that period. You may read: How to use magic Onions and Olive Oil to make big Butt with no side effects.
So, there is no specific time a particular Kg of the gas cylinder should last. It lasts depending on what you cook with it and how often you cook with it.
A 5 kg cooking gas cylinder can last for 1 month or 2. A 19 kg cooking gas cylinder may last for only 2 weeks for a family.
Prices of Gas Cylinders in Nigeria today (Kg)
How much does it cost to own a gas cylinder? The Answer Depends on the kg you want to buy. People are searching for the cost of acquiring gas cylinders.  Yes, when you buy a gas cooker, you are also expected to buy a gas cylinder. The price of buying an empty gas cylinder differs from the cost of purchasing refilled ones.
Gas cylinders come in kg and are of different brands. You can have it constructed for you locally or buy the one imported from outside Nigeria.
Prices also differ depending on whether these gas containers are imported or not. On average, the price of buying a full package of 12.5 kg gas cylinder in Nigeria is ₦15,000. Below is a price list of cylinders as seen in major cities.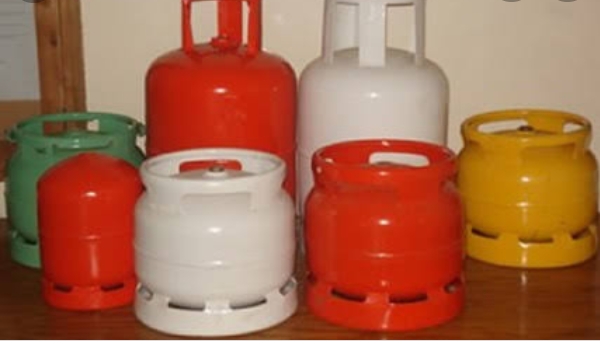 Below is the current cost of buying gas cylinders in Nigeria this 2022:
| Gas Cylinder Size | Current Price |
| --- | --- |
| 2 kg | ₦5,000 |
| 3 kg | ₦8,500 |
| 4 kg | ₦9,000 |
| 5 kg | ₦12,000 |
| 6 kg | ₦14,000 |
| 6.5 kg | ₦15,000 |
| 10 kg | ₦16,000 |
| 12.5 kg | ₦18,500 |
| 19 kg | ₦23,500 |
| 25 kg | ₦30,000 |
| 50 kg | ₦36,000 – ₦60,000 |
Price of Cooking Gas in Nigeria Today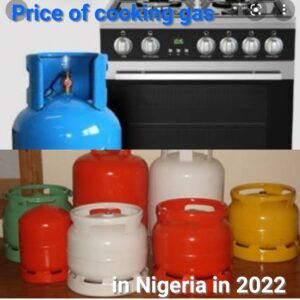 In summary, the cost of refilling 1 kg gas cylinder or the price per kg of cooking in Nigeria today is N660 (six hundred Naira only). The popular students' 3 kg gas cylinder is refilled at ×  N660 = #1,980. The camping gas costs 5 kg  ×  N660 = #3,300, 10 kg  ×  N660 =  #6,600 while the family use 12.5 kg gas cylinder is  ×  N660 = N8,250.