Hair loss and Cost of Hair Transplant in Nigeria 2021
In our post today, we are going to talk about a very crucial topic. It is about hair loss and the cost of hair transplant in Nigeria in 2021. Another word for hair transplant is artificial hair restoration.



According to data, demands for hair transplants in Nigeria have increased. However, there is a very limited number of centers which perform hair transplant in Nigeria. Lagos state has the highest number of hair transplant clinics in Nigeria, follows by Abuja.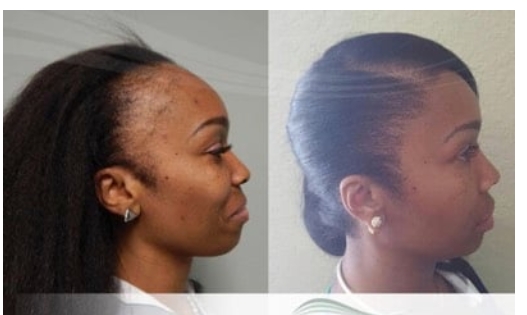 Due to this, many Nigeria still travels to foreign countries like the US, the UK for hair transplant. It has been reported too that the cost of hair transplants in these Western countries is very exorbitant for an average Nigerian.
So, they resort to another alternative which is traveling to India. India remains the ideal destination for the Nigerian population for hair transplants.



People have asked so many questions regarding hair transplants in Nigeria. In order to answer all of those questions, we are going to adopt the questions and answers method in our writing. That way, we can touch all angles without derailing.
Hair Loss and Cost of Hair Transplant in Nigeria 2021
The need for hair transplant or hair restoration arises due to hair loss that never regrows. We can point to some examples using men. Hair loss is prevalent in men.
It always begins in the 40s or late 30s. At that time, the hairs in the middle of the center of their skull begin to fall off and it will never regrow.  The hairs at that center fall off completely until they became bald.
Baldhead can be refilled again with hair and it will look normal like before but through artificial implantation of hairs. So, a hair transplant is a process of refilling hairs on bald heads. It is the act of restoring the lost hair on the skin of the skull and other parts.



Hair transplant in Nigeria 2021
Increase in hair loss in Nigeria and other countries have given rise to the demand for hair transplant. The hairs on our heads are one of the important features in our lives. They pose a significant effect on our physical appearance.
The popular Nigerian saying compliments this claim when it says that; "hair is the beauty of a woman". Women feel a loss of confidence when they begin to lose their hairs either by age factor, health, or cosmetics.
However, in hair transplants, we are not talking about the woman alone. In fact, according to statistics, men practice hair transplants or hair replacements more than women.
. This is because men tend to lose their hair more than women. The women have front hair loss challenges due to cosmetics or incessant hair plaiting. Unlike men, the majority of them lose their hairs from the center known as Bald hair.
Causes of Hair Loss
Have you wondered why Mr. A has no hair at the center of his skull while Mr. Z. who is in the same age range has full hair? It is caused by hair loss. There are so many factors responsible for hair loss. They are:
Family History or Hereditary
This is one of the major causes of hair loss in some people. If you are born in a family and you grow to see your father and uncle forming bald hair, there is every tendency that when you get to their age brackets, yours will fall off too. Likewise the womenfolk.



I have full long hair but they look scanty in the front now. I no longer bother myself to look for one organic hair cream or another for it. I have found out that it runs in our lineage.
My mother does not have full front hair. My most elder sister has lost hers too. So, in this case, I know it has to do with family history.
Age:
Aging; for many people comes with hair loss, both for males and females. As we grow old, there are tendencies that hairs will begin to fall off from our heads and other parts.
Women will begin to lose their front hairs while baldness will be seen on some men. This is a result of aging. They are losing some vitality in their bodies which have kept their hair rich and intact during their youthful age.
Hormonal Changes:
This factor affects women mostly. It is part of the major factor responsible for the loss of hair in women.
Hormonal change occurs in women during or after pregnancy, childbirth, menopause, or as a result of one health issue or the other. In some cases, hair loss becomes so bad.



There have been cases where some women bab their hair to the skin because of the extent of their hair loss or hair damage. This kind of person needs a hair transplant the most.
Medical Conditions:
Just as certain health conditions cause hair loss, there are also medical health conditions that cause permanent or temporal hair loss. This occurs as a result of side effects from the medications used in treating or managing the illnesses.
Certain drugs and medications taken for the treatment or the management of ailments like diabetes, cancer, arthritis, depression, hypertension, etc can cause hair loss.
Hairstyles and Treatments:
There is nothing that damages front hair as Ghana weaving. This hairstyle is one of the major causes of hair loss and hair transplant in Nigeria.



Anyone who always wears this hairstyle will surely lose front hair. Not only Ghana weaving but hair plaiting with rope also causes hair loss too.
Many people are not aware that certain hair treatments end up scrapping off their hair. I remembered in 2011 December when I had to die my hair black in order to plait a particular style.
A few weeks later, I removed the hairstyle and went to the salon to wash my hair. That was when I witnessed my first hair loss.
The hairdresser put a comb in my hair and almost all my hair pulled off. I went paranoid. I told her to stop combing. We tried washing it without combing.
But that too didn't work. I saw my hair falling off with water and shampoo foams.



Stress:
Some people may not know about this. There is also stress-related hair loss or hair fall. However, it is not for everyone.
Episodes of physical or emotional stress may lead to hair loss for some.
Hair Loss and Cost of Hair Transplant in Nigeria 2021
Why should I go for a hair transplant?
Loss of hairs on the head that never regrow gave rise to the need for a hair transplant.
Hair transplant is the permanent solution to permanent or temporal hair loss. If you have hair loss or hair fall that refuses to regrow then you have the need for a hair transplant.
You need a hair transplant if your front hair is looking like a desert ground or a vulture neck. You also need a hair transplant if you have a bald head. If you are also among those who have received the title of "Iya Eko" or "isi nwanyi Onitsha" because of how your hairs are looking, you need a hair transplant.
It doesn't matter what causes the hair damage, if the hair can't regrow again, the solution is an artificial hair implant.



It depends on the site of the transplant; whether body or scalp. Hair is taken from the donor through specific procedures and transplanted on the skin or the area of baldness on the head. After some time, the hair will begin to regrow and will remain permanent.
Is there any benefit or side effect of a hair transplant?
Yes, of course. There are so many benefits of a hair transplant or surgical artificial hair implantation. The first among them is that the hair will be permanent. You will not have hair loss on the part of your skin that was transplanted.
Other benefits of hair transplant include beautification and transformation. Someone can transform his or her facial look through a hair transplant. A lot of celebrities maintain their ageless looks through surgical hair implants.
Hair transplant does not have side effects. However, it cost a fortune and it is hard to see experts in the field. When it is not done properly, it leaves visible scars on both the donor and the receiver.
Will my hair transplant last?
We have answered this in the paragraph above. Hair transplant is permanent. So, if you are asking whether your hair transplant will last? Yes, it will.
Again, a hair transplant looks natural. So, you won't know that someone has done a hair transplant unless you are told.



Is hair transplant in Nigeria New?
Hair loss and hair transplant in Nigeria are not strange to many people. It is affordable but there are few centers in Nigeria where it can be done.
Meanwhile, many Nigerians are not talking about hair transplants because they are not aware of it. It is yet to be populated in the different 36 States of the country.
Hair Loss and Cost of Hair Transplant in Nigeria 2021
Photos of before and after hair loss and hair transplant in Nigeria
In order to authenticate our claims about hair loss and hair transplants in Nigeria, we have to include pictures or photos of people who have undergone hair transplants in Nigeria. They comprise men and women, young and old.
We are going to show the photos in pairs; before and after the hair transplant.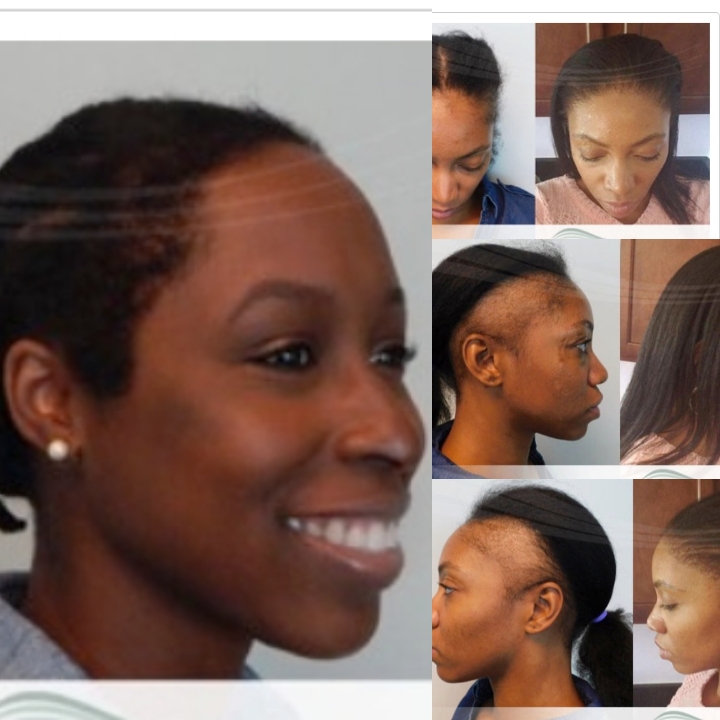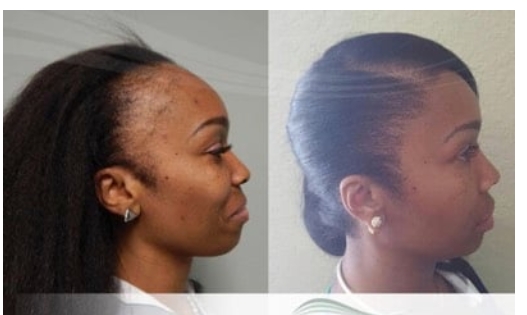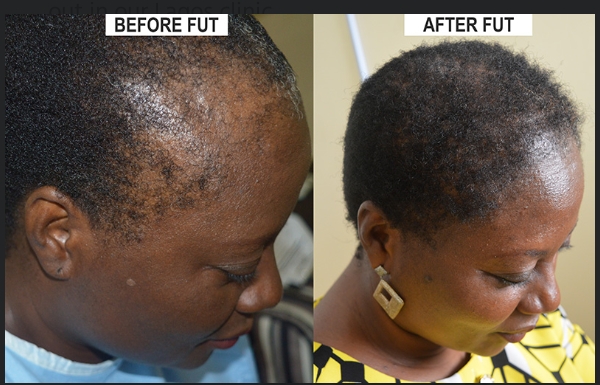 Before and After Photos of hair Loss and hair transplant in Nigeria for Men
Locations for a hair transplant in Nigeria and How Much?
Hair transplant is a booming business now in the country. Both young and old are opting for hair transplants. We shall bring out all the frequently asked questions regarding hair transplants in Nigeria.
I have heard many people asking "which state in Nigeria can I go for a hair transplant"? The answer is simple.
Hair transplant centers in Nigeria are not hidden. There are foreign and indigenous experts in Nigeria who are specialized in hair transplants with track records. I will list their addresses and contacts here.
Meanwhile, the 2 major renowned hair transplant surgeons are based in Lagos. Their names are: Dr. Akeem Anifowoshe, Dr. Koshy Eapen



Cost of Hair Transplant or Surgery in Nigeria 2021
How much does a hair transplant cost in Nigeria? According to Vinci Hair Clinic, the price starts from NGN 32,000 for medications. And depending on the type of hair loss restoration a client is opting for, the typical prices for Micro Scalp Pigmentation treatments start from NGN 375,000.
However, a typical hair transplant costs $4,000. This cost is roughly two million Naira if converted. But it is not a fixed amount. It can be negotiated.
There are two techniques employed for Hair Transplant in Nigeria, Follicular Unit Transplant (FUT) and Follicular Unit Excision (FUE). Usually, the cost of a hair transplant with FUE is costlier as compared to the FUT technique.
Restoration or transplanting of hair loss is measured in graft. And the number of grafts determines the price of the transplant.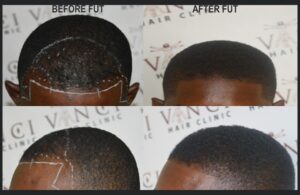 The average cost of FUE hair transplants in Nigeria is INR 50-100 per graft. When converted to naira, it is NGN 283 – NGN 566. On the other hand, the cost of a FUT hair transplant in Nigeria is INR 40- 80 per graft (#226 – #453).
Summary on Hair loss and hair Transplant in Nigeria
I think we are forgetting one thing here. The head is not the only part of the body for hair transplant. Hair loss occurs on other parts of the body like the mustache, eyelid, and eyelash



Hair transplant is also done in these areas. We have also failed to mention whether a hair transplant is painful and the number of days it takes to move on with normal routine life after a hair transplant.
According to those who have had one part of their bodies or the other transplanted with hairs, the procedures are not painful. The person can move on to do his or her normal work after 3-4 days after the surgery. It requires covering the transplanted site with a scarf a hair cover.
Cost of Hair Transplant or Surgery in Nigeria 2021
Hair transplants cost in Nigeria 2020.
Hair Transplant 2021
Cost of Hair transplant for men and women 2021