Mercy Aigbe's New Husband, Kazim Adeoti: What You don't know about him
It is no longer a rumor. It is no longer a sparking rumor. It is true. Kazim Adeoti is the new husband/ boyfriend of Actress Mercy Aigbe. The story also has it that he has gone to her family house for marriage introduction. In this post, we shall be telling you all we know about Kazim Adeoti, his background, and his career. Mercy Aigbe's New Husband, Kazim Adeoti: What You don't know about him.
Mr. Kazim Adeoti is not a hidden personality. He is a wealthy Yoruba filmmaker, movie marketer, and founder of Adekaz Productions. His business name was coined from his name and surname "Ade…Kaz…" You may Read: 5 Best Nollywood Actresses who Deserve Award for Crying in the Movies
Since Sunday, when his wife thrust him into the limelight on the occasion of his birthday, many are itching to know more about the wealthy Yoruba filmmaker, movie marketer, and founder of Adekaz Productions.
Yes, his wife, Funsho Adeoti has also spilled the bean. She has taken to her social media page to confirm the affair between her husband and Mercy Aigbe. She made the tweet along with the photo of her children which she shared with the public.
Funsho who runs a fashion designing outfit, Asiwaju Couture said, "Losing someone who doesn't appreciate or respect you is actually a gain, not a loss."
Her reaction came a day after Mercy Aigbe's ex-husband, Mr. Gentry had reacted claiming that the truth behind his breakup with Mercy is gradually unveiling.
It has been rumored that Mercy Aigbe and Kazim Adeotu have been together for a while now before they decided to go public with their relationship, have reportedly tied the knot. In fact, netizens are insinuating that Mercy was dating him even as a married woman. They also allege that her only son with Gentry is a split image of Kazim (only DNA will confirm).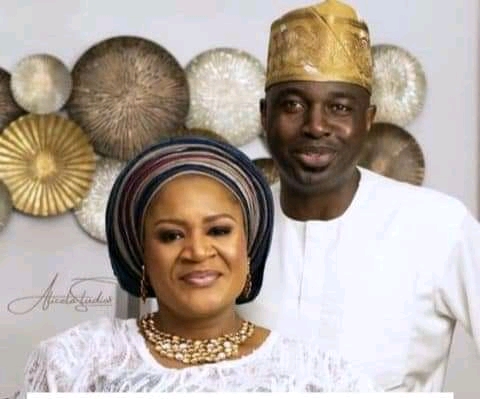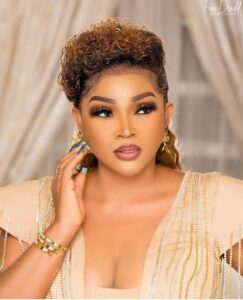 About Kazim Adeoti: Mercy Aigbe's New Husband
According to news media; "the quiet entertainment entrepreneur needs no introduction in the Yoruba movie industry as he is behind some of the biggest movies in the sector. Although Adeoti produced some of Aigbe's movies and attended her events. He occasionally produced some of her colleague's movies.
There is hardly any film that he produces that she does not feature. In addition, she often plays lead roles in his movies.
Some recent movies produced by Adeoti where Aigbe played lead roles include prima Donna' (2021), Raboni (2021), and 'Traffic' (2020), Ayomi (2018). Aigbe also coordinated his significant productions, namely 'Epe' and 'Iwalesin.'
Also, Aigbe's latest movie, J.B.O, a joint venture between both of them, was released on Monday."
His Family and Background
Mr Adeoti Kazim is a Muslim by religion. He is married to Mrs. Funsho and the union is blessed with 4 children. According to sources, he has been married for 20 years with Funsho.
Before venturing into movie making, Adeoti initially set out to read Business Studies at the Kwara State Polytechnic, only to gain admission into the University of Jos to study Business Management in the same year.
He settled for the latter, and upon completing his studies, he proceeded to the U.S. in 2001, where he became a mortgage broker for a decade. He married his wife and mother of his four children, Funsho, a year after.
Long before his foray into the Yoruba movie industry, Adeoti liked filmmaking and entertainment. So he studied the business models of prominent Yoruba movie marketers, Wasiu Afolayan, Chairman of Wasai Film, and Kazeem Afolayan of Epsalum Production.
Having delved into real estate in America, he said he secured a few houses on a mortgage and collected rent monthly as a fallback plan.
Upon returning to Nigeria, he faced peculiar challenges which rendered him broke. He said: ''I had to go back to sell one of my houses. The turning point was because the money worked for me, which is supposed to take years. I got it quickly because I wanted to achieve the best. I invested a lot of money, but I became broke again because of the ripple effect.
"But, by the time I bounced back, I already knew the business way better than the initial stage, and as such, I was doing everything better.'' But all of that is in the past.
The astute businessman has built a strong brand and has won the heart of one of the biggest acts out of the Yoruba movie industry.
Kazim Adeotu Marriage to Mercy Aigbe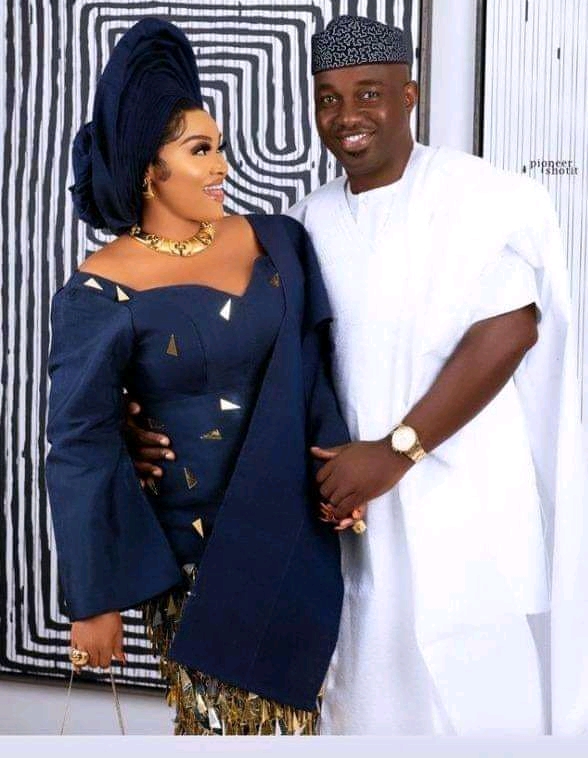 Although Kazim has been married for more than 20 years to fashion designer, Funsho Adeoti, his religion allows him to have more than one, a major reason Mercy had to acquire a Muslim name, Minnah.
The union is happening five years after her marriage to Gentry crashed in 2017 on allegations of domestic violence on Gentry's part and infidelity on her own part. Gentry has however since remarried.
Ironically, Mercy and her ex-husband, Gentry were family friends to Adeoti and his wife, Funsho. Look, I have exhausted all the reports here. But you see this last paragraph, that what is paining me most in this Mercy's story. The Uncle who was a friend to another Uncle who happened to be his adviser in marriage has finally collected his wife.
If you say it is not bad, don't worry, e go reach everybody. And if it happens to you or to your children, how will you feel? Drop your opinion and argue with your conscience.