How to Check UBA Account Number
Hello reader, this article will teach you how to check your UBA Account number using your mobile phone. If you have been following us for quite a while now you will notice that dished out many banking guides that will help solve your banking problems. We wrote on "how to increase transfer limit on UBA mobile app, an article wished helped many so if you are having a problem checking your UBA account balance, read on let's guide you for free.



Normally UBA will give you your account number when opening an account with them but sometimes you can lose it may be because it was not written anywhere. I do advise people to write down their account number somewhere or better still have it off heart so you won't forget it. For you to have searched this article, it means you have already lost it so to check your account number simply Dial *919#, reply with 6 for your balance, type in your 4 digit Pin, your UBA account number will be sent to you. The process I stated now is the easiest way to check your UBA account number but there are other ways. I will be listing them and be explaining them in detail so read on.
How To Check UBA Account Number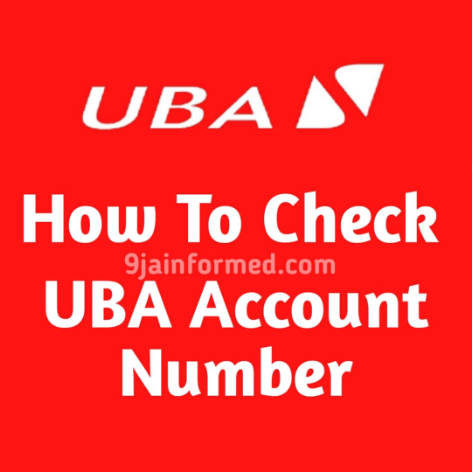 UBA account number is a unique 10 digit code issued to you by UBA. This number is like a storehouse for your money. This number can be used to receive money, buy airtime, etc. There are many ways to check your UBA account number and they include;
Check UBA account balance Via USSD code
Check UBA account balance via UBA customer care
Check UBA account balance via UBA mobile app
Check UBA account balance via Bank Account Statement
Visit Any UBA Branch Near You
Check UBA account balance Via USSD code
I have already talked about this earlier in the article, but here I will be explaining it in detail. Checking account numbers via USSD code is as simple as anything you can think of. The good thing about it is that it doesn't require an internet connection. To check your UBA account number via USSD code follow the process below;
Open your phone app
Type and dial *919#
select 6 for balance
Type in your 4 digit secret pin
A message containing your account number and account balance will be sent shortly
Check UBA account balance via UBA customer care
You can decide to reach out to UBA customer care to know your account number. There are many ways to reach out to them, you can call their customer care line or message them on Twitter, Facebook, email, WhatsApp, website. The choice is yours.
When you contact them, you will be asked some questions to prove the account really belong to you. Some of these questions include; your name, your number(the one you used in opening your UBA account), next of kin, address, etc. Be guided that they won't ask for your BVN in case you fall into the hand of scammers. To save you from being a victim of a scam, I will be listing the legit UBA contact details you should contact when you have a problem
UBA Phone Number– 07002255822
UBA Email – cfc@ubagroup.com
UBA website – ubagroup.com
Facebook – Uba Group
Check UBA account balance via UBA mobile app
Technology has made everything easy.UBA has a mobile app that provides its customers with easy and convenient banking. This app can be used to check account balance, purchase airtime, transfer money, and of course check account numbers. To check your account balance using UBA mobile app, follow this process;
Download and install UBA mobile app on the play store or you can just open the app if you already have it
Log in to the mobile app
Check your account number at the top left corner of your dashboard
Read also:
Check UBA account balance via Bank Account Statement
You can use this method if you don't have access to the internet at the moment.UBA sends out statements of account to their customers monthly. The statement of account contains the debit and credit transactions done in that month. It is in a pdf format. If you haven't already deleted it, open the pdf file, check the top of the file you will see your profile which contains your account number and other details
Visit Any UBA Branch Near You- Is this necessary? it depends on you. Checking your account number is what you can easily do with your mobile phone so I don't see why you want to go through the stress of going to the bank but for those that still prefer this method, follow the method I will be stating below;
Visit any UBA branch near you and ask the customer care service who will direct you where you should go.
Tell the person you were directed to that you want to know your account number. You will be asked some personal questions to prove that you are the real owner of the account.
When you are done answering the questions, the banker will key in the information you provided into the computer and your account number will be fished out and be given to you. It's that simple.
I advise you quickly write it down somewhere to avoid losing it again.
 Conclusion
To me having your account number of the heart is a wise thing to do in case of the giveaway. lol. I hope you got value from this article. Just pick one of the ways I listed above and apply it immediately.
Here at 9jainformed, we dish out valuable content on a daily basis so you can always come back and check out our blog. You can as well subscribe to our newsletter so you will be notified when we have new content.