Causes of High Rate of Death of Young Mothers in Nigeria
In our post today, we are going to discuss a very important topic. This topic shouldn't be swept under the carpet because everybody is involved. It is about the causes of the high rate of death of young mothers in Nigeria.
"God have mercy! What is killing young mothers?"
These were my words 2 weeks ago when I travelled to my father's hometown for the burial of my 42-year-old Niece who died leaving her 6 children and a helpless and heartbroken husband.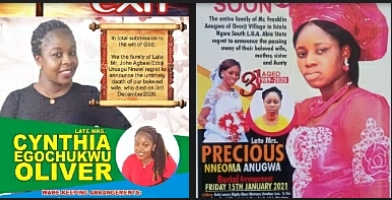 She was the first daughter of her parents and as the custom demands, all the married daughters of the kindred must be present at the burial, even at the wake keep (useless custom – it only makes us look out for one another when we become corpses. We have never called each other while alive).
So, I arrived home in the evening amidst the heavy downpour. I dropped my bag and rushed to the sister's husband house and joined the Wake keep.
Immediately I sat, my eyes caught a little boy of about 2 years who was crying and refused to be pacified. When I asked, I was told he is my dead sister's last child and my heart broke. I was also told he has been crying since she died and continues calling her to come home.
My sister wasn't sick. She had just a little fever and weakness, went to the hospital by herself to receive treatment. She died the following day in the hospital.
After her commendation, I returned to my father's house. I decided to go to our neighbours to greet them. It has been a donkey year. Some of them, I saw them last in the last 10 years.
To my surprise, almost every family I entered, I saw the obituary posters of young mothers, young mothers of about 30 years, 28 years, 32 years, etc. These women were my 'wives'. Some of them, I was around when they were married.
You may like to read "What is Killing Them? Posters of Obituary of Young Mothers Flying on Social Media".
You should know what I am talking about. The Obituaries of Young Mothers in their 30s are flying on Social media. And the question in every right-thinking human being's mind should be; what is killing them?



The answer is there of course. Death! Death is ripping off the lives of these young and vibrant wives, leaving great holes in the hearts of their husbands, parents, children, and families at large.
However, we didn't just assume. We carried out our research on this. We met people who are experts in the affair of family and health and asked them. These are their responses.
Causes of High Rate of Death of Young Mothers in Nigeria
We have discovered there are 3 major causes of their death. One of our respondents, Kingsley Onuzulike, summarized these 3 points when he submitted his view on the causes of the high rate of death among young mothers of childbearing age in Nigeria. He said:
"My sister, the issue is getting out of hand. However, if I can guess, it is the result of the poor healthcare system in our nation. Women of childbearing age are very vulnerable to a wide range of ailments coupled with stress occasioned by their husband's inability to fully cater for the family needs. Juxtapose the scenario to when women of such age concentrate on taking care of the home and children. These days, women hustle just like men. That's my take for now."
Here are 3 Causes of the High rate of Death of Young Mothers:
Stress is killing young mothers and no one is talking about it. In order to cushion the effect of hardship in the family, they put their hands on many businesses. These, they do with the baby on their backs, in their breasts and in their wombs.
The young mothers have no time for themselves. Before you know it, they die just like fowls in the chicken pen. Be warned. Young mothers, take enough rest and listen to your body.
It is not a new thing that most men now push the family responsibilities to the women to carter for alone. Someone said; once some men see their wives are making money for the family, they relax and do nothing.
These young mothers pay school fees, see for the children's upbringing and house upkeep. They do these at the same time, get pregnant and suffer the 9 months' heat. Why won't they die? Men, rise to your responsibilities in the family.
Women have become like the proverbial rice who came to separate the fight between yam and Cocoyam and in the end, rice was faced. Literally, it means that rice came to supplement yam and cocoyam but in the end, the burden of food is now on rice alone.
That is actually how it is in some families alone. The women who offer to help in lifting the family responsibility is now left to carry the burden alone. Why won't they die young?
Due to hardship and poor medical facilities in the country, some people resort to self-medications. There are some women who would have been alive today if proper medical care were given to them.
Causes of High Rate of Death of Young Mothers in Nigeria
ATTENTION: See Photos of the Burial of the Mother of the Owner of Bolton White Hotels, Abuja, Chief Polycarp Obiukwu.
 Photos of Young Mothers in their 20s and 30s who Died
The Late Mrs Precious Nneoma Anugwa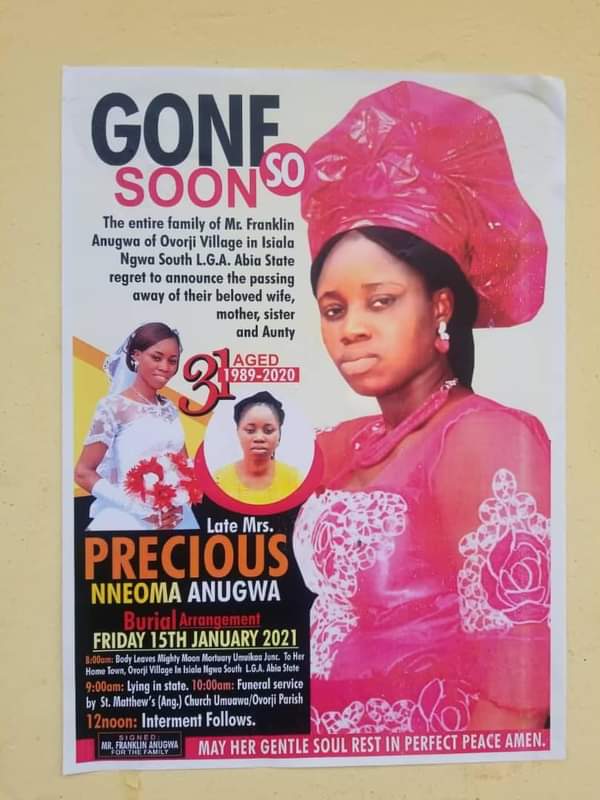 She is the youngest of all. The late Mrs Nnenna hailed from Isialla Ngwa in Abia State. She was a student of Federal Girls College Okigwu (Class 2007). She died on Tuesday, December 2020 at the age of 31. She died a few days after she gave birth to a baby.
Late Mrs Nnenna was laid to rest yesterday at her husband's hometown in Isialla Ngwa. May the Lord rest her soul and console her husbands and little kids.
The Late Mrs Anneth Chizoba Nkemeh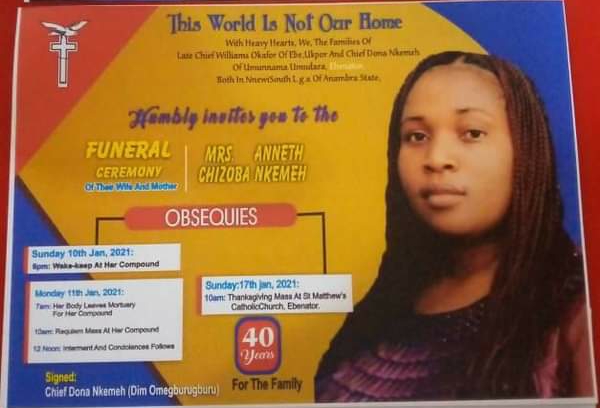 It was a sad period for the family of Nkemeh in Ebenator Nnewi South in Anambra State as they buried their mother and wife 24 hours agape.



The Late Mrs Anneth Chizoba Nkemeh was buried on 11 January 2021. She was a young mother whose life was ripped off by death at the age of 40. She was buried along with her mother-in-law.
May the Lord rest their souls and give the family, especially the husband the fortitude to bear the losses.
Late Mrs Cynthia Egochukwu Oliver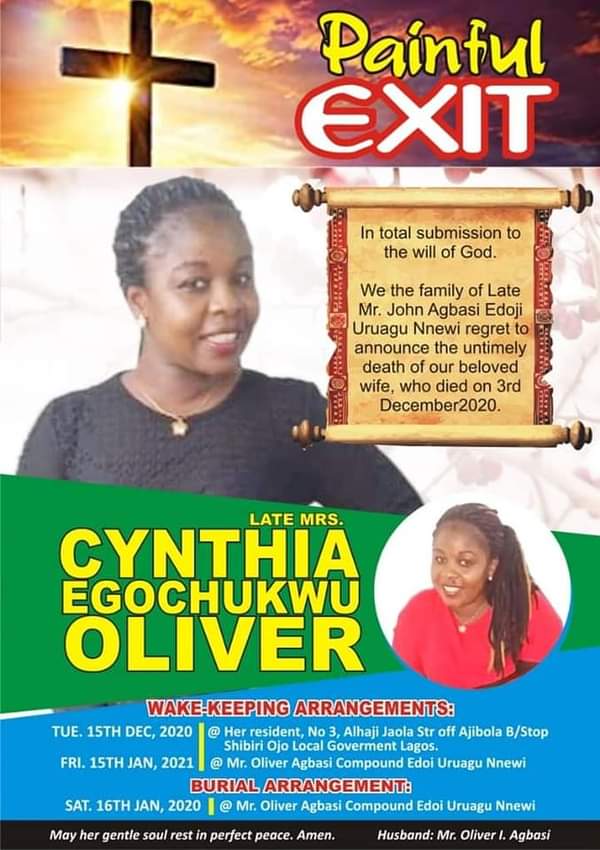 The Late Mrs Cynthia (Nee Ndianaefo) died in her late 30s. She was a student of Federal Polytechnic Okoh, Anambra State (Mass Com 2009 Set). Before her untimely death, she worked with The Sun Publishing Company in Lagos State.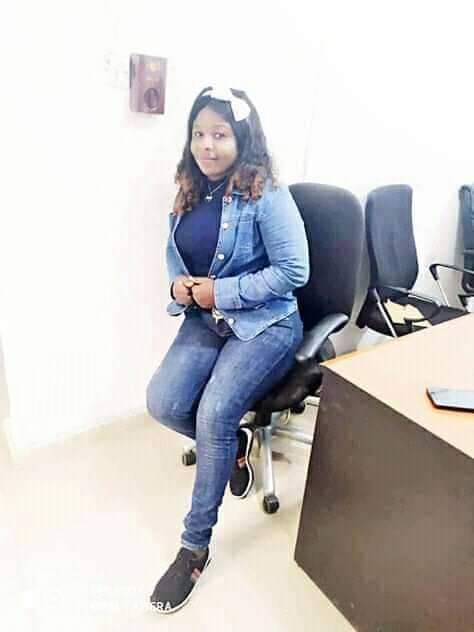 Cynthia in her Office
Cynthia was actually my Coursemate in the Federal Polytechnic. She died on the 2nd of December 2020. She is survived by a little daughter and husband. The remains of Late Cynthia Oliver will be laid to rest today in her husband's hometown in Uruagu Nnewi North, Anambra State.
9jainformed.com mourns with the husband, Mr. Oliver I. Agbasi, and her little daughter she left behind. We also commiserate with the entire Ndianaefo family in Ebenator, Nnewi South in Anambra State for the death of their beloved daughter.
Ndonu! This affliction will never rise again in your family.
The Late Mrs. Deborah Chukwudi Ohekuru and Baby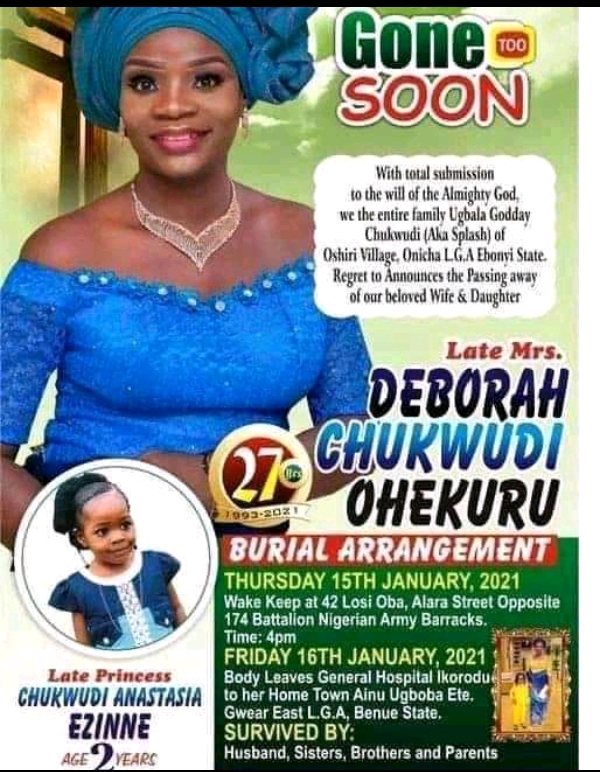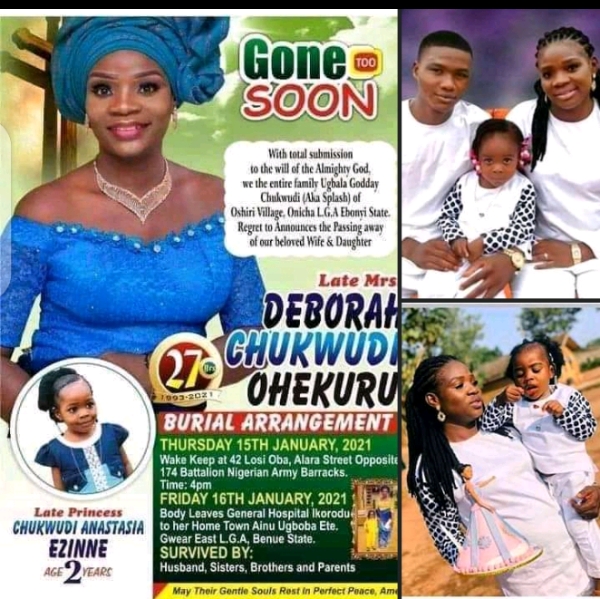 Late Mrs Deborah Ohekuru died at 27 with her 2-year-old daughter in an auto crash. The remains of her body and that of her innocent daughter were committed to mother earth yesterday in her husband's hometown in Ainu Ugboba Ete, Gwear East in Benue State.
What else can we say here? Onwu enweghi sense (Death is stupid).
The late Mrs Favour Okwutosi Nwalo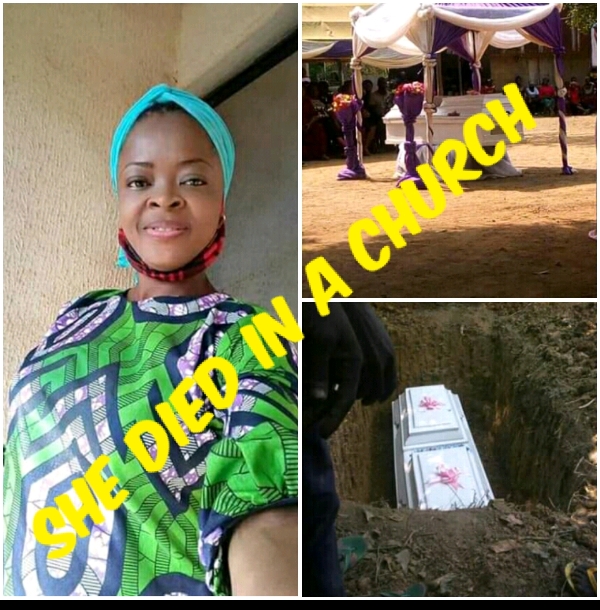 The late Mrs Favour Okwutosi Nwalo lost her life together with her unborn baby while singing in a Presbyterian Church which is in Unwana community, Ebonyi State on the 28th November 2020. She was age 28.
She was a final year student in the Department of Computer Science, in Akanuibiam Federal Polytechnic Unwana, Ebonyi State. Before her untimely death, Mrs Favour was writing her first Semester exams in the school.
The 28 years old pregnant Mom was finally laid to rest two days ago; on the 15th of January 2021. May God rest her soul and grant her family fortitude to bear the great loss.



Causes of High Rate of Death of Young Mothers in Nigeria
In conclusion, this post is not to scare anyone. The major aim of this post is to open your eyes, especially the young mothers.
Don't die like a chicken trying to carry the burden of your family which will still continue even in your absence. I don't advise you should be lazying about. We are saying; take care of yourself as you run around.
The grave is hungry for the blood of young mothers. Also, pray always for your life.
Thanks for reading. Share this post and SUBSCRIBE to our notification.