Very Rev Chike Ikeotuonye Nwizu Biography Career and Net Worth
Here is all you need to know about the very Rev. Chike Ikeotuonye Nwizu. Very Rev Chike Ikeotuonye Nwizu Biography Career and Net Worth.



Biography of Chike Ikeotuonye Nwizu
AT A GLANCE
                          ⇓ ⇓
Full Name ——       Chike Ikeotuonye Nwizu
Date of Birth ——   31 October 1934
Village:                   Nza Ozubulu
Town ——              Ndiakwu Otolo
LGA —–                  Nnewi-North
State ——               Anambra State
Career ——            Legal Expert, Business and Clergyman
Wife's Name ——    Chiemeka Nwizu
Titles:                        KGS. JP. LLB (lions). BL. ACIS. AMIM Dip Th
Net Worth ——       Billionaire
Date of Death –—-   31 March 2021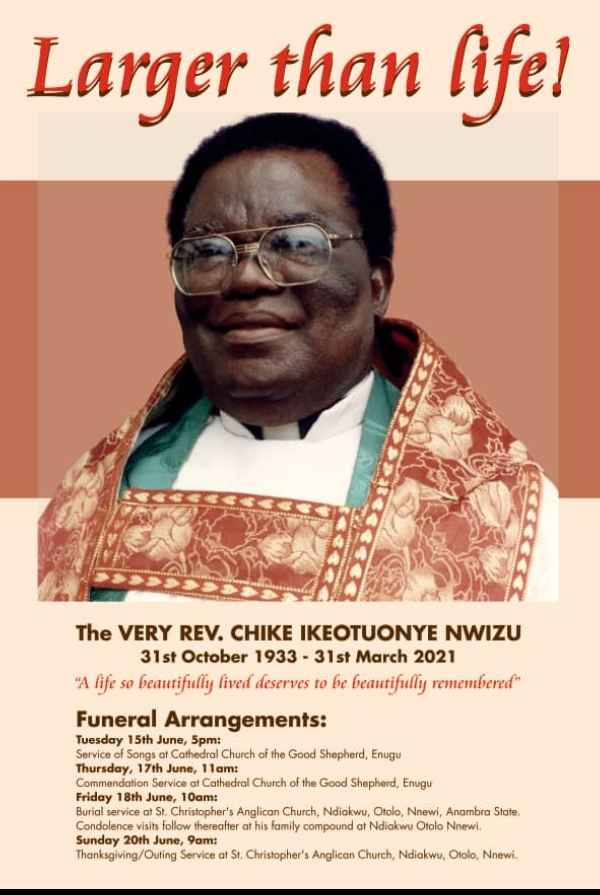 Very Rev Chike Ikeotuonye Nwizu Biography Career and Net Worth
Very Rev Barr Chike Nwizu Biography, Career, and Net Worth. The Very Rev. Chike Nwizu was born on Wednesday, (Orie) 31 October in 1934. He was born to the family of late Mr. Samson Ikeotuonye Nwizu and Late Mrs. Christiana Nwizu of Nza Ozubulu in Ndiakwu Otolo Nnewi,
He had his basic education at St. Michael's School Aba. He later attended Government Secondary School Owerri in 1954.
After his secondary education, he proceeded to Nigerian College of Arts, Science and Technology, Ibadan, and later London City College.
Late Very Rev Chike Ikeotuonye worked with various companies before starting his own business. According to data, he had worked as an Accountant with Shell BP Port Harcourt. He was also a Company Secretary and Investment Manager of Universal Insurance Company Ltd.
Before he founded his first company, he also worked as a Company Secretary, Premier Brokers Ltd. As Igbo blood who understood that a real man does not answer "Yes Sir" forever, he left company services for his own personal business.
He is the Founder and Managing Director of Zuloh Services Nigeria Ltd. He is also the  Chairman and CEO of Kuchen Industries Ltd. The company, known for the manufacturing of welding electrodes.
Very Rev Chike expanded his testicles in business. He was also the Chairman and CEO of Wemeck Building Products Ltd. The company is known for the manufacturing of floor and wall tiles.
Very Rev Chike Ikeotuonye Nwizu Biography Career and Net Worth
The fact also remains that you cannot complete the story of Very Rev. Chike Ikeotuonye without mentioning the church, especially the Anglican Communion. He was first a knight of Good Shepherd (KGS) before proceeding to theology for his priestly ordination course.
Chike Nwizu, as a layman in the Anglican Communion, held important positions in the church for long periods of time. He was a popular pastor and Peoples' warden. He had been a treasurer in his parish.
He had a call to join the Anglican Priestly fold in the 1980s. He was sent to the school of Theology by the pioneer Bishop of Enugu Diocese, the Rt. Rev. Gideon Otubelu. He also ordained him.
Very Rev. Chike has ordained a Deacon in 1981. He was Priested in 1983. After his ordination, he was curated and posted to work at All Saints Church G.R. A Enugu 1981.
A golden fish they say has no hiding place. Like a golden fish, the credibility he carried out his works as a Priest endeared him to the then Bishop. He was preferred (promoted) to the rank of Venerable.
In 1991, he became the Provost and Dean of the Cathedral of the Good Shepherd Diocese of Enugu. Anglican Communion. He held this position from 1992 to 2004.
Very Rev. Chike became the Provost of the Cathedral church of the Good Shepherd, Diocese of Enugu, the position he retained till his retirement. It is also in the record that he was the first provost ever worked in the Good Shepherd cathedral and the last. He also served as a member of many Diocesan Boards and Councils Member of the Provincial Synod of the Church of Nigeria (Anglican Communion).
Chike Nwizu as a Legal Expert
When he retired as a clergyman, he did not go to sleep. He proceeded to the University of Nigeria, Enugu Campus, and pursue a new career in Law. he later went to the Nigerian Law School, Lagos, and was called to bar.
Till his death in March 2021, Chike Nwizu was in his law Chamber and also going to court for cases. He was the Principal Partner of Chike Nwizu Associates, a flourishing Legal Firm of experts.
The Provost and Dean of the Cathedral Church of the Good Shepherd of the Diocese of Enugu in Anglican Communion was an icon. He creditably carried out all these jobs with honesty, integrity, and fear of God.
As a clergyman, he got God in his life. he played any role with a touch of finality and success, not only in the Altar but in people's life. With his doggedness, gigantic monuments were built for the church. All of these speak volumes of his personality.
Important Positions Chike Nwizu Held
When you think the lists of his achievement have exhausted, more will surface. The Late Chike Nwizu can also be described as a die-hard achiever and a go-getter.
Apart from the Anglican Communion and his personal businesses, he also touched other sides of his environments, both government and private. He was once the Chairman of the then Old Anambra Chambers of Commerce, the position he held for a very long time.
See all the Positions he held:
House Captain and Senior School Prefect Government Secondary School, Owerri.
Students Union President of the Nigerian College of Arts, Science and Technology, Ibadan.
Nigeria Bar Association.
 Knight of the Order of the Good Shepherd (KGS)
Service to the Community National and International
Member of the Census Committee in the Old Anambra State.
Member of the State Change-Over to the Right Hand Drive Committee.
Chairman, Niger Cement Allocation Committee (a committee that needed only people of integrity and transparent honesty).
 Member, Governing Council of Institute of Management and Technology ( IMT) Enugu
 University of Nigeria Careers Advisory Committee, Chairman.
 Parents' Teachers Association. Federal Government College Enugu, Member.
 Board of Nigeria Plant Hire & Leasing Co of Anambra State, Member.
Board of Governors Awkunawaw Girls' Secondary School, Member.
Anambra State Prerogative of Mercy, Member.
 Anambra State Christian Pilgrims Welfare Board Divisional, Secretary.
Nigeria Red Cross Society, Commandant.
 Nigeria Red Cross Society, Treasurer.
President, St. John's Ambulance Brigade.
President, Enugu Rotary Club Charter.
 Rotary Club of Ekulu District, Governor District 914.
 International Paul Harris Fellow of Rotary International.
Past President, Enugu Chamber of Commerce and Industry.
Mines and Agriculture- serving as the Hon Secretary for many years.
 Vice President and Deputy President of the Chamber of Commerce on several occasions
 Life Vice President of the Nigerian Association of Chambers of Commerce, Industry.
Mines and Agriculture (NACCIMA) – In 1978 he led a Trade Mission of Members of the Chamber of Commerce of Enugu, Onitsha, Awka, and Abakiliki to live in European Countries. For 38 years, he has been actively involved in the Chamber of Commerce Movement in Nigeria and has served in different capacities both at the city and national levels.
 Member of the Standing Committee of the Church of Nigeria Anglican Communion.
Vice President of National Union of Nigerian Students ( NUNS).
Very Rev Chike Ikeotuonye Nwizu Biography Career and Net Worth
Very Rev Nwizu is a highly placed clergyman, a legal expert, and a business and management consultant. He stands out as an Icon in the careers he represents, showing that with diligence, hard work,
One thing I am yet to mention in this post is how wealthy the Very Rev Chike Nwizu was. He was a wealthy man. He touched the money. The story had it that before he joined Priesthood in the Anglican Communion, he was paying the salaries of some priests.
Although there is no available information on the internet about the new worth of Barrister Chike Nwizu he can be regarded as a Billionaire. His companies and some of the properties he acquired worth millions of dollars.
Therefore, the Very Rev. Chike Nwizu was one of the Igbo billionaires who served God with his time and wealth.
Chike Nwizu Wife and Children
The very Rev. Chike Nwizu was married to Chiemeka Nwizu. The marriage was blessed with four sons and a daughter.
Late Rev Chike Nwizu's Quote
To the Youths:
 "hardworking, dedicated, positively oriented and disciplined . Plan for tomorrow and not merely run after material success ".
To the Leaders"
"give exemplary leadership, know that righteousness exalts a nation and sin is a reproach to the people. We are too much in a haste, he well focused and or else we remain second class citizens and the future bleak. Realize that money is not everything. We are truly marginalizing ourselves unless we come out of it too had for the future".
Very Rev. Chike Nwizu is dead. He died on 31 March 2021. He was buried in his home church at Ndiakwu Otolo in Nnewi North, Anambra State.
Rest On Ikeotuonye!